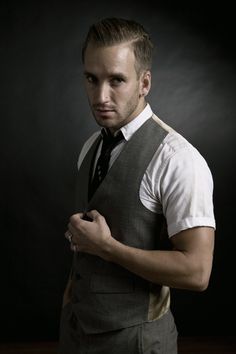 Will Rothhaar began acting in the mid-1990s, and appeared in several made-for-television films and series, including Buffy the Vampire Slayer and Mad About You. He had supporting roles in several feature films, including Jack Frost and Hearts in Atlantis. In 1999, he received the Hollywood Reporter "Young Star Award" for his portrayal of John in David Mamet's The Cryptogram at the Geffen Playhouse. Rothhaar's biggest role to date was the leading role in the film, Kart Racer, which received a theatrical release in September 2003. In 2004 he had a regular role on the show Listen Up!, playing Mickey Kleinman, the son of Jason Alexander's character. He also appeared the 2005 film, Must Love Dogs. In 2011, Rothhaar appeared with Aaron Eckhart as Cpl. Lee Imlay in the alien-invasion movie Battle: Los Angeles. He appeared on CSI: Crime Scene Investigation in 2004 and 2010, CSI: Miami in 2011 and CSI: New York in 2012 playing different characters each time.
Will Rothhaar plays 'Lee Harvey Oswald' in NatGeo's "Killing Kennedy" on November 10th.
1. Character you've played that you relate to the most?
That's a tough one. I don't play many characters that I can relate to directly. However, playing Lee Harvey Oswald, I felt more connected to him than any other role I have played.
2. What would be your dream role?
Well Lee Harvey Oswald kinda tops the charts at the moment, but I'd love to play a Shakespearian character in a film at some point.
3. Who was your first celebrity crush? THAT would be a tie between Madonna as Breathless Mahoney in Dick Tracy, and Trini from the Power Rangers.
Current and forever celebrity crush goes to Monica Belucci.
4. Current television show you can't miss? It was Breaking Bad! At the moment, I seem to be stuck on Blacklist.
5. Movie you can watch hundred times? Bulworth, for sure.
6. Song you play on repeat? At the minute its a succession of Cabaret and TKO by Justin Timberlake. Easy mood repeat goes to anything Chet Baker.
7. What's your favorite author/book? It's been Neil Gaiman for a long time. Smoke And Mirrors was my introduction and is still my favorite.
8. Do you have a hobby? I always say acting is my wife and music is my mistress. Working on music more and more. And I am a huge Parkour junky.
9. If you could have dinner with anyone (dead or alive) who would it be? William Shakespeare.
10. One thing people would be surprised to learn about you? I am uncontrollably optimistic. It's infectious. I take a lot of pride in spreading love. I ultimately think it really does make the world go round. May be wishful thinking, but it's what gets me through my day.
Bonus Question: In a Zombie Apocalypse, who would you want by your side?
Definitely my friends Ramon Rodriguez, and Ava Bogle… And a shotgun, and a baseball bat, and a number of other sharp things.

WILL ROTHHAAR Brings New Dimensions to Lee Harvey Oswald for Nat Geo TV's "Killing Kennedy" on Nov 10th Listen to our interview with Will Rothhaar by going to our blogtalkradio page HERE Stars Opposite Rob Lowe as JFK in Bill O'Reilly's Best-Selling Biopic Adaptation The infamous Lee Harvey Oswald – ruthless villain? Heartless monster? Not […]