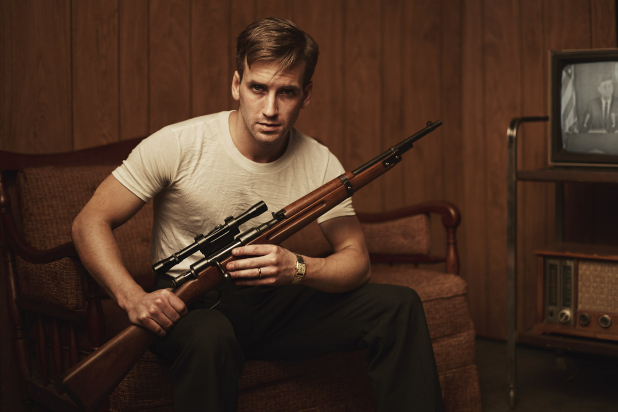 WILL ROTHHAAR Brings New Dimensions to Lee Harvey Oswald for Nat Geo TV's "Killing Kennedy" on Nov 10th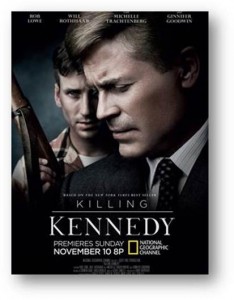 Listen to our interview with Will Rothhaar by going to our blogtalkradio page HERE
Stars Opposite Rob Lowe as JFK in Bill O'Reilly's Best-Selling Biopic Adaptation
The infamous Lee Harvey Oswald – ruthless villain? Heartless monster? Not necessarily in the eyes of WILL ROTHHAAR, the charismatic young actor who portrays the assassin in the forthcoming National Geographic channel's television movie, "Killing Kennedy."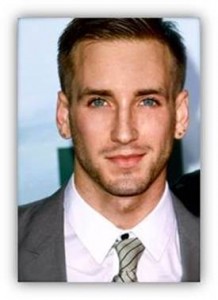 "History has always portrayed Lee as a two-dimensional villain, and director Nelson McCormick and I talked about playing the human side of the man," Rothhaar shares. "It's easy to just see him as a monster. To me, that was not who he was. He was a man who did a monstrous thing. There's a big difference, and that was what motivated me throughout filming."
Based on political pundit Bill O'Reilly's best-selling book that examines the factual accounts surrounding the lives of both JFK and his killer, "Killing Kennedy" also stars Michelle Trachtenberg as Oswald's Russian wife, Marina, Rob Lowe as the charismatic president, and Ginnifer Goodwin as his wife, Jackie Kennedy. "Killing Kennedy" (trailer can be viewed here) is set to air on November 10th, timed to the 50th anniversary of the tragic event.
Born in New York City to actor parents, Will was named after The Bard himself and aptly made his acting debut on the stage at the age of 4 playing 'Sonny' in "Cat in a Hot Tin Roof" and has enjoyed a successful career with over 70 TV and film credits.
Rothhaar recently wrapped shooting a recurring role on the forthcoming CBS courtroom drama "Reckless" with Cam Gigandet and Anna Wood, set to debut in early 2014.  He can currently be seen in theaters starring in the indie film MISSION PARK also starring Will Estes, Vivica A. Fox and Sean Patrick Flanery. Rothhaar is also attached to the Sony TV/Graham Yost/Michael Dinner aircraft carrier drama "Wild Blue" for FOX.
In 1999, at the age of 12, Rothhaar received The Hollywood Reporter's "Young Star Award (Theater)" for his portrayal of 'John' in David Mamet's "The Cryptogram" at the esteemed Geffen Playhouse in Los Angeles.  He starred as a series regular playing Jason Alexander's son in the sitcom "Listen Up!" and has done guest spots and recurring roles on dozens of shows ranging from all three "CSI" franchise to "Buffy the Vampire Slayer" to ABC's recent "Last Resort." As a kid, he starred in the Farrelly Brother's KINGPIN and the Michael Keaton Christmas comedy JACK FROST, and counts BATTLE: LOS ANGELES, HEARTS IN ATLANTIS, MUST LOVE DOGS, the indie KART RACER among others as additional feature credits.
Rothhaar attended the prestigious Hamilton Academy of Music in Los Angeles, plays in an Afro-Brazilian, Afro-Cuban, and West African percussion group, was a competitive gymnast as a kid, currently practices parkour, is fluent in Spanish, and has been writing poetry since he was young. He currently lives in Los Angeles.

Will Rothhaar began acting in the mid-1990s, and appeared in several made-for-television films and series, including Buffy the Vampire Slayer and Mad About You. He had supporting roles in several feature films, including Jack Frost and Hearts in Atlantis. In 1999, he received the Hollywood Reporter "Young Star Award" for his portrayal of John in […]