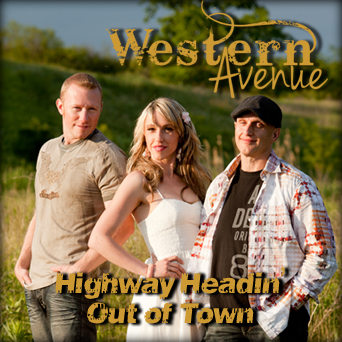 For Nikki English, Keith Robertson and Matt Williams, music has been a driving force in their lives for as long as they can remember. Together since 2007, they are the members of Western Avenue. This 2013 Ontario Country Music Association award-nominated (Best Duo or Group) trio is winning over audiences with its "hot country" sound, including the catchy first single, "Highway Headin' Out of Town," which was picked up by Canadian country radio in the summer of 2012.
Now, with the release of their new single, "Wherever You Are," from their February 2013 self-titled debut EP, Western Avenue is taking their melody-driven blend of country and pop music to radio in the US and around the globe. Already #33 on the Roots Music Report chart and #83 on New Music Weekly, the single is poised to take Western Avenue to new heights, and introduce them to a worldwide audience of country music fans.
English and Robertson, who are married, live in Peterborough, Ontario, while Williams is from neighboring Cobourg. The three musicians met through Canadian country artist Tara Lyn Hart, who lived in Port Hope at the time and had a music program in Cobourg. Robertson and Williams were hired as back-up musicians for English, for one of her performances.
Since those early days, the members have matured–developing their music style and songwriting. Their undeniable chemistry has remained intact: "I think it has all come from playing together for so long," English says. "We get along so well, and I couldn't ask for better band mates. We click. We're always open to suggestions from each other."
Growing up, English fondly remembers her father Frank always playing guitar and singing around their house. He died in 2001 after a battle with cancer. While her father always encouraged her to perform, English had shied away from the spotlight. However, her father's passing was motivation to give it a shot: "That's what he always wanted me to do, and I wanted to, but I was a wimp," she says. "It gave me confidence to do it in his memory. It's been a challenge because I've always been shy. It's been a lot easier with the band, having people beside you."
There was always music around Robertson's household. The Colborne native began playing instruments at an early age and has been playing in bands since he was 12. He couldn't imagine having another job. "The only thing I can do is play guitar," he quips. Robertson taught guitar for 16 years, and still does occasionally. He also plays fiddle and "pretty much anything with a string on it." Keith has played professionally with country musicians Tara Lyn Hart and John Landry.
Matt Williams remembers when he knew music was a path for him. He was 10 years old and received tickets from his parents to see Tom Petty and The Heartbreakers in concert:
"As soon as the lights went down, that was it," Williams said. Two weeks after the Tom Petty show, he took up the guitar. "I had to work really hard at it, but it's something I persisted at." That's a sentiment that the entire band can relate to…hard work and persistence. A line from their debut single, "Highway Headin' Out of Town" says, "I wanna feel those wheels under our dreams keep rolling." Western Avenue's journey is just getting started…
Twitter: @TheVRO
Facebook: Variety Radio Online
Tumblr: Variety Radio Online