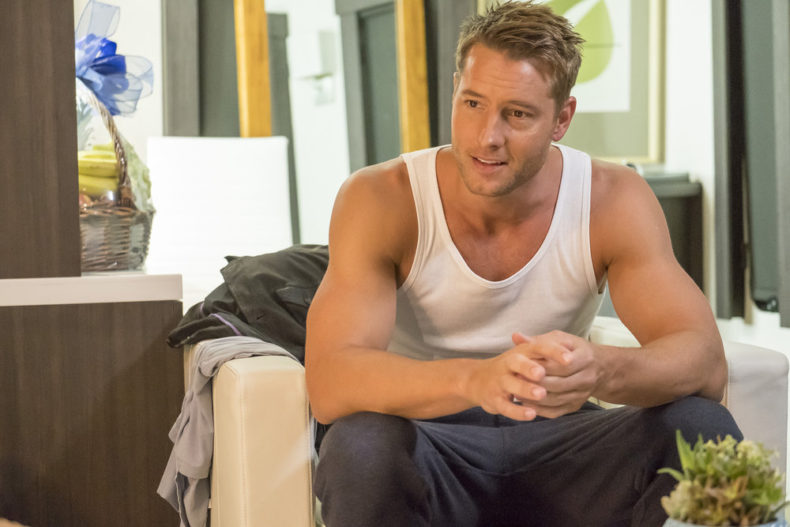 This Is Us Season 2 Episode 2 – "A Manny-Spendored Thing"
Another episode (and box of tisses) of This Is Us has come and gone! The episode's title refers to Kevin's (Justin Hartley) return to the show, The Manny, which he quit in the pilot episode. The entire Pearson family convenes to watch the taping of the 100th episode of The Manny. Of course, like all things Pearson, there is plenty of drama. One by one, each family member leaves the taping for one reason or another.
The action starts with a continuation of the flashback from last week, where you see that Jack has agreed to come home and work on his drinking problem. Rebecca asks how Jack beat his drinking the first time.
This episode shows a where a lot of the resentment comes in with Rebecca and Kate. Kate is going to sing "Lean On Me" in the school talent show and Rebecca asks him to sing part of it for Jack. When she does, Rebecca says that it was almost perfect and would be if she held out a note longer. Jack is feeling pressured at work and a colleague asks if he would like to go for a liquid lunch. He declines and heads to an AA meeting. He listens from the doorway, but ultimately doesn't go in. He instead goes to see Kate at school during her recess. They have a very nice scene which ends with Kate cupping Jack's face in her hands telling him everything will be ok. Rebecca makes Kate a dress from the first dress she wore. An excited Kate tries on the dress and is so happy with what she sees how she looks. She runs to tell Rebecca who is singing "Lean On Me" in the shower. A dejected Kate ends up not wanting to sing at the talent show saying she has a sore throat.
At the taping for the Manny's 100th episode Beth and Randall are discussing why Randall hasn't filled out the paperwork for the adoption. He ultimately reveals that he is wary about adopting an older child because they come with their own set of problems, not like starting from scratch with a newborn "clean slate" baby. Beth says, we didn't know what types of kids did the girls were going to be when they had them and look how they turned out.
Kate ends up with a singing gig and leaves the taping, but not first before making a snarky comment to Rebecca, who started to reminisce about her first singing gig and how she felt. Kate snaps, "You sing?" She quickly apologizes because she can see her mother was just trying to calm her nerves. After Kate leaves, Toby decides he should be there to support Kate and Rebecca wants to join him. Kate sings "Landslide" at the her gig. There is a montage while she is singing of present day and past, with an interesting tidbit that may have given a clue as to why Jack started drinking. Although his father was an alcoholic, you know that Jack always resented him for it. You see Jack being dropped out of a chopper in Vietnam. Can that be a factor in the start of his drinking?
After her gig, Rebecca is praising Kate and she explains that, that is the exact reason she didn't want Rebecca to come. As Rebecca keeps complimenting her, Kate accuses her of feeling sorry for her and that she makes her feel like a "stupid, fat, little kid." Rebecca is confused and asks her what she has ever done to make Kate feel that way. Kate responds with, "you existed. It is everything about you mom. It is not just that you are beautiful or thin or that you have perfect pitch even when you talk." Kate says Rebecca wanted her to become the person Rebecca never did. That hurts Rebecca and Kate feels badly and apologizes, but tells Rebecca that this conversation is now going to be the memory of her first gig. This leads to Toby and Kate having a heart to heart while Kate waits in the car. Toby tells Rebecca that he is team Kate and always will be. As they are driving away, Kate takes her mom's hand into hers.
Kevin explains to Sophie that his final scene has been rewritten to humiliate him. She encourages him to go through with the scene anyway. He ends up going through with the scene, takes it for what it is worth and has the audience in stitches. Kevin also has a flashback to that same talent show where his Mr. T impression shows that only Sophie is laughing during it. He ends up sharing a nice scene with Beth who is upset about Randall now questioning whether they should adopt. Kevin admits that he was the one who coached Randall the first time Randall asked Beth out. He said that was the only time Randall risked failure in his entire life, and that it had to be terrifying for him. That really opens Beth's eyes and she tells Randall they are the reason the girls turned out great and the girls make them great. She assures them they can adopt and older child and it can be great. He says, "I know" and they tell the girls there is something they want to talk to them about.
In a flashback at the end of the episode, Jack tells Rebecca that he kept his drinking to himself last time and that it can't be that way this time. He then admits to a teenage Kate that he has a drinking problem and that his father had a drinking problem. He says he kept it hidden because he didn't want her to know that about him. "But you have to know" and with that, she cups his face into her hands once more. He tells her that he had to be honest with her and they hug. Rebecca drives Jack to an AA meeting and this time he actually goes in.