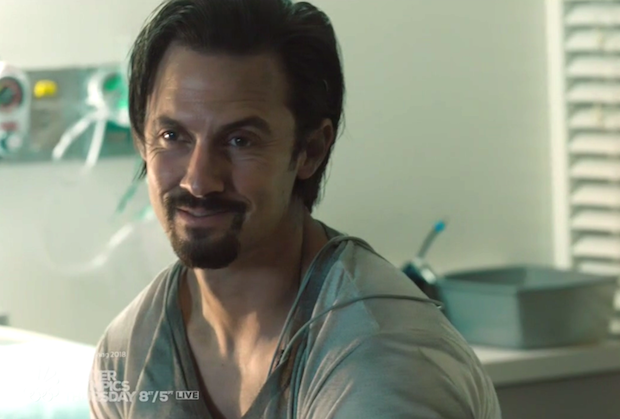 All I can say is WOW! We were promised answers and heart break and that is what we got! This week's episode of This Is Us was heart wrenching and beautiful all at the same time. The episode starts off with Jack abruptly waking Rebecca up to gather the children after seeing the roaring fire. He opens the door and runs across the hall to grab Randall and Kate. They are all safely in Rebecca and Jack's room so they grab sheets to tie to slide down the roof of the house. Kate hears their dog Louie barking and gets very upset because she doesn't want to lose him. Jack or should we call him "Super Man" goes back inside to retrieve their beloved dog. Minutes go by and suddenly Jack emerges from the front door with Louie and some of their belongings in hand.
Rebecca and Jack decide they are going to the hospital and dropping the kids off at Miguel's. While at the hospital, the doctor examines Jack who suffered many burns and inhaled a lot of smoke so his breathing is slightly off but that he should be fine. Rebecca goes to get him some snacks and while she is gone, she is on the phone and in the background there is chaos. At this point, you know something awful happened and the doctor returns to tell Rebecca the bad news. He reveals to her that Jack suffered a heart attack and passed away. Rebecca is in denial and goes to see Jack for herself, seeing him lying in the bed. Jack has passed away. UGHHHH!
While the chaos was going on in the flashback, we get a little taste of how each of the Pearson's spend their father's anniversary. Kevin and Rebecca had a nice talk about enjoying the day and remembering Jack in the best way possible. Rebecca spends the Super Bowl every year making his famous chili and watching the game. She explains that every year at some point she gets a sign from Jack that makes her laugh. Kevin tells her that he usually drowns his sorrows in a girl or alcohol but this year he wants to change that. On the other hand, Kate is having a more difficult time trying to watch her home video Jack saved in the fire. Her and Toby go to fix it and she has a breakdown. Even though the tape gets fixed, Kate explains how this day is very hard for her because she feels like Jack died for her, to save her dog. She tells Toby that he reminds her of Jack and that he saved her life.
Randall is having a rather good day with his family and friends. The Super Bowl was his dad's favorite day and he is going to celebrate it. We got a glimpse into Randall's future with his family and how he will always protect his girls. Tess ends up becoming a social worker and works with foster children which is really sweet. In present day, The Pearson's get a nice surprise of Deja coming back and I think that will end up being really good for them all.
The moment that really touched me was when Kevin goes to see Jack's tree and has a conversation with him. He talks to Jack about things he wasn't able to when he was younger and apologizes for all he had done wrong. He wants to do better for him now and make him proud. Kevin calls Rebecca while he is still at the tree and they talk more about Jack. Rebecca tells Kevin the first thing she thinks of when this day comes is the candy bar she was going to get before Jack died. Kevin makes Rebecca laugh about something and she tells him "This year your dad sent me you". At the end of this episode, we see the kids and Rebecca happy with their families despite the sadness this day brings them.
This week we get double the tears when This Is Us airs on Tuesday February 6th at 9/8c on NBC.

Let me just start off by saying HOLY MOLY! This week's episode was probably one of my favorites this season and coincidentally one of the most action filled. We finally got some answers about Jack's death and we know (or can only assume) it has something to do with the ferocious fire at The Pearson's. […]

This week's episode of This Is Us gave us some more insight on how "The Big Three" become who they are and more clues regarding Jack's death. Kevin makes great progress in treatment and is allowed to go home which is with Rebecca and Miguel. He decides this is a good time as any to […]

On this week's episode of This Is Us, the main focus is on Kate's life past and present. It begins with a flashback with Rebecca and Jack discussing college with the kids, mainly Kate. As we found out last week, Kate loses the baby which was absolutely heartbreaking for everyone. Kate tries to move forward […]