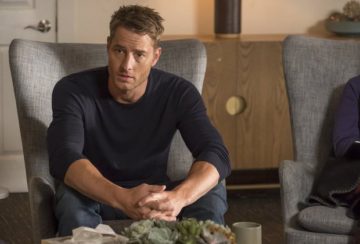 This mid-season premiere was way more than expected! Emotions run higher than ever when Randall, Kate, Rebecca and their significant others go visit Kevin in rehab. The therapy session starts off pretty civil until Kevin's therapist wants him to open up more about what they have discussed, specifically his father's death. Kevin explains that his childhood was not perfect at all and that it always felt like he was the "fifth wheel". He goes on telling his siblings and Rebecca that he never felt that he was enough. He always tried drowning his feelings in football and his fame but he was bound to turn to something more to mask his pain. Kate, Randall and Rebecca are so upset and cannot believe how Kevin feels about this. This also brings up another huge revelation between the four that they are a family of addicts.
Kevin expresses that Jack was addict, Jack's father, himself and also Kate. The brutal truth comes out and it does not go over well with the others. The therapist questions Rebecca's ability to open up to her children regarding Jack's issues and she gets very upset and tells her that Jack was so much more than an addict. Kevin and Randall get into it finally, because after all, Randall has been holding in his feelings for so long. He feels like Kevin is attacking Rebecca and then Rebecca loses it completely. She reveals that it was so much easier taking care of Kate and Randall because they showed affection towards her and worked with her on a lot of things.
We see multiple flashbacks when Jack takes the family on a vacation to the cabin. This is when we really see what Kevin is talking about during their session. Rebecca has always sided with Randall and constantly is blaming Kevin for all things Randall. On the other hand, we have Jack dealing with Kate and her weight issues. It is clear that in many situations over the years, Kevin was out of the loop or didn't fit in with his family.
In the present, we see things patching up between Kevin Kate and Randall. They all apologize for their actions and all the trouble it has caused. They continue talking about how their childhood was like looking in a different lense and share a very sweet moment together as the "big three" again. Rebecca of course could not leave without having a talk with Kevin as well. She explains how she felt she never had to watch out for Kevin or worry about him doing the wrong thing. She always trusted him and thought he was the strong one and that maybe she was wrong for thinking that way.
Another cabin flashback, with young Kevin looking for his siblings during a storm and finding them all sleeping in his parents room. He gathers some blankets and pillows to sleep on the floor because there is no room for him in the bed. Rebecca wakes up in the middle of the night, grabs a pillow and snuggles up next to sleeping Kevin, showing us that in fact they did have their special moments.
We are definitely in for a crazy ride in this half of Season 2, so buckle up kids!
This Is Us premiers every Tuesday 9/8c on NBC.

On this week's episode of This Is Us, the main focus was on Randall and how he has gotten to where he is today. This last episode was not only the fall season finale but, the third and final part of the "big three" series. We were invited to see each of the children's past and […]

This week's episode opens up with a flashback to Rebecca and Jack's adoption with Randall. They have unscheduled visits with the social worker to check on their family life. The social worker speaks to them about the next steps to the adoption which is going to court and accepting Randall as their own. They decide […]