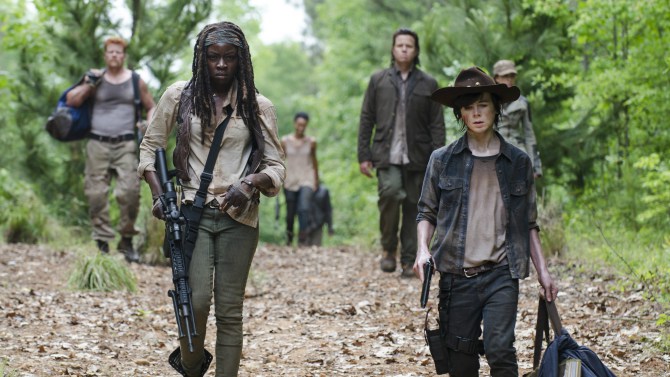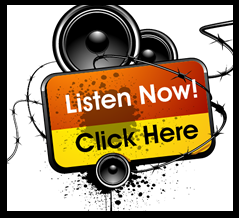 By: Kristin Trujillo (@kristin0409)
As the group sets out on foot (again) after the destruction of Terminus, we see some of them trying to deal with their pasts. Tara struggles with the fact that she'd sided with the Governor (who beheaded poor Hershel in front of his children) prior to being aware of his evilness, Carol and Tyreese are still trying to get over what happened with Lizzie and Mika, although Tyreese is having a harder time with it.
Rick has a heart to heart with Carol and basically tells her that he owes her everything for single-handedly being the one to save them from Terminus. He asks permission for the group to rejoin her and she gives a slight nod of her head. As close as Carol has grown to Daryl, she's still not able to talk about what's happened, especially not what happened with Lizzie and Mika. As they're taking watch, they hear leaves crunching in the distance. They look around and come up empty, but Daryl feels like someone is there. The camera view changes, and we know that someone is, in fact, watching them.
As the group is walking through the forest, they hear someone screaming for help. Rick hesitates and contemplates leaving the person alone, but Carl insists that they help. Here, they find Father Gabriel, who is scrambling onto a rock to avoid the grips of several walkers. They kill the walkers, and Gabriel slides down the rock and excuses himself to vomit. Rick doesn't trust him (as usual) and asks whether Gabriel has killed any walkers or people (as usual), to which he answers no to both. He informs them that he has a church just a few miles away where he's been seeking refuge. They all head over to St. Sarah's with him to scope the area. Rick tells Gabriel to wait outside of the church while a few of them make sure it's clear. Glenn, Michonne, Daryl, Carol and Rick find several drawings of burning bushes, Bible scriptures and quite a few empty cans of food, but they fail to find any other people, or weapons. Abraham tells Rick that he found a bus in the back that they can fix and take up to Washington, but Michonne, Rick, Daryl and Glenn all agree that their priority at the moment is to find supplies. Gabriel tells Rick that there's one place he hasn't scavenged because of walkers, so Rick and the majority of the group plan to go there…and bring Gabriel with them. Rick has a talk with Carl before heading out on the trip and tells him that Gabriel is definitely hiding something.
Daryl and Carol find an abandoned car on the side of the road as they're carrying gallons of water back to the church. As she's checking it out, Daryl tells her that they're not dead and that whatever happened, happened. He tells her they can all move on. She brushes it off a bit and suggests they leave the car there in case things go wrong at the church. Daryl asks if she wants him to carry one of the gallons of water for her, and one of the gallons he's carrying slips out of his hand. She smiles, says no, and they keep moving. (I can't help but wonder if this was a blooper that they decided to keep in. It really shows the friendship between #Caryl and that in itself is great!)
In addition to the possible blooper with #Caryl, we also see a little more humor when Glenn claims to have fought off walkers inside of a building while Maggie and Tara keep guard outside. He then admits to having tripped over some empty boxes and a mop instead.
The rest of the group heads inside of the building Gabriel told them about and they find some walkers who are trapped in a flooded hole beneath the floorboards. Despite the fact that it smells rank, they go into the slimy water and use shelves to block the walkers from them. Gabriel begins to flip out as the others stab walkers in their heads, and is even worse when he spots a blonde walker with glasses on. He tries to flee, but the walker follows him and Rick kills it. Bob grabs a floating container with supplies, but a walker pulls him underwater. Sasha comes to his rescue and bashes the walker's skull in. As they're leaving the building, Rick asks Gabriel if he knew the walker when she was alive, but he doesn't answer.
When they return to the church, Carl shows Rick some scratch marks that he believes are from a knife; someone trying to get in. He also finds "You'll burn for this," carved into the side of the church.
With their new supplies, the group gathers in the church to have a "decent" dinner together. Abraham stands up and gives a toast to the survivors and gives a speech about how they should pack up and drive to Washington where they can reset their lives. Judith makes a sound, and Rick says that if she wants to go, they'll all go. As they continue their dinner, Bob walks outside by himself. Tara sits down with Maggie and confesses that she was at the prison with the Governor. She tells her that she didn't know who he was or what he could do and that she wanted to be honest with Maggie. In response, Maggie gives her a hug. Rick sits down with Gabriel and tells him that he knows he's hiding something and that he'll kill him if what he's hiding hurts his family…his entire family.
Carol sneaks out to the abandoned car, but Daryl catches her before she can leave. While they're standing there, a car speeds by with a white cross on the back windshield. Daryl busts the lights out of the abandoned car and him and Carol set out after it. It's the same car that took Beth! #Caryl to the rescue!
As Bob is outside alone, he begins to cry while leaning on a tree. Someone in a hoodie hits him over the head and drags him out of sight. They then show him tied to a stake by a fire…it's those darn "Termites" again! Gareth is talking to Bob and blames him and the rest of the group for taking their home. As he's talking about how they have to hunt to survive, we see the rest of the group back at the church talking and laughing together, which hasn't happened for a very long time. Gabriel is off by himself looking at a photo of him and a woman (alive) who appears to be the walker with the glasses. Gareth takes a bite out of a large piece of meat as the camera pans out to reveal that Bob is missing a leg. The episode ends with a shot of Bob's foot in the flames.
Ok, so we already know that the Terminus residents (a/k/a Termites) were cannibals, right? But somehow seeing it like this was utterly disgusting. That's saying a lot considering the fact that this show is a non-stop killing of zombies. Can we please agree not to make "Bobeque" a thing? I leave you with these questions that could possibly be answered in the coming episodes:
Will #Caryl find Beth and bring her back safely?
Can we handle another adorable reunion with Daryl and someone he's grown to care for?
What will Gareth and the Termites do with Bob after eating his leg (ughhhh)?
Will Rick and the rest of the group find Bob (& finally kill Gareth and his minions)?
Exactly what is Gabriel hiding and who carved those words on the side of the church?
Will the group actually attempt to make it up to Washington?
Tune in next Sunday, October 26th at 9/8c on AMC for more of The Walking Dead!
Twitter: @TheVRO
Facebook: Variety Radio Online
Tumblr: Variety Radio Online
//