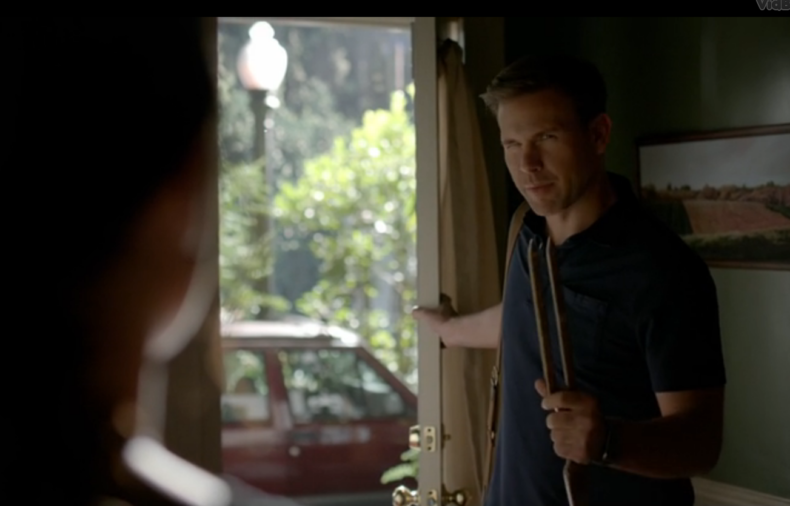 Season 8: Episode 3
Aired: Oct 28, 2016
"Somewhere along the way, you decided that I was worth saving. I wanted to thank you for that." – Damon Salvatore
"You're Welcome."- Elena Gilbert
Tonight's episode of the Vampire Diaries definitely tied in with it's title tonight as everyone fought to save one another (Especially Damon). We start tonight off with a little bit of a blast from the past, we see the moment Elena's parent's die as they're drowning after their car drove off Wickery Bridge. *tear* But however, instead of Sheriff Forbes (Yass! Sheriff Forbes!) giving the news that there were only two fatalities that night, there are three. And then we pan into Damon and Sybil as she asks him if he every met Elena… to which he replies that he never did.
So as Sybil is trying (and failing) once again to gain access to Enzo's mind in order to control him. She keeps bugging him to turn it off, and Damon's not helping by just casually reading Fifty Shades Darker and lounging around on the couch. Enzo's attempt to save Bonnie by telling Sybil that she means nothing to him backfires as Sybil orders Damon to kill Bonnie since that's the case.
Bonnie and Caroline are wedding dress shopping (in case you missed it last week, Stefan proposed and all of us are screaming because, hello? Klaroline?!) and having some bff bonding time when Damon swoops in and, halfheartedly, tries to kill Bonnie. So Bonnie and Caroline kick some ass tonight as Sybil so kindly states, "You got beat up by a girl?" (two, Enzo corrects.). Therefore, in a very Sybil-like manner, so digs around in Damon's head and finds that Damon and Bonnie have an extensive history of him constantly trying to kill her, and the bad blood between Bonnie and Damon grows- that is, until they end up stuck together in the prison world and ultimately becomes each other's bff. She then proceeds to alter the memory, inserting herself in. Thus, the Damon and Bonnie connection is broken, at least on Damon's end.
Anyways, back at the Salvatore house, Bonnie and Caroline are trying to stock up on weapons, (Meanwhile Alaric and Stefan are having an awkward conversation where Ric tries to convince Stefan he's okay with the engagement.) and walk into Sybil sitting down casually looking though Caroline's 6th grade wedding plan album. She want's to know what makes Bonnie so special that all these men are so devoted to her. Ultimately she tells Bonnie that she only needs one of them and that she has to pick who gets to live while the other spends eternity in hell. And of course, Bonnie doesn't pick, so Sybil mind controls Damon and Enzo to try and kill one another starting in 15 minutes.
Meanwhile, Damon gives Stefan a call, and tells him that he needs his help. He tells Stefan that he can't reveal Sybil's plans because it just comes out as "Applesauce, Penguin". As Bonnie and Caroline drive (with Sybil sitting smug in the backseat, without a seatbelt) Car texts Stefan to tell him that Enzo and Damon are basically going to try and kill each other. Thus, we find that Damon needed Stefan help to, not save him from Sybil, but save him from Enzo should he be unable to fend him off on his own.
After a whole scene where Enzo and Damon duke it out, Sybil gets thrown from the car as Bonnie slams the brakes (always wear your seatbelt kids), and Caroline and Stefan get their necks snapped while Car tries to save Stefan from killing Enzo—we come to the conclusion where Damon has his hand shoved into Enzo's chest, ready to rip out his heart. When Bonnie begs him not to in an emotional plea, and he clearly isn't going to, she yells that she chooses Enzo. But of course, you can't trust The Siren, who orders Damon to kill Bonnie, only sparing her if Enzo turns off his humanity. And so he does. After telling Bonnie that she can bring him back. Annnddd, once AGAIN, never trust A Siren because she still goes through with the order, only allowing Bonnie a few seconds to run.
As Damon is about to give an end to his bestfriend, he's run over by our favorite supernatural hunter, Ric! And, using that pitchfork object that he discovered last week (turns out if you clang it, it makes a high pitched sound that counters The Siren- thanks Ric's kids for figuring that out), they are able to capture the Siren. However, her hold on Damon and Enzo still aren't broken. Oh btw, Georgie (Ric's intern) decided to follow him and saw Stefan snap Enzo's neck. So I'm guessing she's gonna be an even bigger asset now that she knows about the supernatural.
After all is said and done, it seems as though Bonnie has given up on Damon, as she asks Stefan: "What has Damon done? Besides give up?", giving us an idea as to why she chose Enzo over Damon. The episode concludes with Damon lying in the middle of the road (again), and TYLER LOCKWOOD comes up to see if he's okay, but realizing that it's Damon, gives him a speech about how Damon's given up, and that this is the defining moment. If Damon kills him- that will be the moment he remembers that he's given up- or who knows, the moment he wakes up from the mind control. Damon walks away, but Sybil speaks to him telepathically, and guess what? He goes back and attacks Tyler… the end.
Okay can we PLEASE talk about Tyler's return?! I've waited season after season for Michael Trevino to come back, and seriously if this is how he's going out- I'm throwing in the towel (not actually, but still!) This week's episode was a little bit sad… I mean making Bonnie choose between her best friend and her boyfriend??? Geez! And having all of our characters divided in choosing who they were going to save was a bit harsh, I wonder how this dynamic plays out later on into the season. Once again, getting those flashbacks are amazing because, while it reminds us that The Vampire Diaries is coming to an end, they tie in so well with what's going on. I'm still waiting for the day Bonnie gets her magic back. She's become such a huge part of the show and not being able to fight for herself, and always relying on other people to save her doesn't do her character justice! She went from 100 to 0, and I just wish they'd give her an epic comeback! Anyways, that's all for tonight, thank you for reading as we continue the final season of The Vampire Diaries! Till next week!
Xo,
Jules
Ps. WHERE THE HELL IS MATT?!!!!!
If you missed last week's episode read The Vampire Diaries Season 8, Episode 3 recap
here!