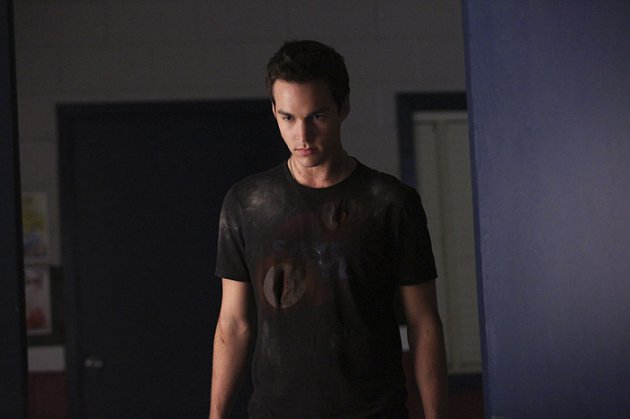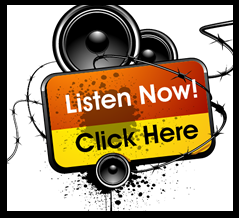 By: Kristin Trujillo (@kristin0409)
Welcome back #TVD fans! How excited were you to be #Kainapped??? Even though Paul Wesley directed this premiere, this was certainly Kai's episode. We got a glimpse into just how psychotic he really is (as if we weren't already aware)!
The Winter finale left us with Kai cloaking Elena and then knocking her out and "kainapping" her. This week's premiere picks up with Elena waking up as Kai rambles on and on about the most random things. Her hands are tied behind her as he explains that he "ate" all of the magic from the traveler's spell, and he's basically going to use her as target practice. He killed the manager of the Mystic Grill while trying to practice his magic and then finally managed to perform a cloaking spell on him. After spewing never-ending sarcasm, he says a spell that undoes the cloaking…revealing the deceased manager lying on the table in front of Elena.
After running into a shirtless Jeremy, Stefan discovers Jo and Liv practicing magic in his living room. Alaric arrives bearing food and alcohol and tells Stefan that they're practicing there because Damon feels guilty. Where is Damon, you ask? He's sleeping on a chair in the hospital as he visits Sheriff Forbes. He tells her that in an attempt to patch things up with Rick, he's allowed them to turn his living room into Hogwarts. (TVD and a Harry Potter reference? Yes, please!) Caroline walks in with a kale smoothie and asks for Damon's support in trying to find a cure for Liz's cancer, but he can't offer it. She wants to have her mother drink her blood to see if it will help, but apparently she's the only one who wants to try.
When Sheriff Forbes is released from the hospital, Caroline and Stefan bring her home to relax. Caroline offers to start Liz on the FRIENDS series and asks if Stefan knows how to laugh. She tells them that she's meeting with one of the head oncologists at Duke University to get a second opinion, and Stefan wants to tag along. He claims that he was looking to head that way to visit a friend anyway, to which Caroline responds with, "Stefan, I know all of your friends…Elena, me…and then that's it." (Kudos to Caroline for the hilarious, snarky comments!)
Kai now has Elena chained to the ceiling in her old high school. As he attempts to turn her blood to acid, she realizes that her daylight ring is melting on her finger. She yanks the chains from the ceiling and runs into one of the nearby classrooms to try and salvage what's left of her ring. He walks in after her, and, as her hand catches on fire from the daylight drifting into the class, she turns on the gas and manages to knock him down with a fiery blast. She runs into the hallway to call Damon (who answers his phone as "Magic Camp") and quickly informs him that they're at the high school. She runs into Kai, who snaps her neck with his magic.
At Duke University, Caroline and Stefan attend an art exhibit for a student photographer. Caroline receives a phone call from the oncology center requesting a meeting right away, leaving Stefan in search of Sarah Nelson. As he finds his great niece (fourth removed), he's joined by, none other than, Enzo, who just can't seem to mind his own business! He takes the high road and finally tells Enzo the truth about Sarah and why he's kept the secret from Damon for the past 18 years. Apparently this bores Enzo, so he walks away.
Caroline compels the oncologist for the truth regarding Liz's condition and is highly upset to learn that there is no medical treatment that can help. The oncologist has a patient with a nearly identical condition who hasn't responded to any treatment. Caroline demands to see the patient for herself.
While Elena tries to get through to Kai, he reveals that he simply has no feelings for anyone other than himself.
Damon brings Liv to the high school to try and free Elena from Kai's evil grasp, but Liv refuses to go inside the school. She attempts to start a cloaking spell, but suddenly disappears. While Damon looks around for her, he runs into Luke, who tells Damon that Liv doesn't have time for this. He then disappears as well. Damon calls Rick to see if there's a plan B. Jo volunteers to perform the spell, despite the fact that Rick says she can barely light a candle. Jeremy walks in holding a crossbow and also volunteers to try and help save Elena.
Luke is tired of people using him and Liv as their "dancing witch monkeys," so he begins packing their belongings to head back to Portland where their father is. Liv points out that he's stronger than she is and lists the facts that confirm her theory.
Over at the Mystic Grill, Matt has called Sheriff Forbes about finding the manager's dead body. He's fed up with deaths caused by supernatural beings, but is distracted when Liz loses her balance.
Caroline meets with the patient in the oncology center and begins to read his chart. He has an inoperable tumor and no next of kin and, even though he's unconscious, Caroline talks to him and gives him some of her blood. She compels him to forget that she was there.
Target practice continues as Kai etches a 'K' into Elena's cheek with his magic. Damon and Jo walk through the school's hallway as Kai is walking down another. At the point where the hallways meet, the three stop in their tracks. Kai continues to walk towards the recycling bins (he's psychotic, but at least he recycles!), unable to see Jo and Damon. She'd put a cloaking spell on them before entering! Go Jo! Damon unties Elena's hands and she's now under Jo's cloaking spell. As they begin to leave, Jo appears weak and has blood running out of her nose.
Liv tells Tyler that she has to go back to Portland with Luke and also informs him that Luke is the stronger of the two. He tries to convince her to run in order to avoid having to merge, but she doesn't want to be hunted by their coven. Luke walks in and tells them that he told their father they're out. He's not going to "follow his destiny" if it means killing his sister in the process.
As Jo grows weaker, her cloaking spell becomes undone and Kai finds them. As Damon prepares to fight Kai, Elena disappears. Damon breaks a mop stick and heaves it in Kai's direction, catching him right in the chest. Suddenly a second Kai appears, unharmed. He tells Damon that cloaking and illusions are all in the same wheelhouse, and reveals that the Kai who was hit in the chest with the stick was actually Elena. He brings Damon to the ground with his magic and then sets off to capture the weakened Jo. While they're walking down the hallway, Kai is shot in the heart by Jeremy's crossbow. Rick sticks a syringe into Kai's neck, rescuing Jo.
Back at Duke, Caroline and Stefan watch as the patient who was on his death bed is now wide awake making a purchase at a vending machine. Stefan thinks it's too easy for their blood to cure cancer, but he can't rain on Caroline's parade. She asks him to take her home, so she can try and heal her mother.
Damon tries to remove the stick from Elena and is tricked into thinking he left a splinter in her heart. As he frantically tries to find it, she begins to laugh and touches his hand. Alaric interrupts them and asks if she's ok, to which she responds that she's never felt more alive.
Enzo returns to the art exhibit and reveals the history between himself, Stefan, Tripp and Damon to the woman in charge. He tells her that the best part of revenge is that sometimes they never see it coming. He compels her to forget the conversation and asks her to box up all of Sarah's photographs.
The group brings a sedated Kai to Rick's apartment, where he's expected to stay while Jo continues to practice her magic. Rick (and his extra tight pants) and Damon bond over their love for women who make crazy decisions.
Stefan tells Caroline the truth about Sarah, and she thanks him for supporting her decision to help Sheriff Forbes. She finds Matt and her mother inside and, when Matt leaves, she tells her mother what she discovered at Duke. She tells her what happened with the other patient, and pleads with her mother to let her heal her. As she's telling her mother the story, we see the patient back in his hospital bed. Sheriff Forbes agrees, and Caroline drops her blood into a cup for her mother to drink. We see the patient in the oncology center frantically running to the door of his room, spitting up blood and dying on the floor.
Ahhhh! Such an amazing premiere! Tune in next Thursday, January 29th at 8/7c on The CW for more of The Vampire Diaries!
Twitter: @TheVRO
Facebook: Variety Radio Online
Tumblr: Variety Radio Online
//