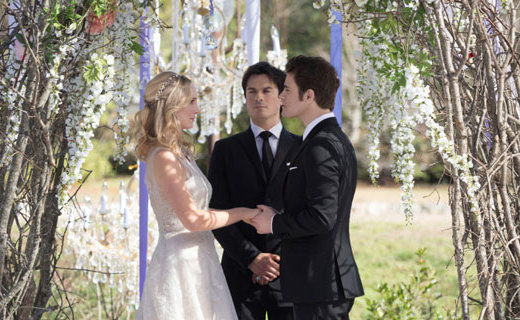 Season 8 Episode 5
Aired: March 3, 2017
"We're Planning a June Wedding"
– Caroline about Stefan, S1Ep1
Friday night's episode of The Vampire Diaries actually had a very fitting title- seeing as how Caroline says this about Stefan in the very first episode of the series, it's ironic how much the show has evolved in the last eight years.
So Katherine's back and she's not the only one- Matt's mom comes back to town as well, claiming to 'miss her family.' Little do we know, she actually escaped from Hell… and is in cahoots with Katherine.
The entirety of the episode was just a lot of wedding plans and talks about Katherine, who never really even makes an appearance. The episode has a female figure going around killing people, leading us to believe that it's Katherine…but it's actually not. Stefan and Damon have are able to get Peter to forge a knife out of Katherine's bones to try and kill her. So yeah, Stefan and Caroline get married, and Katherine surprisingly doesn't make an appearance to object. And Matt's Mom slashes Peter's throat- so his fate is unknown at the moment. Bonnie and Enzo share some really cute moments, before Matt's mom causes a gas leak and the entire Salvatore mansion goes up in flames. So Bonnie, in an attempt to save Lizzy and Josie's life, has to let them siphon from her (she may or may not still have magic- Enzo seems to think so) and so she loses Enzo. Of course, seeing as how she can't seem to catch a break.
And yeah, turns out Katherine's plan was to ring the Maxwell bell in order to unleash hell fire and destroy mystic falls. Matt, refusing to do it, and with Peter half dead, asks Kelly how Katherine plans to pull that off- and well… let's just say Matt wasn't an only child. Yes, that's right: Vicky's back, and apparently on Katherine's side. The episode ends with her ringing the bell and Bonnie falling to the ground.
Till next time! THE FINAL TIME… *cries*