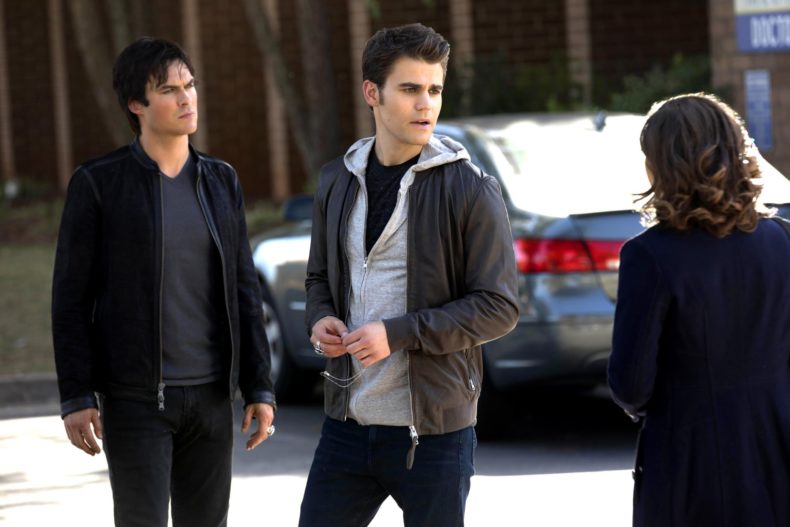 Season 8 Episode 8
Aired: January 13, 2017
"I'm Stefan."
"I'm Elena."
"I know. We have history together."
– Stefan And Elena, S1Ep1
Last night's episode of the vampire diaries definitely brought us back down memory lane. It's been 3 weeks since Stefan and Damon drove off, with the mission to serve Cade. We pick it up with them going out and trying to find the worst of humanity.
Stefan and Damon: In the episode, Stefan wants to corrupt a young doctor names Tara, who holds a resemblance to Elena, not only in looks but in the fact that she's an orphan. Damon on the other hand, tries to convince Stefan to spare her, and this in turn serves to spark Stefan's game.
What exactly is the game? Well he vervains Damon and gets him in a hospital bed. Tara then treats him while Stefan tries to convince her to kill Damon. He tells her that he's a terrible person who happens to be on an organ donor list (like her parents were) and… that Damon was the one who killed her parents in the accident. Tara seems to still want to make the right decision- that every life matters and she would help Damon. But after some more side commentary from Stefan, and an ineffective apology from Damon: she kills Damon. You failed the test Tara!
In order to convince Stefan that Damon doesn't care about the necklace of Elena's he's been carrying around, and that he only has sights on his mission, he kills Tara. Oh, and Stefan is also back to being Ripper Stefan, despite trying to control himself the entire episode.
Caroline and Sybil: Sybil decides to play a game of her own as well. She masquerades as a history teacher at mystic falls. There, she takes Caroline on a trip down memory lane, explaining how she wants the family heirloom that Matt's family has, and she wants Caroline to get it for her, or all her students die. Eventually they figure that it's in some boxes at Caroline's house- but the catch is that Seline already took it.
Matt and Peter: Ric filled his intern, Dorian, in on what's actually been going on. So with his help, Matt and Peter figure out that their ancestor was once friends with the Sirens. And in their ancestor's (aka Harvey) journals, he writes about the tuning fork, known as the Staff of Arcadius, and how it was forged in the fire that killed Cade. Since the Maxwell family used to make church bells, we find that if you put that family heirloom together, along with the staff, into a bell- it amplifies the staff (possibly killing the sirens).
If you missed the last episode, read the review here!
Till next time!
XO,
Jules