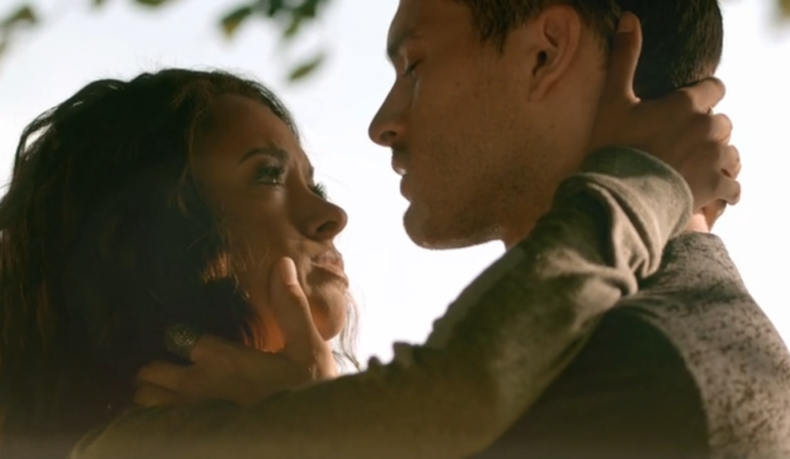 Season 8: Episode 2
Aired: Oct 28, 2016
"We promise you adventure, passion, and even a little danger…"
Kevin Williamson returned to write the 8th and final season on The Vampire Diaries, and only 2 episodes into the much anticipated finale, Kevin alongside executive producer Julie Plec have already delivered on their promise of adventure, passion, and of course: danger! Not to mention the already stated nostalgia that this season was sure to bring—after all this is the beginning of the end. Tonight, not only do we see some familiar faces, we also say goodbye to some as well.
Last weeks episode of The Vampire Diaries ended with The Siren emerging from the bloody waters of the slaughterhouse. Finally, we get to put a face to the mysterious creature in the vault, and not only that, but we also learn tonight that The Siren has a name: Sybil.
Tonight's episode of The Vampire Diaries kicked off with a bit of antics between Damon and The Siren as she drowns her next victim in a pool at a hotel resort. Meanwhile Stefan, Caroline, and Bonnie are searching for more clues for Damon and Enzo's whereabouts, and finally come up with something: Sarah Nelson.
WOW, now there's a name we haven't heard in a while. For those of you who don't know, Sarah Nelson is also known as Sarah Salvatore! Aka the last living Salvatore relative of Stefan and Damon's. Julie and Kevin bring back some memories as we journey back to Sarah's family tree. She is, as many of you may know, Uncle Zach's daughter (Zach was killed by Damon back in Season One). Damon also killed his pregnant wife, but the baby survived- living to become Sarah Nelson.
The Siren dug around inside Enzo's mind to try and find out why he's been resisting her, and Enzo unfortunately gave up Sarah's name; causing The Siren to force him and Damon to go around North Carolina killing potential Sarah Nelsons. This name of course rings some bells for Stefan as he spent the past 22 years of Sarah's life trying to protect her, setting her up with a trust fund and all. So off to North Carolina our heroes go!
Damon explains to Enzo as they go on their search, that he's given up so easily because he believes he's going to hell. They eventually run into Sarah. She recognizing Enzo, knows who (and more importantly what they are), and is quick to vervain Damon. With Enzo in toll, they head back to her place to pack her belongings to try and get her as far away as possible and are greeted with our favorite trio, Stefan, Caroline, and Bonnie.
Bonnie and Enzo's reunion is a bit awkward… I mean, I was expecting a sweet embrace, maybe a couple of tears, a bunch of "I love you"'s… but instead we got a whole lot of tension and not much else. Like… Enzo wouldn't even look at poor BonBon, like actually: the guy was hardcore staring out the window instead. So as Bonnie and Enzo are having their moment, Caroline is in the hallway calling Ric to check up on the kids, and Stefan is with Sarah. Damon has woken up and attacks Caroline, ripping off her daylight ring, and stabbing her in the back, hindering her from helping Stefan and Sarah as he parades in and holds Sarah in a chokehold: ready to rip her head off.
BUT WAIT! Stefan is able to get Damon to listen to him for a second to explain exactly who Sarah is, and uses the whole
"Do it for Elena. Do it for me"
card, effectively tapping into Damon's humanity and he lets go of Sarah, telling her to run… And just as she reaches the door, who shall enter other than our big bad villan— Ms. Siren herself, and stabs Sarah. Oh guess what? She also heard about Elena in the process, so as Sarah is bleeding out on the floor, and Stefan is frozen under some kind of Siren spell unable to move, she taps into Damon's mind and digs up the beloved shred of humanity he has left: his first time meeting Elena.
And of course since this is Vampire Diaries, something awful has to happen- so cue the awfulness, The Siren (aka Sybil as we learn right now) distorts Damon's memory of Elena and inserts herself in it instead. Welp… there goes our hope of getting Damon back. So as Sarah Salvatore dies right before Stefan's eyes, The memory of Elena (and Damon's humanity) dies in Damon as he leaves with Sybil.
Since Caroline is helpless without her daylight ring, where is Bonnie and Enzo during this whole ordeal you ask? Well Bonnie tricked Enzo into going down to the car with her, vervains him, and tries to basically kidnap him. But since Enzo's mind is linked to The Siren's, he can't get away and starts getting headaches and nosebleeds and begs Bonnie to turn around and let him go… *crying internally bc I ship Bonzo so hard*
Anyways, Bonnie returns to help Caroline put her daylight ring back on, and the two besties have a fight as Caroline said that all this was "for nothing". And Bonnie says that even though she's happy for Caroline, seeing her with her family, and Stefan, and her house makes Bonnie want to die. This is quite a shocker for Caroline, and the two make up as Caroline apologizes for not being there for Bonnie as she should, and that Bonnie's happiness is ultimately a part of her happiness.
Enzo arrives at the hotel, where Damon plunges a hand into Enzo's chest and Sybil gains access to Enzo's mind. Discovering his memory of Bonnie after he tells her to let him go, the two embrace as Enzo promises to brave the oceans and sail past all The Sirens to find his way back to Bonnie. (YAS I'M SCREAMING!) Uh oh, lets pray that Sybil doesn't distort his memories of Bonnie like she did with Damon and Elena!
So while all this is happening, Alaric is with Georgie at The Armory where she is constantly trying to flirt with him. They find a journal entry that leads them to search for an object make before the 1700s around the time The Siren arrived at the Armory. They come across a symbol that apparently Georgie has seen before. The symbol is tattooed on her body as she tells Ric about how she's been in hell after a drunk driving accident where she killed her best friend. As she was "in hell" this symbol was the only thing that she was able to comprehend other than the despair. Georgie ends up discovering the object they were looking for (it looks likes a two pronged fork) and believes that it was made in hell, seeing as it has that mysterious symbol on it.
And to conclude the episode, Stefan and Caroline are back at the Salvatore house, where Stefan reveals he is building a room for Caroline's kids. In one of the dressers Stefan tells her to open, she discovers a ring… and follows with a declaration that he wants her to marry him. She of course says yes while I die inside because tbh I'm still shipping Stelena and let's be honest Klaroline was the best ship there ever will be. Also, I feel like they literally just started dating 6 minutes ago. Remember when Stefan told Caroline it was never going to happen? Yeah…
"Dear Diary,
Today will be different. It has to be."
-Elena Gilbert, S1Ep1
I honestly loved this episode, Bonnie and Enzo definitely stole the show this week. Michael Malarkey and Kat Graham's chemistry is amazing! They're such talented actors! If I'm being honest, I remember when Bonzo first became a thing, I thought it was the biggest screw up in the history of screw ups because I was shipping Bamon, but seeing as how Bonnie and Damon are super cute as just BFFs, Bonzo grew on me. I love how much willpower Enzo has, and how much he's willing to fight for her. I find myself looking forward to hearing more and more about their story arc every week.
Stefan and Caroline's relationship on the other hand… Idk I L O V E D them as besties, and Stelena always had a special place in my heart. I mean, 8 years of the show, and the first 3 revolving around that epic love story? Yeah it's gonna stick with a gal. But seeing as how Julie is developing their characters… I don't HATE them, I feel like if Stelena and Klaroline never existed, I would be totally for Steroline. They're cute. But it's nice to have a working and functional relationship at this point in the show to root for. ( I was lowkey rooting for Caroline and Ric too… I just want Ric to be happy!!!!)
All this hell business with Ric is really interesting, and how it ties into the show as a whole as well. It's really nice to have Ric back in the supernatural business, but at the same time being more cautious because of his newly established family. Can't wait to see what he discovers next and hopefully that fork is a way to kill/disable Sybil and save Damon and Enzo! Maybe we'll even get to meet the devil himself (or herself) this season. Wouldn't it be awesome if the devil was Katherine??? I would FLIP! Or even another doppleganger and bring that storyline back?
Anyways, stay tuned for next week and thanks for reading as we conclude the final season on Vampire Diaries!
Xo,
Jules
P.S. Where the hell is Matt?!