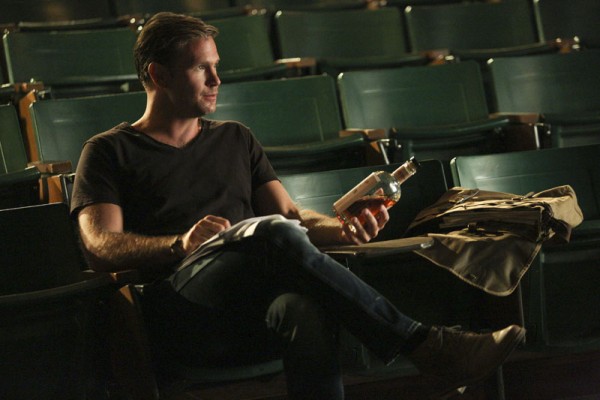 By: Kristin Trujillo (@kristin0409)
This week's episode begins with Stefan receiving a late night phone call from Tripp. Tripp thanks him for handing Enzo over, and that despite the fact that he's tried numerous techniques to get Enzo to give up the names of other vampires, he refuses to cooperate. He did, however, tell Tripp that the vampires have moved down to Savannah. Stefan hangs up and overhears Ivy in his kitchen. She's made a mess of his house and blames him for her dying and becoming a vampire. She tries to attack him, but he snaps her neck just in time.
Over at Whitmore, Caroline hears a knock on the door. She's surprised to see Stefan standing there with a large trunk. He walks in and closes the blinds while Ivy jumps out of the trunk, scaring Caroline. He asks her to keep an eye on Ivy and to teach her a few things about being a vampire. Caroline is reluctant, especially with her anger towards him at the moment, but she agrees to do it.
Elena convinces Alaric to attend the homecoming party after calling him a hermit. She invites Liam to the corn maze as well.
Bonnie and Damon are still trying to figure out how to get home without Kai. As usual, creepy Kai overhears their conversation and tells Damon to begin digging through to the tunnels below.
Ivy is annoying Caroline and tries convincing her to go to the party. Caroline continues to deny the request until Ivy suggests playing a board game instead. As Caroline lists the games options, Ivy snaps her neck and leaves the dorm.
The party begins at the corn maze and Elena reveals to Liam that she invited Jo in an attempt to set her up with Alaric.
Everyone enters the maze as Caroline frantically tries to reach Stefan to inform him that Ivy has escaped. She can't reach Stefan because he's paying a visit to Alaric, who isn't too thrilled to see him. When he asks why Stefan is there, he finds out that he's only there to get a daylight ring made from Luke. Apparently Stefan led Alaric to believe that Ivy was a witch who was working to find a way to bring Damon and Bonnie back. Stefan wants Alaric to compel Ivy to get control over her new vampirism and to get far away from him. Alaric tells him that he won't do it just so that Stefan can get a new start, and that it's not that easy. In response, Stefan tells him that it was easy enough for him to compel Elena. Alaric wasn't about to accept that guilt trip though, so he tells Stefan that he forgot about Damon first and tells him to get out of his face before he compels him to be the guy he used to know.
Ivy feeds on a guy walking alone to his car and then attempts to compel him to forget it, but the compulsion doesn't work. She realizes that it doesn't work, and opts for telling him to run before she kills him. (Smooth, Ivy. Real smooth.)
As Damon finally reaches the tunnel, Kai returns. Bonnie realizes that Kai doesn't know the spell for them to get back home, which means they don't need him. In an interesting flip, Bonnie uses her magic to fling an axe into Kai's chest while Damon pleads for her not to.
Alaric finds Jo as someone in the maze scares her. They realize that Elena is setting them up, and they walk off together. Tyler is driving to the party to meet Liz when someone runs out in front of his truck. He slams into the guy and is knocked unconscious. The truck continues to drive through the maze, injuring people all over the place before slamming into a tree. Tyler makes his way out of the truck and finds the guy that he hit, bleeding on the ground. Elena and Liam attempt to help the others who have been injured in the maze using very different techniques. Elena uses her vampire blood and compulsion while Liam uses actual medical techniques. Tyler calls Elena and frantically tells her that he hit someone with his truck and that if he dies, he'll be a werewolf all over again. She tells him that he drove the truck through the maze and that there are injured people everywhere. Alaric has been stabbed in the side with a piece of wood but manages to convince Jo (without compulsion) that the blood isn't his, after he pulls out the wood and heals. (He's in a maze full of bleeding people…this might not end well.)
Caroline finds blood on the car where Ivy fed as Stefan approaches in his car. She finds out that he slipped Ivy's daylight ring underneath Caroline's door and was halfway out of town before he heard her messages that Ivy disappeared. (As if she couldn't be any angrier with him!) She yells at him when he tells her that this isn't how someone starts over. He seems out of words as she tells him that she'd hoped Damon would come back because if he came back, she'd get Stefan back as well, but now all she wants is for him to get in his car and leave. Which is what he does. She receives a call from Ivy, and tells her that she'll go get her.
While Damon gives Bonnie crap for turning Kai into a "douchekebob", she explains again that Grams sent her there for a reason. She realizes that the ascendant could only be activated by a Bennett witch. She does a spell and the ascendant opens.
Tyler continues to try and lift the truck of the guy in the road when Liv comes and uses magic to help him. She can see that he's desperate to avoid becoming a werewolf again.
At the corn maze, Alaric is struggling with bloodlust when Jo tells him to help her with the injured partygoers. Elena runs over and puts Tyler and Liv on speaker to see if Jo can help them save the guy. She asks them a series of questions and tells them to hold his hand and try to keep him comfortable because he's clearly not going to make it.
In the tunnel, Bonnie cuts her hand with the ascendant and says a spell that makes the ascendant open again. She tells Damon it's time to go home, to which he replies, "Let's get awkward." They hold hands and have a cute moment of non-hatred before Bonnie is shot backwards by an arrow. Damon turns around and finds Kai standing there with a crossbow wanting to know if they're forgetting someone. Damon rushes over to Bonnie, pulls the arrow out and tries to feed her his blood to heal her, but he's distracted when Kai runs over to grab the ascendant. The two of them fight and the ascendant falls to the ground. Bonnie crawls over and grabs it.
Tyler desperately tries to help the guy he hit, and Liv pleads for him to stop. She tells him that there's nothing left for him to do. She places her hands over the guy's mouth and nose until he stops breathing…killing him herself to spare Tyler.
Bonnie tells Damon that she won't make it, so she uses magic to throw Kai off of him, pulls Damon into the light of the eclipse and tosses him the ascendant. He screams, "NO!" as he's lifted into the light…alone. The ascendant drops to the ground and shatters, angering Kai.
At the hospital, Alaric checks up on Jo, who has an arm injury. She pays him several compliments and tells him that she was meant to know him. She asks him to kiss her, but instead, he compels her to think he's boring, a borderline alcoholic and that she doesn't want to kiss him. When he's done, she disagrees with everything he said and kisses him. (What? So she wasn't compelled?!)
Caroline speaks to Ivy on the phone as someone approaches Ivy in their car. It's Tripp. He shoots her in the chest with special bullets as Caroline arrives in time to see her being taken.
When Elena invited Liam to the corn maze, she told him that he wasn't really her type. After the corn maze, however, she tells him that he was a hero and that that's her type. She kisses him and goes into her dorm room.
Liv is at the bar crying over what she'd done to help Tyler. He walks in, but she doesn't want to talk to him about it. He tells her that the guy was already dead because there was nothing they could've done to help him, and that she saved him (Tyler) instead. He grabs her hand and tells her that he can never repay her for what she's done for him, and that he promises not to waste it.
Stefan goes into his family's crypt alone with a bottle of bourbon and begins to talk to them. He finally talks about how much he misses his brother, and that he's not doing good without him. He throws the bottle across the room, but it's caught…by Damon. Stefan isn't sure if he's real or not, but Damon walks towards him. He reaches out and touches Damon's shoulder and then pulls him in for a huge, adorable, brotherly hug and begins to cry.
Note:
Since Keisha and Raechel are in Atlanta this weekend for EyeCon, we mentioned that we won't be on-air this afternoon for our weekly recap. So, I'll offer my thoughts on the episode below, and hopefully next weekend, we'll be able to discuss this week and next week on-air.
My Thoughts:
First and foremost…reunions never looked so good! The last scene was such a heartfelt scene between Stefan and Damon, and playing M83's "Wait" in the background made it that much more beautiful! Julie Plec calls this her favorite scene, and I have to wholeheartedly agree.
Second…I know I'm not alone when I saw that someone better find a way to bring Bonnie back! That poor girl is constantly helping everyone other than herself. Now she's stuck in 1994 with an angry serial killer?? Ummm…no. Someone please do something about this! We need Bonnie back!
I'm not sure about everyone else, but I'm not really digging Jo, Ivy and Liam in this season. There's just something about them that I don't like much, and especially now that Jo doesn't seem to have been compellable…is that even a word? It is now! Ivy is extra annoying, and I wouldn't be upset if Tripp stakes her.
Did anyone else swoon when Alaric told Stefan that Damon was his best friend? Don't we all miss the Damon/Alaric bromance? I wonder how long it'll take before we get to see those familiar scenes of them sitting at bars together!
As always, tune in next Thursday, November 6th at 8/7c on The CW for more of The Vampire Diaries!
(& don't forget to check out the amazing spin-off, The Originals on Mondays at 8/7c on The CW as well!)
Twitter: @TheVRO
Facebook: Variety Radio Online
Tumblr: Variety Radio Online
//