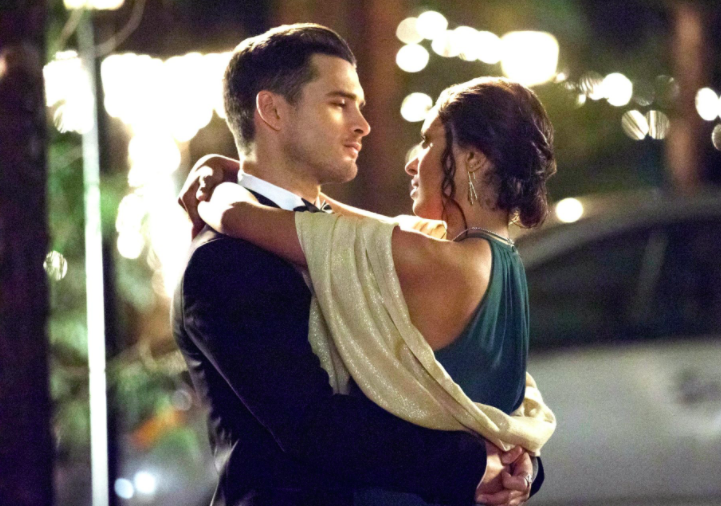 Season 8: Episode 9
Aired: January 20, 2017
The Simple Intimacy of the Near Touch"
– Carol Lockwood, Season 1 Episode 19
Julie Plec definitely delivered on her promise that this final season would be one full of nostalgia. Last night's episode of The Vampire Diaries brought us back to season 1; particularly Miss Mystic Falls. Also known as the moment Damon and Elena's love story began. For those of you who don't know, during season 1: Stefan was going on a ripper rage, and that left Damon to fill the spot of Elena's date to the pageant.
Unlike season 1 however, this season is missing Elena Gilbert- that is, physically.
Damon/Sybil/Stefan: Damon and Stefan travel back to mystic falls, as Sybil uses her physic abilities to pull Damon back into being her lapdog. What's different this time though, is that he's able to resist her messing around in his subconscious. Being at the Miss Mystic Falls pageant only serves to prove to Damon that the harder Sybil tries to erase Elena, the more he seems to hold onto her. After confronting Sybil and knocking her out- he proceeds to chain her up and digging to bring up all of her insecurities: and in doing so, she breaks. Well… she breaks in the fact that she gives Damon back his humanity- and of course it comes flooding in full force.
Caroline/Matt: While Stefan is busy planning to kill potential Miss Mystic Falls, Caroline is planning the event. She also enlists the help of Matt and Damion to help her find the bell that Seline stole. Matt goes through a bunch of sirened police officers in order to get it… but Seline has some interesting information to tell Damion about the nature of the bell- and he advises Matt to listen…
Caroline ends up breaking her engagement with Stefan (or at least that's what I gathered from her throwing the ring back at him). Why? Because apparently Ripper Stefan is having "fun." And that apparently Cade was right- that Stefan won't want to stop. Caroline tells Stefan that they're in it together… but not even Caroline could sacrifice a future for someone who isn't willing to be saved. She tells him that one day, he's going to realize that even though he's having fun, he wont be happy- and until he realized that: to stay away from her. Ouch.
Enzo/Bonnie: Meanwhile, our favorite two characters, Bonnie and Enzo return from their trip from Paris. Although this time, Bonnie wears a gift around her in the form of a necklace… filled with Enzo's blood. This symbolizes his eternal love (supposedly) but lets be real- he's given it to her as more than a symbol. It's a reminder of her mortality… that one day- Bonnie Bennett will die. And it's a reminder that she has the option to spend an eternity with him. And surprisingly (Elena aside), she tells him that she would take an eternity with him. All this talk about forever, led to Bonnie suggesting that they do just that: spend forever together… but her forever. She asks Enzo if he would be willing to take the cure…
If you missed last weeks episode, read about it here!
Till next time,
XOXO,
Jules