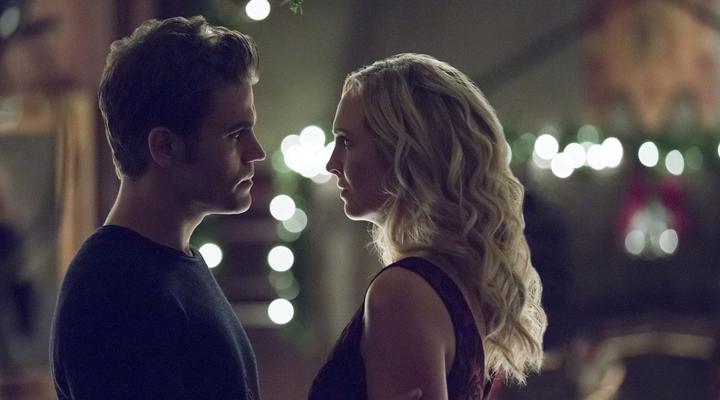 Season 8 Episode 7
Aired: December 9, 2016
"The Next Time I Hurt Somebody, It Could Be You"
– Stefan Salvatore to Elena Gilbert | Season 1 Episode 20
Julie Plec and Kevin Williamson really know how to get our spirits up right before Christmas. Last night's episode of The Vampire Diaries continues to bring a lot of nostalgia for us fans. With that being said, lets recap what happened to our favorite characters.
Damon: Back from the dead due to his eternal deal with the devil, Damon crashes Stefan and Caroline's Christmas party. His plus one, of course, is Sybil. Damon comes bearing gifts!… well that depends on your definition of a gift. Does promising to kill one of the party guests and send them straight to hell count? Well although Damon didn't get around to killing anyone (just unearthing some pretty awkward secrets), he did manage to kill Stefan (but don't worry! He's under the same contract with Cade as Damon is!). So while Damon is set on ruining the party, Caroline decides to give him a gift. Well technically it's for "future Damon" who she knows will ask for her forgiveness. The gift seemed to be the perfect gift because guess what? Right before they were going to kiss, it made Damon rip out Sybil's heart and leave it next to her on a bench. *Gasp! What?!* More on that later.
Stefan: So Since Damon managed to murder his brother, Stefan get's a visit from Cade in this 'veil' right before hell. Cade takes him to a journey to the past- Montreal 1917 to be exact. And turns out on Christmas Eve ripper Stefan decided he wanted to massacre an entire village. He doesn't remember because apparently a sympathetic Seline, who was supposed to kill him then and there, decided to spare him. After looking into his mind, she saw anguish, not anger or evil. So instead she erased his memories and let him off. Another reason Cade is so obsessed with Stefan? He brings him to the day Stefan met Elena. Cade claims that Elena was set on a good path, and then Stefan came and managed to derail her life so much that she turn bad at some point. Basically Stefan ends up making a deal with Cade: He turns off his humanity and becomes ripper Stefan for a year, and after that year Cade lets him and Damon go. Cade agrees because apparently he thinks that Stefan wont want to leave. After he comes back to life, he shares a cute moment with Caroline, then we see him get in the car with Damon and turns off his humanity…
Caroline: Her gift to Damon? Elena's vervain necklace. Now for those of you who DON'T know, this necklace was such a huge part in the earlier seasons. First given to Elena from Stefan as a cute boyfriend/girlfriend gift, she wore it all the time. Then somewhere in season 2 she lost it and Damon found it for her, (this is the scene we get to relive when Damon rips Sybil's heart out). Caroline also seems to be in a pretty bad place as her kids and Ric are leaving, Stefan's leaving, and Bonnie is leaving. So pretty much she has Matt left.
Matt/ Peter (Matt's dad): Matt and Peter show up for Caroline's party, and after Damon threatens to kill first Peter, then Matt some secrets are revealed. Apparently Peter left because he was ashamed, he didn't want to raise another child (Vicky, Matt's sister) as a plumber in a small town, so that's what he's been up to the last 20 years. Hiding. *insert Dad of the year award here* Awks.
Sybil: Besides from being Damon's plus one, Sybil seemed to have wanted to come to the Christmas party with her own agenda. She wants something from Peter, only we don't know what it is, and neither does Peter so it seems. So just before she fries his mind searching for it, Enzo and Bonnie come to the rescue with the pitch fork tuner thing! How did they get it? Seline.
Seline: Since her sister cut her out of the deal with Cade, when she dies, she'll be delivered straight to hell. So naturally, she's trying to repent. And the first step is to undo the psychic link she has with the kids and erasing their memories of her. She also gives Bonnie and Enzo the fork. Looks like Seline's not so bad after all. She just wanted to be free from all the killings…
Bonnie/Enzo: Are apparently headed to Paris! Enzo bought her and him tickets as a Christmas gift, while she got him T-shirts…
So overall here's the big points in the episode:
— Damon rips out Sybil's heart after remembering Elena (thanks to Caroline's gift).
— Stefan turns off his humanity and heads out of Mystic Falls with his brother.
— Bonnie, the twins, and the Sirens all seem to have some sort of connection because the fork hurts witches too.
— Peter is an awful father who seems to have something that Sybil wants.
— And Merry Christmas everyone!
Tonight's episode was kind of a transition episode into the next part of the season, basically trying to let us know that Damon's not all lost and that Stefan is going to need some saving. Sybil's not dead because *spoiler* we see her in the S8ep8 promo. Till next time!
XOXO,
Jules