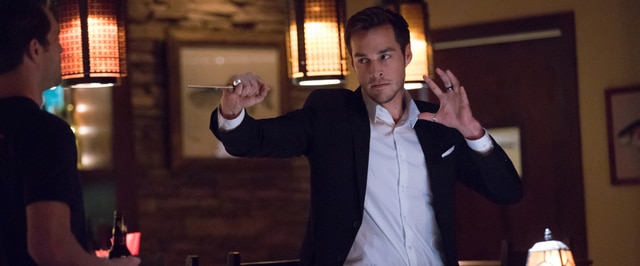 Season 8 Episode 13
Air Date: Feb 17 2017
"The Lies Will Catch Up To You"
– Damon to Stefan | S1Ep5
The title for Friday's episode of TVD was, unsurprisingly, very fitting. Since Stefan's human now, everyone he's ever compelled is starting to get their memories back. And that included Dorian. Apparently Stefan killed his father and sister a few years back while on the run about with Klaus. So while Caroline and Matt are cleaning up loose ends at the police station, Dorian kidnaps Stefan and eventually shoots him. Then Dorian feels bad and ends up saving him. Stefan, instead of dying, tells Cade he decides he wants to live, so he does… but then tells Caroline he wants to leave Mystic Falls: alone. Yikes.
Caroline's kids are starting to act up, exhibiting their magic and throwing magical tantrums. Apparently this started to happen 3 days ago… Around the exact time that Kai came back. Speaking of which, he wants Alaric and Damon to help bring him back fully to earth. He seems to have one foot in hell and one out- and he offers them a deal: He'll undo the spell that put Elena in the coma. So while Damon and Kai go running around town killing evil people in order to extend Kai's stay on earth, they enlist Bonnie's help.
So Bonnie decides to go to Cade, seeing as he's the only one who can help her find Enzo. We learn that Bonnie created her own psychic realm, much like Cade did, where Enzo's soul now resides- and Cade wants to claim him. Yeah- Bonnie's pretty badass (finally! I've been waiting forever for her to get some form of magic). She and Enzo have a cute reunion and stuff, but he's still dodging all her questions about what the heck is going on! So hopefully we learn about that later.
Kai is on the run from Cade, and Damon believes that Kai can be redeemed through forgiveness… so naturally he wants Kai to wake Elena up. Only problem is that when they get there, Kai being Kai, siphons Damon and disappears with Elena's coffin.
If you missed last weeks episode, read about it here!