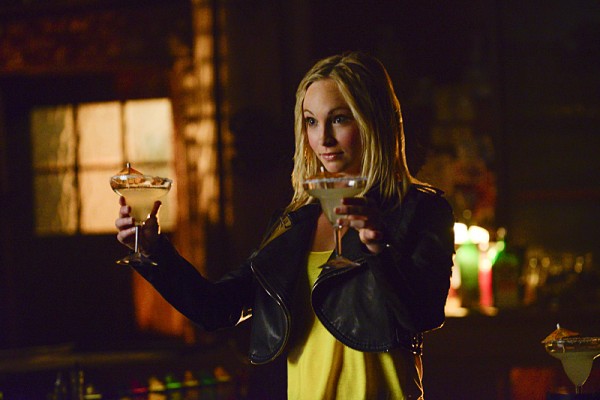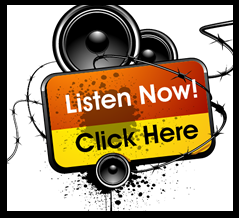 By: Kristin Trujillo (@kristin0409)
This week's episode begins with Caroline being cut off at a bar. The bartender eventually gives her another drink when she tells him her mom just died (even though she says she doesn't care about that so much as the fact that her shoes are hurting her feet). Liam arrives and the two begin flirting and then head outside for an intense make out session…until she feeds on him.
On the phone, Stefan and Elena discuss the aftermath of Caroline turning off her humanity. Apparently she went to her dorm and gathered her clothes and Thank You notes, and also completely cleared out her mother's house. When Elena hangs up, she's surprised to find Bonnie standing in the doorway. Finally reunited!
With the news of Damon and Stefan's mother, Lily, being alive in the 1903 prison world, Damon feels the need to dig up her grave. He's accompanied by Kai, who continues to deliver the sarcastic dialogue we've all grown to love. Damon denies that the woman Bonnie recorded in 1903 could be his mother because she died of consumption in 1858, and would've been in her 70's in 1903. Kai suggests she wouldn't have aged if she were a vampire, which angers Damon because he knows she wasn't a vampire. When Damon opens the coffin, it's empty.
While crazy Enzo sips from a dainty flower cup, he realizes that Sarah is photographing him from a distance. He vamps over to her and makes her remind him that he saved Matt with his blood. She tries to blackmail information out of him by showing him her memory card that has photos of him with 'weird veins.' He snatches it, breaks it and then tells her he's a vampire. He's stumped by her lack of interest in this admission, but Caroline interrupts them. When she almost tells Sarah about Stefan, Enzo compels her to go drink at the bar. He realizes that Caroline flipped her switch, and she invites him to a party.
Bonnie is trying to adjust to life among other people again, and is rather jumpy. She asks Elena not to tell Jeremy she's back yet because she wants him to have a chance at a normal life before dragging him back into everything. Caroline arrives with loads of shopping bags and a terrible attitude. Her lack of humanity doesn't even allow her to be excited that Bonnie is there. She admits to the girls that she fed on Liam because "cute guys just naturally taste better." The girls think she killed him, but she reveals that even without her humanity, she is able to think semi-rationally. She asks that they give her one-year without feeling pain or emotion and she won't kill anyone. But if someone even tries to flip her humanity back on, she'll become their worst nightmare.
Stefan calls Damon and expresses guilt over Caroline flipping her humanity switch. Damon tells him it's not his fault, because by the time Stefan realized how he felt about her, it was already too late. Regardless, Stefan asks him to look around Mystic Falls to make sure no one is missing. Damon is busy making deals with the devil (Kai). In exchange for sending Damon back to 1903 to uncover the truth about their mother, Kai wants to see Bonnie to apologize for everything he did to her.
At Whitmore Medical Center, Stefan pays a visit to Liam and asks him if he remembers anything about Caroline from the previous night. He's compelled to tell the truth, and tells Stefan he doesn't remember anything other than making out, but they'll both be at the party. Stefan quickly calls Elena and asks if she wants to go to a rave. Elena drags Bonnie along and the two quickly split up to look for Caroline. Elena finds her dancing with someone, and when she's spotted, she looks like she's about to feed on the poor guy. Elena goes to approach her, but she gets a warning glance to stay away. Meanwhile, Bonnie is approached by an aggressive guy who gets his hand burned for saying he can't help himself because she's too hot.
Despite the fact that Elena semi-defends Caroline for not having killed anyone yet, Stefan still wants to try and flip her humanity switch back on. He feels responsible for her behavior because he didn't tell her how he really felt. He goes over to Caroline with shots, and the two begin to flirt even though she thinks he's there to babysit. She calls him out on how he acted at her mother's funeral, so he takes the opportunity to tell her how he feels. She gets angry, but he looks into her eyes and tells her to let it in. He admits it'll hurt and she'll want to die, but he'll be there to help her through all of it. When it looks like she might flip the switch, she tells him he shouldn't have done that and storms off. She finds Liam in the hallway and asks how good he is at surgery.
Bonnie receives a phone call from Damon and admits to struggling with settling back into her life. When she asks why he called, he tells her that when Kai merged with Luke, he went through a metamorphosis; going from a sociopathic caterpillar to a slightly less evil butterfly. She says anyone who believes that is an idiot and asks him never to repeat Kai's name to her again. When he tells Kai that it's not going to happen, Kai begins to tell part of Lily's story. Damon shows interest in the information, but Kai suddenly stops and claims to have a sore throat.
Caroline runs into Enzo outside of the party and tells him that Stefan must've compelled Sarah not to care about anything that has to do with vampires, to which he responds that she's a genius. She begins to flirt with him, but he denies her and walks away, not realizing that she stole his cell phone. She scrolls down to Sarah's name with an evil smile on her face.
As Bonnie is on the verge of having a panic attack at the rave, she runs into Damon. She's then angered when she sees Kai. As he begins to apologize, she has flashbacks of everything he did to her in the prison world. She tells him if she ever sees his face again, she'll melt it off and then angrily walks out of the party. Stefan tells Elena that he's Caroline's emotional trigger, and that they just have to find her. He receives a phone call from Enzo, but it's actually Caroline. She asks why Enzo has Sarah Salvatore's number stored in his contacts. Sarah walks in with Stefan still on the phone and Caroline tells him she's going to kill her.
Damon finds Bonnie in her dorm after she lit the fireplace with her magic. He tries to explain that Kai knows a lot about his mother, but Bonnie doesn't want to hear it. She wants him to feel what she felt when she was alone with Kai, so she begins to inflict her injuries upon him and then yells for him to leave.
At the bar, Stefan and Elena arrive to find Caroline alone making margaritas. Liam is on the phone after being compelled to perform surgery on Sarah. Having compelled Liam to tell the truth earlier, Stefan asks him where they are. Elena rushes over to try and find them while Stefan stays behind with Caroline. The only way to save Sarah is if Stefan turns off his humanity. He refuses and Caroline tells Liam to cut out her heart. They begin to fight, but she stakes Stefan in the back.
Facing defeat and guilt for hurting Bonnie, Damon asks Kai for the short version of why his mother is stuck in 1903. Kai tells him they can't bring Lily and her closet full of crazy pants back, which pisses Damon off…until Kai reveals that Lily is a ripper. She turned in 1858 and faked her death, racking up about 3,000 bodies before the Gemini coven locked her in the prison world.
Bonnie finally calls Jeremy and leaves him a message saying that she's not sure she's the same person he wants to be with. The prison world changed her and she's not sure if she's afraid of herself or if she likes the new her. She wants to figure herself out and promises to visit him at art school soon.
Elena frantically searches for Liam and Sarah at the medical center and is having trouble, even with her vampire hearing. Caroline tells Liam to forget cutting out Sarah's heart, for him to kill her instead. Elena calls Stefan's phone, but Caroline picks up. She can hear Stefan in the background as he tells her they're running out of time and for Elena to bring him back. She pleads for him not to, but he closes his eyes and turns off his humanity. Elena finally finds Liam and Sarah, breaks his hands and then heals her with her blood. Relieved, she calls Stefan, who is now sipping margaritas with Caroline…humanity off.
Twitter: @TheVRO
Facebook: Variety Radio Online
Tumblr: Variety Radio Online
//