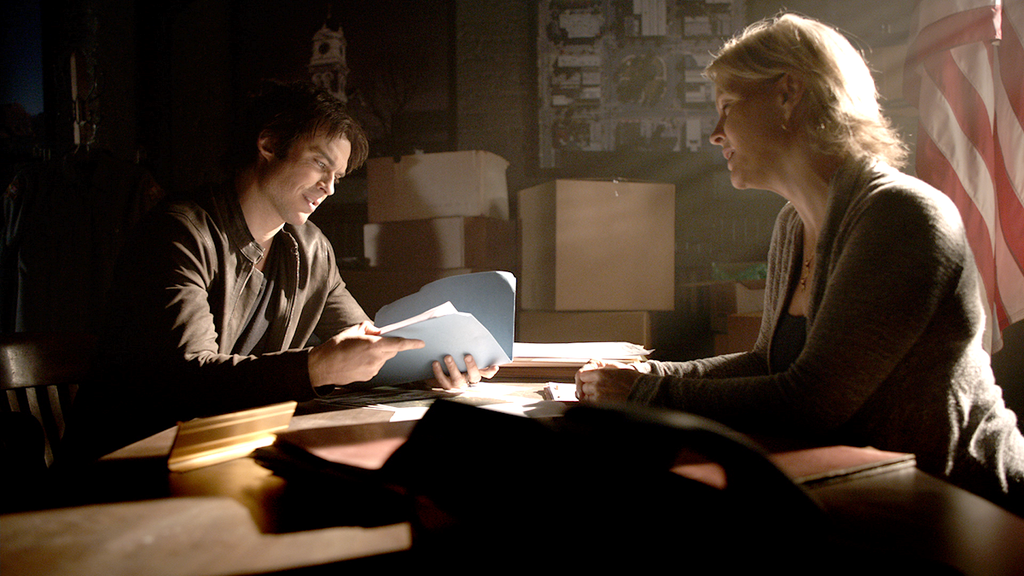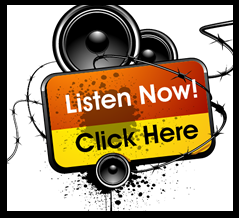 By: Kristin Trujillo (@kristin0409)
This week's episode begins with a flashback to when Liz Forbes received the call about Elena's accident with her parents. We jump to present day, where Liz is packing up her office, and finds a box of cold case files; including the Gilbert accident.
Elena and Damon visit the high school to convince the principal to grant Jeremy early graduation so he can attend art school. When they fail, Damon compels the principal to agree (just as he compelled the art school to accept Jeremy).
While Alaric, Matt and Jeremy drink to celebrate Jeremy's last day in Mystic Falls, Matt receives a phone call from the persistent Enzo. With that, Sarah Salvatore walks into the Mystic Grill. Enzo arranged for the "manager" to hire Sarah to photograph the Grill for it's website, claiming that Matt suggested her. While Jeremy sits alone, Damon and Elena arrive and give him the good news. As Elena goes to get a drink, Damon spews his usual Damonisms about how they'll somehow manage to move on without Jeremy being around, before informing him that there's a joint inside the graduation cap.
In an attempt to make her mother's last days as comfortable and peaceful as possible, Caroline and Stefan arrive at the lake house with some of her belongings. Liz doesn't know about Caroline's plan, so she sits in her office to try and solve some of her cold cases. Damon arrives and helps out…by tossing the majority of the open cases into the trash after admitting they were all him. She hands him the last file; the Gilbert accident. Liz tells Damon that they'd already become friends by that point, so she didn't want to accuse him of being involved, but he insists now that he wasn't. She believes him, and plays a mysterious voicemail Elena's mother left her two hours prior to the accident.
Jeremy heads outside to smoke the joint alone, but Elena sneaks up on him and takes it away. As she realizes how strange their lives are, she asks for his lighter and offers to join him.
When Caroline finds her first bicycle, she also finds Stefan, and his muscles, fixing something on the front porch. She tells him he doesn't have to be there if he has something else to do, but he insists he doesn't have anywhere else to be.
Liz tells Damon there's a bottle of bourbon in the top drawer of her desk. He says this is why she's a terrible sheriff, but she responds by saying she's a terrible sheriff because her best friend is the perp in the majority of her cases. When she questions him as to why he and Stefan were in Mystic Falls around the time of the Gilbert accident, he admits that at the times when his emotions were on, he'd revisit to lay flowers at their mother's grave. He then questions why the Gilberts took a longer route, why there were no skid marks and why there was a trunk full of luggage.
With the munchies setting in, Jeremy tries to convince Elena to give him her car. Liz calls Elena, causing the paranoia to also set in. She declines the call and apologizes for shutting Jeremy out when their parents died. Damon calls her and asks if she can stop by the sheriff's office, but she admits it might not be a good time because they smoked his going away present. She realizes the seriousness of his phone call when he suggests she use some eyedrops, a squirt of perfume and half a pizza because it's important she get there. As she leaves, Enzo arrives and threatens Jeremy.
Sarah shows Matt the photos she took of Mystic Grill, and he goes too far back. He stumbles upon some indecent photos of her that were clearly taken by someone else. Enzo calls Matt and tells him to bring Sarah to an old tunnel, and when Matt questions if he's going to threaten his mother again, Enzo admits he used someone more local instead…Jeremy. With his foot over Jer's mouth, and blood spilling out, Matt agrees to do as he asked.
While her emotions are clearly getting the best of her, Caroline begins to freak out over the fact that she might ruin her mother's last literary experience by choosing the wrong books to bring. Stefan offers to take over, so she goes to get a drink.
Elena isn't sure why there was luggage in the trunk of her parent's car, or why they took that particular route that night. She does show appreciation for Liz taking care of her and Jeremy during that time and offers to ask Jeremy if he remembers anything. She leaves, and Liz experiences a dizzy spell. Damon rushes to her aid.
As Matt and Sarah arrive at the tunnel, she begins taking photos of the graffiti on the walls. She admits that her roommate took the indecent photos of her, and that she doesn't have a boyfriend. Matt receives a phone call from Enzo, again, and is hit by a car right in front of Sarah.
On the front porch of the lake house, Stefan and Caroline share a bottle of bourbon as he tells her it doesn't matter which book Liz reads last. "Life isn't about your final moments. It's about the moments that led up to them," he says. He takes her hand and links his fingers through hers. She tells him she knows about the conversation he had with Liz, and that she's ok with it because she wouldn't be able to get through it all without him. He insists he's there because she's his friend and he knows what it feels like to lose a mother and, as he places his hand on the side of her neck, he says that when she told him she hated him, it was the worst thing he'd heard in a while. Caroline admits they both know she never hated him. Steroline fans prepare yourselves because…with the sun's rays disappearing between them, Stefan and Caroline finally kiss!
With Matt bleeding on the ground, Enzo walks over and claims to have heard the commotion as he was walking by. He insists that he can help Matt and asks Sarah to promise to remain calm when she sees what she's about to see. He feeds Matt some of his blood and then disappears, leaving Sarah stunned.
Elena asks Jeremy if he can remember anything about the night of the accident. All he can remember is that their mother found out he'd been smoking pot in his room. She'd caught him that night and threatened to have him arrested, which is why she left the message for Liz. He remembers that this was the last time he and his mother spoke. Damon relays this information to Liz, who's still confused about the rest of facts. Damon remembers that there was a storm, which rained them out of a secret trip planned to the lake house. Liz then realizes that the storm also knocked over a power line, causing the Gilbert's to take the alternate route. She asks Damon to call Caroline and ask if she can surprise her tomorrow because she's not feeling up to it tonight. As Damon heads out to get the car, Liz Forbes places her badge on her desk and turns out the lights in her office.
Jeremy stalls when he hears that Liz isn't feeling well, but Elena insists he leave and try to live a normal life. Alaric offers to drive him to the airport, and Elena tells him to expect an SUV sized package from her in a few days. The siblings hug before he leaves.
Damon helps Liz get tucked into bed and asks if she wanted someone to blame for the Gilbert's deaths. She begins to cry, telling Damon that she did everything right; she lived a good life, and she took care of her family. He reassures her that sometimes terrible things happen to amazing people. She wants Caroline to know how proud she is of her, and Damon tells her that she will, and that she can tell her herself. She thanks Damon for being there and, as he takes her hand, he admits that he didn't get to spend much time with his mother before her death. He'd volunteered to write her eulogy and then didn't even attend the funeral. Liz offers him a second chance as she asks him to write hers (but nothing dirty, she insists). She asks him for a drink, and as he walks out and asks if she'd like ice, she doesn't answer.
Caroline frantically enters the hospital in search of her mother and is visibly upset that she didn't get to say goodbye. Stefan calls Tyler to inform him of Liz's status while Caroline sits next to her mother's bed. She's upset that she'd gone to the lake house when her mother was sick and feels guilty for not telling her how amazing she was. She tells Stefan she was supposed to be with her in her final moment, and he tells her she still can.
When they arrive at a random bus stop, Alaric and Jeremy comment about how packed the airport is and how long the security line is. Alaric hands Jeremy a bag of vampire hunting tools, and clearly Jeremy is not headed to art school. He's going to investigate possible animal attacks. Before Jeremy gets on the bus, he asks Alaric to call him if Bonnie ever comes back.
Stefan instructs Caroline to take her mother's hand and concentrate on her favorite memory of Liz. She closes her eyes and remembers the time Liz helped her ride that bicycle she found at the lake house without training wheels for the first time. In the memory, Caroline tells Liz she wants to stop trying. Liz tells her that if she stops, she'll never learn. Young Caroline is afraid she'll fall, but Liz reassures her that she can't fall because she's holding her up. Caroline pleads for her mother not to let go because she's not ready, not realizing that Liz already let go of the bike. Liz watches on as Caroline rides her bike alone, without her help. In present day, Caroline's friends have gathered by Liz's bed as she takes her last breath.
Thoughts: This was a true tearjerker of an episode! I am so sad to see Liz (aka Marguerite MacIntyre) go, but she gave an immaculate performance in this episode. I'm also curious to see what will happen if (and when) Bonnie comes back now that Jeremy is gone. This episode was great. Not too much craziness happened, and no Kai (which stinks), but it was truly amazing.
Tune in next Thursday, February 19th at 8/7c for more of The Vampire Diaries.
Twitter: @TheVRO
Facebook: Variety Radio Online
Tumblr: Variety Radio Online
//