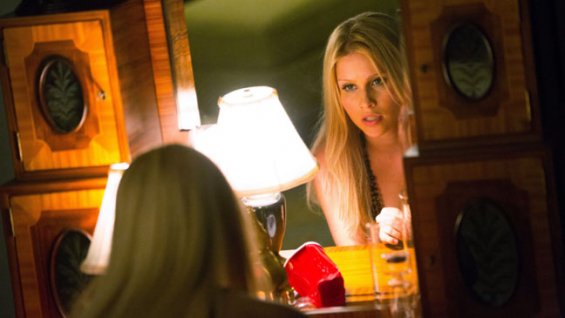 Who'd have thought a title like that would be about Elena, eh? Rebekah is back in school and throwing a party in an attempt to make new friends. She winds Elena up, and thus starts the Rager aspect of the show. Elena decides she wants to kill Rebekah (a totally sane conclusion to come to). Meanwhile, Connor the hunter has taken werewolf venom from Tyler, and put it in the beer at Rebekah's party. Every vampire who drinks it, will die. Rebekah drinks it (though obviously, as an Original, she just gets a little sick – and hallucinates about ripping out Matt's heart), and so does Elena.
Meanwhile, Klaus puts Tyler under house arrest until the hunter is dealt with, before tyler gets a visit from the werewolf that helped him break the sire bond, Hayley. Damon and Klaus capture and question Connor, with a little help from Jeremy and Meredith, which results in Klaus realising he's one of 'The Five' (which I assume we find out more about next week, given it's the title of the episode). The bombs that kept Connor in one place explode, and we assume that Connor is dead. Klaus feeds Elena his blood in order to heal the werewolf venom, and tells Stefan that she may be useful after all.
Elena goes a little nuts back home and nearly kills Matt by draining him, before Damon stops her and says he'll show her how to be a good vampire. Rebekah wakes up, healed, to find April the last guest, tidying up the house. They have a little heart to heart about how April has no family left (much like Rebekah, really), and Rebekah agrees to help find out what really happened to her father. Stefan and Caroline have a chat about how Stefan wants to enjoy himself, but is worried about becoming the Ripper again, so Caroline agrees to help (becoming the new Lexi-figure). The episode ends with Connor waking up in his trailer, and Klaus telling him he's the most well-protected vampire hunter in town.
It was another strong episode, with more questions than answers. Hopefully we'll find out more next week.
Twitter: @TheVRO
Facebook: Variety Radio Online
Tumblr: Variety Radio Online