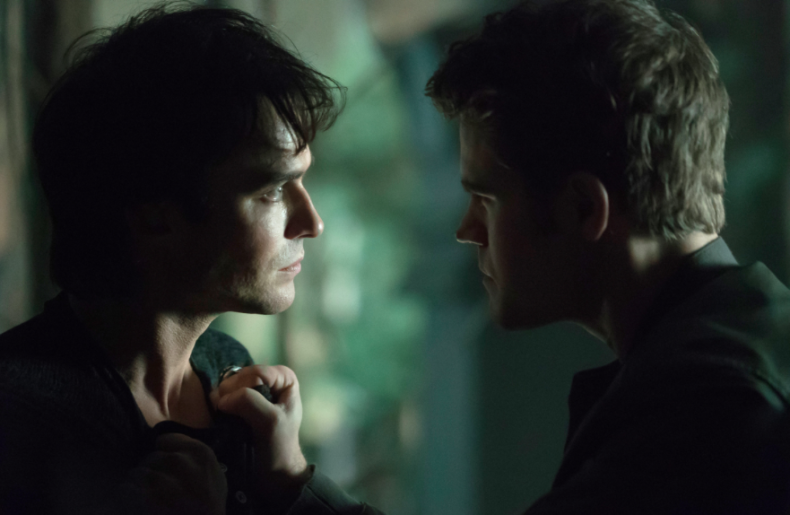 Season 8 Episode 10
Air Date: January 28, 2017
"Nostalgia's A Bitch"
– Damon Salvatore, Season 2
Last night's episode of The Vampire Diaries definitely came with a pack of popcorn (at least for me), and a whole serving of nostalgia. We took a huge turn down memory lane with more than a few familiar faces.
So with his humanity back on, Damon's moping around in his own mind, believing that he's in hell. With the help of Sybil, Caroline and Bonnie attempt to bring him back. In his mind, Damon has created a world full of people that he's wronged. Let's name them:
Vicky Donovan: Now here's a face we haven't seen in a while!
Sheriff Forbes: Caroline's Mom, and our beloved Sheriff also makes an appearance.
And finally: Tyler Lockwood– remember our favorite werewolf and childhood friend of half of of characters? The one Damon killed off earlier this season?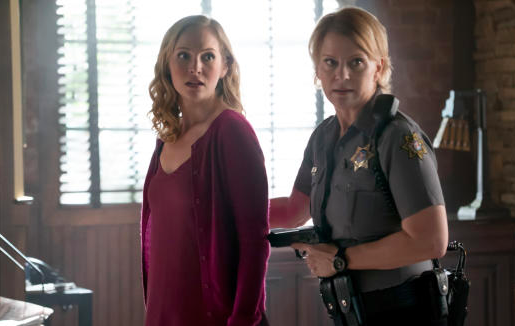 Anyways, they all show up in an attempt to push Caroline and Bonnie out of Damon's head. Thinking that he wants forgiveness, they all find a way to give it to him… but ultimately they conclude that it's Stefan who has to go into Damon's mind and forgive him. Wrong again! DAMON has to forgive STEFAN. I mean, after all- it's Stefan's fault that Damon became a vampire in the first place.
After a whole festive of Stefan not apologizing and Damon forgiving him- Stefan drops the bomb that he's planning on wiping out Mystic Falls with the Maxwell Bell- so yeah, that got Damon out of his funk and back to business. He arrives just in time, saving Matt from being killed by his father.
In Peter's defense, he was trying to save a whole town of innocent people. Seline has forgotten to mention that when you ring the bell 12 times, you open up a gateway to hell- and then the hellfire gets through and basically will burn anything in its path in a 5 mile radius. So a compelled Matt (by Stefan) was to either forgive Damon for killing Vicky, or ring the bell… so he rings the bell… 11 times. Then Damon comes and stops the whole process and Matt is warming up a bit to Damon- which is great and all, except for the fact that Cade was able to come through that gateway. In the flesh.
He basically shows up while Seline and Sybil are having a sisterly spat. And then sends them straight to hell (at least that's what we're assuming since they both burned up in flames). I mean, who needs Sirens to do your work when you can just do it yourself? Till next week!
If you missed last week's episode of The Vampire Diaries, read about it here!
So yeah, it was super nice seeing a bunch of familiar faces- it's a nice way to end the show. Now all that's missing is Nina Dobrev, Sara Canning and Steven McQueen! Oh, and if you missed it- NINA DOBREV IS REPRISING HER ROLE AS ELENA GILBERT IN THE FINAL EPISODE OF THE VAMPIRE DIARIES AND I AM SCREAMING!!!!
XOXO,
Jules