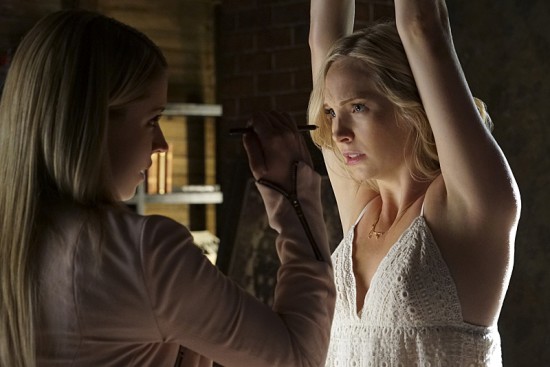 By: Kristin Marie (@kristin0409)
This week's episode begins with another flash-forward to three years from now, where Caroline is working as a TV new producer. Her assistant approaches with news that her fiancé just called and wants to plan a secret trip to Mystic Falls. She tells her assistant that her fiancé knows they can't go back there, and that she'll handle it. Who is this fiancé???
In present day, two people trespass into Mystic Falls, Blair Witch style, with supernatural detection devices. Using a thermal camera, the young man sees the heretics, and both he and the young girl are tortured. Matt arrives and tries to help them, but the heretics use magic to knock him unconscious.
Alaric is back at Whitmore College teaching his Occult Studies class, and discusses the rumors surrounding the evacuation of Mystic Falls. He denies the presence of supernatural beings and warns his students that the only thing they need to fear is a trespassing ticket; insisting they avoid the town entirely. When class is over, he tells Bonnie the heretics have killed 10 people since they evacuated the city. They discuss the fact that he spent the majority of their trip to Europe trying to find someone who could help him contact his dead wife, which offends Bonnie since he didn't go to her first. He asks her if she's ever head of the Phoenix Stone.
While patrolling the streets of Mystic Falls, Stefan leaves another voicemail for Caroline and is startled when Beau appears right in front of his car. Cue the brake check! Beau uses magic to incapacitate him, but Lily arrives and nods for him to stop. She informs Stefan that someone broke their deal by killing Malcolm. He insists they didn't do it, and Lily tells him she's not there to blame him; she came so he'd understand why they did what they had to do…
Enzo ties Caroline up with vervain soaked ropes in the dungeon of the Salvatore mansion and insists he's the closest thing to a friend she has there. She begs him to loosen the ropes a bit. He obliges, allowing her to wrap the ropes around his neck to escape. Unfortunately, she runs right into Nora and Mary Louise who use magic to knock her out in front of him and tie her up from the ceiling in their room.
Damon arrives at the Lockwood mansion with his bags, while Stefan informs him of Lily and her minions capturing Caroline. Damon feels guilty because Stefan had nothing to do with killing Malcolm. Stefan tells him to go talk to Lily so he can fix things and get Caroline back. He does as he's told (for once) and claims to have slipped and accidentally ripped Malcolm's heart out. When Lily attempts to close the door on him for deflecting, he admits to killing him. He asks for her to swap Caroline out for him, but she refuses. When he unsuccessfully tries to enter his own house, he realizes Lily must've had someone sign over the deed, rendering all other vampires incapable of entering.
After discussing the Phoenix Stone, and the fact that it's supposed to have resuscitative powers, Bonnie uses her magic to see if it has any powers at all. At first she doesn't feel anything emanating from it, but she tries harder and gets a flash of people dying. She tells Rick the stone is evil, and realizes his friend from Duke (whom he originally brought the stone to) must've told him the same thing; which is why he didn't bring the stone to Bonnie until he was desperate.
Damon arrives back at the Lockwood mansion and tells Stefan his plan with Lily didn't work. As Stefan examines the blueprints to the Salvatore mansion in an attempt to save Caroline, Damon informs him that they no longer own it. They now have to find out who does and then kill said person.
While Caroline is tied from the ceiling by her wrists, Mary Louise injects her with vervain. She asks Caroline to give her girlfriend, Nora, fashion advice as she's picking out something to wear for Malcolm's burial. When Nora emerges, Caroline laughs, prompting Nora to feel embarrassed. This doesn't go well for Caroline because Mary Louise threatens to stab her in the eye with an extremely sharp eyeliner pencil. Instead of stabbing her in the eye though, she stabs her in the body, which makes Caroline scream. Her screams are disturbing Enzo, who is downstairs pouring himself a drink. When Lily arrives, he reminds her of her promise not to have Caroline hurt. She tells him to watch over her while she and her minions attend Malcolm's burial. Valerie sees Enzo visibly upset when Caroline screams again and basically tells him to get over it. He admits to caring about Caroline and not wanting her to be hurt, so Valerie tells him to stop caring about her entirely.
Bonnie tells Damon about the Phoenix Stone, and that everything should be fine because she told Ric to destroy it in acid. She learns of Caroline being held at the mansion, which causes her to feel responsible. When she realizes he's covering for her involvement in killing Malcolm, he tells her he needs her head in the game so she could help with his plan regarding the new owner of his house…Matt. While Matt is using empty bottles as target practice in Mystic Falls, Bonnie arrives and tells him the bad news. The heretics must've drained his blood of vervain when they knocked him unconscious, compelled him to sign the deed to the mansion, and also compelled him not to invite any vampires inside. The only way for this to be broken is for Bonnie to use magic to stop his heart for a few seconds.
Back at the mansion, Valerie gives Caroline something to stand on and rips the pencils out of her skin. She sympathizes with Caroline, as she's had her own troubles with Mary Louise and Nora, and performs a quick spell to "help" her out. Mary Louise catches Valerie and realizes the spell she performed causes Caroline's skin to act as vervain.
A reluctant Matt agrees to the plan, solely to help save Caroline. Bonnie tells him his heart can only be stopped for six minutes at the most, and he insists she only do it for 10 seconds. While she performs the spell to stop his heart, she sees the flash she saw while holding the Phoenix Stone and is knocked unconscious. This time she sees bodies being tortured with X shaped cuts (just like Stefan's in the flash forward from last week, and Beau's scar). Bonnie wakes up with 19 seconds left before reaching the full six minutes to revive Matt.
Ric tests the acid on a regular rock and, after seeing that it works, goes to throw the Phoenix Stone into the acid as well. He's distracted by a photo of Jo.
As they put their rescue plan in action, Damon and Stefan head to the Salvatore mansion. Damon has a conversation with Enzo and asks for his help, but Enzo admits to being the one who took her. Damon criticizes him for choosing to become Lily's errand boy over them. Enzo responds by reminding him that he chose Damon and his friends many times, and many times Damon and his friends chose each other over him. In a last ditch effort to convince Enzo to help him, he reminds him that Lily abandoned her family once before, so who's to say she won't do it again. Enzo tells him Lily didn't abandon her family, she abandoned her relatives…which is why she's chosen to bury Malcolm in the Salvatore family crypt, right next to Elena. Cut to Lily and the heretics arriving at the crypt, and her instructing them to remove Elena from the crypt and dump her into the river to spend the next 60 years underwater.
Stefan finally reaches Caroline, only to find that her skin now acts as vervain. Meanwhile, Damon arrives at the crypt to find Elena's coffin gone. Lily taunts him with the knowledge that she's the only one who knows where Elena is, and tells him a story from when he was young. He'd broken her grandmother's vase and denied it, despite the fact that he'd been beaten for the truth. The next day, young Damon cried when he found all his toy soldiers and other toys gone from his room, forcing him to tell the truth. Damon tells Lily that Elena isn't a toy soldier, and she responds by saying Malcolm wasn't a vase. Outside the crypt, Damon is confronted by her and the heretics, who explain what Malcolm meant to them. When Lily tells Damon that Malcolm was her eldest son, she says it's ironic that he's the one who took him from her. He asks what it is they want from him.
When Stefan is finally close to rescuing Caroline, he's tossed from the window, as Caroline is pulled downstairs by an unseen force. Enzo had the maid sign a new deed, which forces uninvited vampires out of the house. He tells the maid to invite Caroline in.
At the Lockwood mansion, Stefan confronts Damon on why he left before he had a chance to take Caroline. He pushes Damon against the wall, and finds out Lily has instructed him to go as far from Mystic Falls as possible…AND she has Elena. The two realize that Lily is taking away everything they care about so the two will begin to fight and resent each other, as they did when they were children. They devise a plan to pretend her efforts to fracture them worked, while Damon goes off to find the sixth heretic, Oscar, who he can use to negotiate a trade.
Ric lies to Bonnie about destroying the Phoenix Stone. Not sure why she would just take his word for it, but we see Ric in the morgue standing over the body of the young man who died in the beginning of the episode. He places the stone on the man's chest, which revives him for a few seconds, until he removes the stone.
Lily finds Enzo in front of the fireplace playing his guitar and learns he doesn't want to be one of her "children." He plays with a strand of her hair and tells her he didn't choose "them," he chose her. When he leaves, there's a slight smile on Lily's face.
Now that Caroline is stuck in the house, Nora hands her an old diary of Stefan's and tells her to read a certain passage. Caroline does it and discovers that in 1863, Stefan met a girl whom he thought to be the most incredible girl he's ever met…Valerie.
Back to the flash-forward, we see Caroline in the news studio. Her assistant, Tony, tells her Stefan Salvatore called, and she doesn't seem pleased about it. She tells him she never wants to hear that name again and walks away. The two fall to the ground as both are hit with flying stakes.
Great…so now we know that in three years, Caroline will be engaged to someone who is NOT Stefan. I'm curious to see what will happen, if anything, between Enzo and Lily. Also, what will happen when Stefan realizes one of the heretics is an old flame??
Tune in to The CW on Thursday, October 22nd at 8/7c on for more of The Vampire Diaries!
Twitter: @TheVRO
Facebook: Variety Radio Online
Tumblr: Variety Radio Online
//