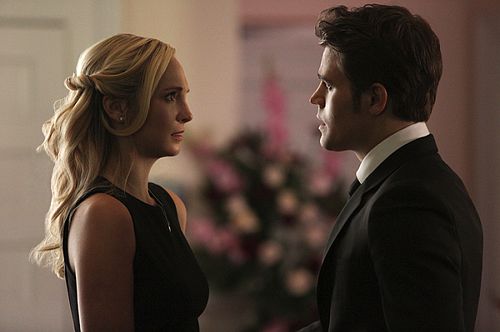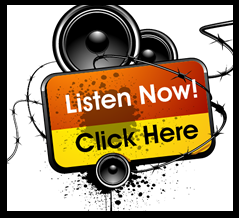 By: Kristin Trujillo (@kristin0409)
This week's episode begins with a memory/dream of young Caroline after falling off her bike. While Liz tends to her tears and scraped elbow, Caroline asks if she's going to die from her wounds. Her mother tells her the chance for survival is 100 percent. Caroline then asks if Liz is going to die, and what will happen if Liz dies and Caroline is still here. Liz replies by telling her young daughter that when she dies, Caroline will be all grown up and won't need her anymore. Caroline hugs her and tells her mother she'll always need her.
In the living room at the Salvatore Mansion, Caroline wakes up for a glass of water and we see just how loyal her friends are; Matt, Tyler, Elena and Stefan are all sleeping in the room as well. She heads into the kitchen and finds Damon busy attempting to write Liz's eulogy. She shuts him down when he tries to tell her that he was supposed to write the eulogy for his own mother's funeral, stating that this is going to be the worst day of her life and doesn't want to spend it bonding with him. As she leaves the room, he tells her the worst day will be next week when the silence sets in.
Embracing her need for control, Caroline makes a list of things she needs to do now that her mother is gone and recruits her friends to make sure the tasks get done the day of the funeral. As her and Elena leave the mansion, Bonnie walks past them (still in 1994 land). Bonnie enters the mansion and records herself saying that she's done everything she could to get her magic back and has finally succeeded. Damon's hint to use the rock in Nova Scotia worked, and our favorite Bon Bon is finally coming home (hopefully)!
While Jo vomits her Thai food from the night prior, Alaric answers and door to find Kai. He claims to be sick and believes it's because he was supposed to have merged with Jo, not Luke. He thinks he's dying and reminds her that if he dies, so does she and their entire coven. Kai begins to cough up blood and asks for her to fix him.
Damon begins to get dressed for the funeral, and flashes back to a younger version of him and Stefan preparing for their mother's funeral. He promises Stefan that he'll finish their mother's eulogy in time and tells Stefan that it's ok for him to cry if he wants to. Young Stefan claims to have been visited by their mother's angel in his sleep, so he knows everything will be ok. In present day, Stefan walks in on Damon and asks for advice regarding Caroline. Damon, being Damon, tells him to pull the ripcord. He reminds his little brother that he's been in love twice in his life and asks if whatever he's feeling towards Caroline feels the same as that. Stefan looks conflicted as Damon tells him that Caroline wants true love, and he should pull the ripcord before things get worse…but not today. He tells him to let her have today.
Elena gives Caroline advice on how to respond to people offering condolences by placing them into three categories. While she's explaining, Caroline spills the beans about her kiss with Stefan. She wants to talk to him about it and feels she needs to know where they stand right away.
While Jo checks Kai's vitals, they both realize there's nothing medically wrong with him. He's "magically diseased" as he puts it, before vomiting blood again. She holds a garbage can in front of him, and he takes the opportunity to grab her arm to siphon some of her magic. He immediately feels better, tipping him off to the fact that in order for him to be fixed, he'll need all of her magic. Alaric threatens Kai before he's reminded that if Kai dies, so does Jo. Kai also tells them that the power that binds the prison worlds belongs to the leader of the Gemini coven, so if he dies, the worlds collapse.
Bonnie arrives at the cave with the ascendant, but as she looks up at the approaching eclipse, the cave begins to shake and the sky changes. It begins to snow on her and she finds herself at another time.
As Damon continues to struggle with his eulogy, Elena walks in and expresses concern over Caroline's behavior. When she realizes he's struggling, she tells him the eulogy isn't about him, or Liz, it's about Caroline and what she needs to hear. When she leaves the room, he flashes back to a conversation with Stefan post-mother's funeral. Stefan is upset that Damon didn't attend the funeral, and when he tells him it was because he couldn't decide what to say, Stefan simply tells him he could've just said goodbye. In present day, Damon finally finds the words to write.
Following the events with Kai, Jo and Alaric discuss whether or not she should give him her magic. He tells her he's at least 92% sure he'll love her either way.
Before the funeral begins, Stefan walks in on Caroline as she stands alone with her mother's casket. She claims to be doing ok, and then admits she's not. She attempts to discuss where they stand, but he tells her they can discuss it once they're alone and she's able to get through the day. When he leaves, Elena arrives and tells her they're ready to begin the funeral. Caroline adjusts Liz's badge and tells her she's going to be ok, and that everything will be fine after today.
Bonnie follows snowy footsteps to a house, and notices the Northern Lights in the sky. Upon entering the house, she finds a letter dated 1903.
While Matt greets guests at the funeral, he turns Tyler away because he arrives drunk. Tyler wants to be there for Caroline, but Matt tells him she doesn't deserve for him to be there in that state of mind. As the ceremony begins, the police officers deliver a beautiful tribute to their sheriff, and then Damon arrives to eulogize her. He begins by saying that Liz was his friend and before she passed, she wanted him to pass on a message to Caroline, but he cut her off. He told her to tell Caroline herself, but she never had the chance, so he takes this moment to relay the message. Liz was proud of her daughter, and she should've been. He points out that she's beautiful, strong, a generous friend and extraordinary…and so was Liz. As he continues his speech, his words strike a cord with Stefan as he glances over at the woman he was confused about. When he finishes, Caroline walks up and begins to sing a song dedicated to her mother as Stefan and her friends watch her with pride.
Everyone gathers at the Mystic Grill afterwards, and Caroline is clearly ready to end the night. Matt walks over to Tyler, who's now sober, and tells him that he picked up an application to become a police officer. He also picked one up for Tyler. Elena sees Caroline putting on her coat and offers to stay the night with her, but Caroline insists on being alone. She thanks Elena for everything she's done for her and leaves, but Elena continues to be suspicious.
Now in 1903 land, Bonnie finds a picture frame with pictures of Stefan and Damon in it. Kai and Jo begin the spell for her to give him her magic, and as they recite the spell, Bonnie's surroundings begin to change. She's back in 1994 land, but as she runs back to the cave, the spell continues to change her surroundings as Kai gains his strength. She arrives at the cave, knowing that the Northern Lights are enough of a celestial event to still get home. She drops her blood on the ascendant and begins the spell, but is interrupted as a woman appears and asks who she is. As Bonnie returns the question, the white light appears and it seems she's going home!
When the spell is complete, Kai has his full strength back and congratulates his sister. He whispers something in her ear and wishes her a good life. When he leaves, she reveals to Alaric that the reason she was sick wasn't because of the food…Kai told her she's pregnant. She begins to panic and Alaric proposes to her. She thinks it's a pity proposal, but he admits he'd bought the ring the day after Luke died; realizing life is too short. Before accepting, she asks if he's sure, and he replies he's 92%.
Stefan joins Damon at the bar and gives him praise for his speech. Damon says he'd failed Stefan at their mother's funeral by not delivering the eulogy, and he didn't want to fail anyone else. Stefan takes the opportunity to tell him that he was wrong about Caroline; he may not be able to explain what he feels, but there is something there. He also says that it may not be love just yet, but he feels it could turn into something even better. Damon tells him to stop wasting his time with him and go deliver the good news to her.
Arriving at an empty home, Caroline picks up a piece of Liz's clothing and takes in the scent. She begins to pick up, and realizes that Elena followed her home. Elena is still trying to piece together Caroline's behavior and realizes that Caroline doesn't want to feel anything after this day. She knows Caroline is going to turn off her humanity so she won't have to. In response, Caroline points out that when Jeremy died, Elena turned off her humanity and then erased her memories when Damon died. Stefan moved to Savannah to become an auto mechanic, so they're not the only ones who get to escape grief. Elena asks if her feelings about this would've changed had Stefan said the right thing to her earlier. Caroline begins to cry and hugs her friend…before snapping her neck.
Stefan arrives at Caroline's house and finds Elena on the ground. He calls out for Caroline, but there's no answer.
Damon walks into the kitchen at the mansion and finds pancakes waiting on a plate. He looks over and sees Bonnie! She leaps into his arms for the reunion we've all been waiting for! She shows him the picture frame she found at the house in 1903, and the video she didn't realize she'd recorded as she came home. He recognizes the woman in the video as his mother.
Tune in Thursday, March 12 at 8/7c on The CW for more of The Vampire Diaries!
Twitter: @TheVRO
Facebook: Variety Radio Online
Tumblr: Variety Radio Online
//