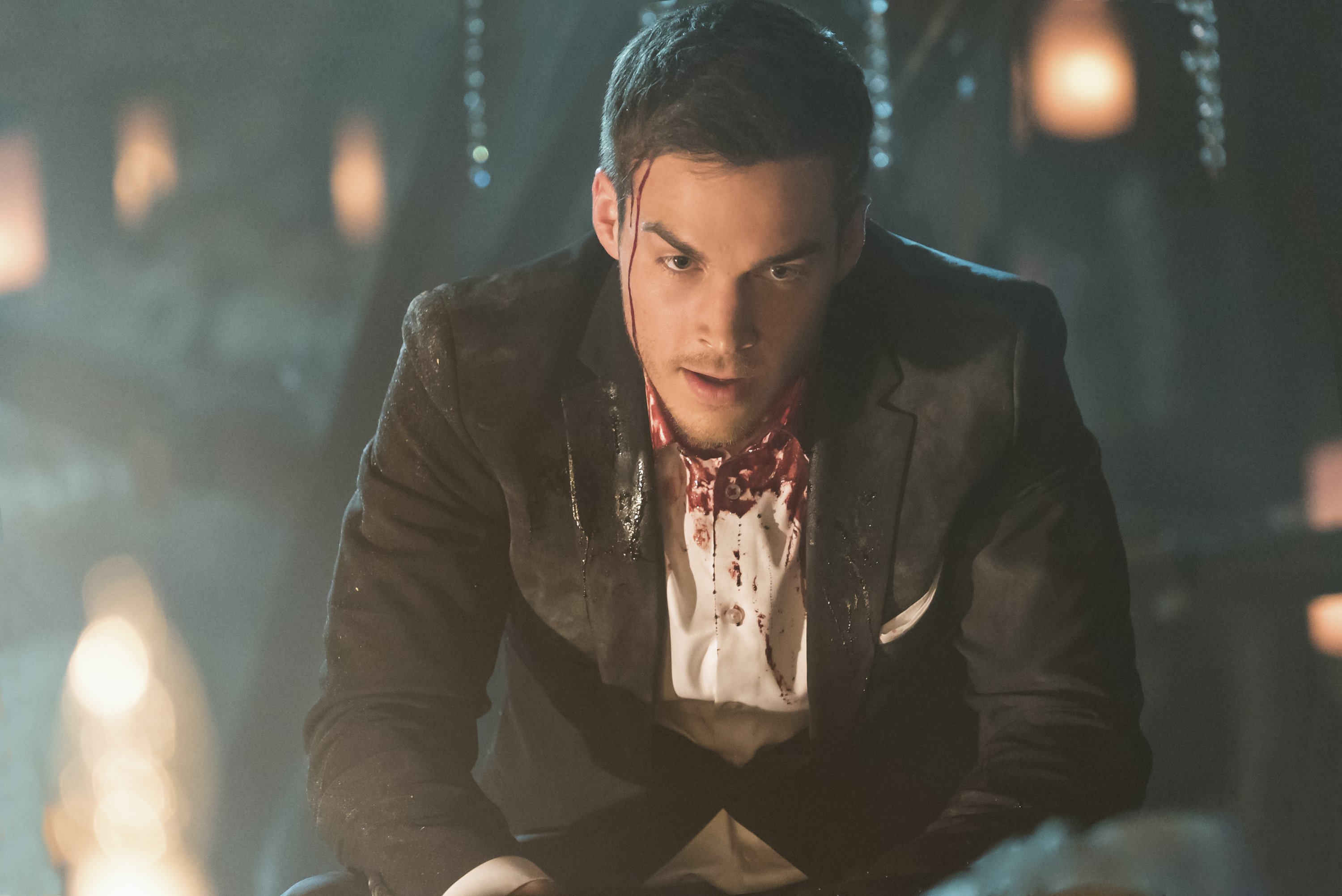 By: Kristin Marie (@kristin0409)
Our Season 6 Finale begins with Damon lying in the middle of an empty street. Elena walks over, still in her bridesmaid dress, and asks what he's doing lying on the ground where they first met. He says he was waiting for her, so, now that she's arrived, he jumps up and kisses her. She asks if it's bad and he avoids the question by offering a distraction…a chance to dance with him.
The scene fades to black and we hear wedding guests screaming and scrambling to safety. We then see the aftermath of Kai's evil actions. Alaric is holding Jo's lifeless body, which was carrying their unborn twins. Damon tries to wake Elena up by offering his blood, but nothing seems to work. He calls out for Stefan's help and they quickly agree she needs to be rushed to the hospital. Caroline is worried her now-human-again friend won't make it, but, as her and Stefan stand there amongst the chaotic remnants of a failed wedding, both of their necks are snapped by an unseen Kai.
As he unleashes his classic sarcasm towards Alaric's grief, Kai's father and the rest of the Gemini Coven begin a spell that would banish him back to the prison world. He knows they won't kill him because, as the unwanted leader of the Gemini Coven, if he dies they all die. He continues with a sarcastic apology to Alaric about his "twinsies," but he doesn't feel like competing for leadership in the future. Kai tells him that when your family believes you're an unredeemable piece of trash, you should just prove them right. He stands before his father and the Gemini Coven and shoves a large piece of glass into his own neck. He falls to the ground as the rest of his coven await their own fate. Ummm…should we cry now??? Kai can NOT be dead! He's the villain we all love to hate and hate to love!!
In a dreamlike scene, we see Alaric and Elena in the woods where he's punching a mannequin. When he throws his gloves down on the ground, Elena urges him not to give up, but he doesn't feel he has anything left to fight for. He punches the mannequin bare handed, prompting Elena to walk up behind him for a hug.
Damon watches as a doctor checks on a still unconscious Elena in the hospital. He receives a phone call from Bonnie and is relieved that Kai didn't get to her. She thinks all he did was drain her blood, but her and Matt are shocked to hear that Kai killed Jo and put Elena in the hospital. Damon is extra concerned because the doctors have told him there's nothing physically wrong with Elena and he's unsure what to do. Bonnie tells him to stay there because she's on her way.
Stefan and Caroline wake up in the back of a car being driven by Enzo. He informs them of what they missed and tells them he needs their help with a bigger problem. The three arrive at the spot where Lily is still frantically searching for her creepy heretic friends. Stefan tries to convince his mother to get in the car with them, but she insists that they're there. Apparently she made some sort of deal with Kai, and Stefan wastes no time informing his mother that he's a liar and a sociopath. Lily is stubborn though and continues to search for her friends.
While Papa Parker calls out for Liv, we see that she's stuck outside with Tyler. They're both on the ground bleeding, and Tyler has a large piece of glass stuck in his stomach. Both realize they're dying, but Liv notices something else; there's a full moon. If Tyler triggers his werewolf curse, his body will heal and he'll live. She reminds him of a conversation they once had where he claimed she gave him a second chance that he wouldn't waste. She pleads for him to allow her to do this for him…all he has to do is kill her and trigger the curse. Tyler removes the glass from his stomach and kisses her. She takes his hands and places them over her nose and mouth. He tells her he loves her and suffocates her to death even though he clearly doesn't want to.
As Damon sits next to Elena in the hospital, Tyler rushes to call Matt as his body painfully begins to transform. When Matt finally answers, Tyler tells him to warn every vampire to steer clear of him because he triggered his curse.
Stefan continues trying to convincing Lily to leave with him, but she insists that the hope of being reunited with her "family" is enough to control her ripper urges. He's fed up with her calling them her family, but she tells her son she has a deeper bond with them than anything she's ever known before. He gives her an ultimatum that I'm sure all of us knew the outcome to. He tells his mother that she either leaves with him now or she's out of his life completely. She apologizes to him and continues searching for her family. He vamps to her and pushes her up against an empty shipping container, demanding to know what she gave Kai in exchange for her family. When she reveals that she gave him her blood, we see Kai wake up despite his fatal neck wound. He uses magic to drag Papa Parker to him and swipes a finger onto his father's bloody face. With a toast to being different, Kai sticks his finger into his mouth.
Alaric places Jo's body into the back of his car and covers her face with part of her wedding dress. Clearly broken, he reaches into the glove compartment of his car and pulls out a gun. Suddenly, he sees Kai approaching and shoots five bullets into his evil almost-brother-in-law. Little does he know that, after tasting his father's blood, Kai has now completed the transition into a heretic. The five bullets are quickly dispensed from his body. Facing defeat, Alaric puts the gun to his own head and pulls the trigger; except there are no bullets left. As Kai jokes about Alaric having a very bad day, Tyler knocks him to the ground and bites his neck before running off.
In another dreamlike scene, Elena and Matt stand on the bridge where they both almost drowned. She hands him flowers and tells him to say "it." He refuses to, so she says, "Here lies Elena Gilbert. Fun girlfriend and an amazing friend," and then tosses the flowers into the river. He's not sure how she can find humor in the situation, but she says she has to because the alternative would be to say goodbye and she's not ready to do that just yet.
Matt walks into the Salvatore mansion and tells Bonnie they have to leave for the hospital. She seems dazed as she holds the old video camera she used in the 1994 prison world. There's a sticky note on the camera that says, "Watch me!" with a smiley face on it. She hands it to Matt, and Kai appears in the video. He's EXTREMELY Kai-like from the start and tells Bonnie he should've bled her out entirely for leaving him alone in the 1903 prison world. He claims she must've forgotten about the old Canadian rock full of Bennett blood, which allowed him to escape and now he's focused on finding new and creative ways for her to suffer.
Damon receives a text from Alaric, warning him that Tyler triggered his werewolf curse. He's surprised when Kai arrives at the hospital, slamming against the window, asking Damon what's happening to him. He quickly sees that Kai has been bitten by Tyler and tells him the cure to fix it is in New Orleans. He offers to go get it for him if he admits what he did to Elena. In frustration, Damon issues a warning that he'll start beheading people, starting with Kai, if he doesn't find a way to wake Elena up. Kai doesn't find him very threatening since he's seeing about four blurry versions of him, which tips Damon over the edge. Kai admits that Elena will stay in perfect health until she wakes.
While Damon and Kai are discussing Elena's current state, Matt and Bonnie continue watching the video. On the video, Kai reveals that he linked Elena's life to Bonnie's. As long as Bonnie is alive, Elena will remain asleep. He warns her not to try finding a way around it because he rigged it where, if she did try, both her AND Elena will die. Matt urges Bonnie to leave town before Damon kills her to save Elena, but she refuses to let Kai win. At the hospital, Kai tells Damon what he's done and plants the seed that the only way to wake Elena up is for him to kill Bonnie, but then Elena will probably never speak to him again. He vamps out of the hospital, leaving Damon angry and destroying a table in the hallway.
Another dreamlike scene shows Elena and Stefan hiking to the spot where she told him she didn't want to be a vampire. She tells him he's always known her better than anyone else, so it's almost impossible for her to find the words to say goodbye to him. He asks her not to because he can't handle it, "not now…not ever."
Caroline and Stefan arrive at the hospital while Damon goes to "beat the sleeping spell" out of Kai after Bonnie tracked him down. Caroline asks Stefan if he'll be ok if they can't break the spell. She knows SHE won't be ok even though Elena will wake up after Bonnie has lived a long and happy life, but she remembers that Stefan and Elena were soul mates and wants to make sure he'll be ok. Stefan doesn't think Elena was brought into his life for them to be soul mates. He admits they loved each other, but he also admits that Elena has been the only person he's ever met who truly believed Damon was worth loving. She reminded him that he used to believe that about his brother also. Her faith in him brought Damon and Stefan back together. He loved her, yes, but he realized he needed Damon more than he needed her. He asks Caroline if the reason she's stayed away from him is because she doesn't believe he's moved on from Elena, but she denies that. She tries to talk to him about them, but she can't.
Kai goes back to the scene of the crashed wedding and asks if anyone is alive because he thinks blood will heal his werewolf bite. Bonnie arrives and demands that he undo the spell, but he says he can't. She uses her magic to begin breaking his bones, but he just laughs. He realizes the bite that's slowly killing him was created by a force of magic. Being a heretic now, he's able to siphon the magic from the bite, healing himself on his own. Bonnie doesn't know, so she approaches him with a broken piece of chair. He stands up, fully healed, and uses his magic to toss her across the room into a wall.
Returning to the first scene of the episode, Damon and Elena still stand in the middle of the street where they first met. She keeps asking how bad it is, and he keeps avoiding the question. He finally tells her that Kai linked her life with Bonnie's. She learns she won't wake up until Bonnie dies. Damon tells her that Kai won, and refuses to answer when she asks what he's going to do. Clearly this scene and the first scene were dreams. No need to play with Delena fans emotions!!
Damon arrives and finds Bonnie on the ground, struggling to breathe. Kai tells him he basically handed Bonnie over on a silver platter, and informs him that she's about to die. He can leave her to die, with no blood on his hands, and he and Elena can live their happy life together. Damon apologizes to Bonnie and kisses her forehead. They look into each other's eyes and Damon walks out. Kai is shocked and disappointed that it was so easy. He wanted the decision to torture him for a while, but he didn't even flip a coin. Suddenly, Damon rushes in and knocks Kai's head off with his bare hand. He runs over to Bonnie and asks if she really thought he was going to leave her like that. After claiming he's not out of nicknames for her yet, he offers her his blood to heal her, which she takes. Ok, now might definitely be the time to cry until we can no longer. On top of the fact that Kai is irreversibly headless (that beautifully creepy head of his), Damon chose to save Bonnie over Elena!!!
The group all arrive at the mansion, where Elena's body is now resting in a casket. Damon walks in and tells Bonnie and Caroline they're up first. They walk over to Elena's body and Caroline tells her how to bring Elena into their thoughts. The two grab Elena's hand and we see the three girls reunited one last time. Caroline promises to take care of everyone, and Elena tells the girls to write down every single thing that happens so, when she wakes up, she can read about it and feel like she was there. Caroline allows Elena and Bonnie to have their own private goodbye. Elena tells Bonnie she's spent her entire life making sacrifices for her, so now it's her turn to do the same for her. As one last favor, Elena hands Bonnie feathers from her pillow. Bonnie uses her magic to make the feathers float around them as she did when she first discovered she could do magic.
Matt finally obliges by tossing flowers into the river where Elena drowned. He's dressed as a cop, as this is her hope for him. She wants him to spend the rest of his life protecting good people like himself. Matty blue eyes is upset that he might never see her again, but the two hug it out.
Elena tells Alaric that she knows he feels the pain will never end, but he has to let it in. He has to let himself drown in it, and every breath he fights for will make him stronger.
JEREMY ARRIVES and takes his sister's hand. The two are suddenly in the parking lot of their high school. She wanted to at least pretend to be strong for him, but she's failing. Jeremy wants her to know, when she wakes up, that he spent his entire life doing what he was born to do, and that he was happy.
Tyler is chained up somewhere when Elena tells him he has to leave town and really find what he wants to do and to fight for it. She wants him to embrace his werewolf nature and let it be the thing that makes him extraordinary.
Grab your tissues because it's Stefan's turn. He touches her hand and a tear falls down his cheek. She thanks him for bumping into her in the hallway at school all those years ago, for making her happy when she thought she could never be happy again, and for saving her life. She tells him she loves him and can't wait to see what new life he has whenever she wakes up. She just wants him to be happy. Rather than telling him goodbye, she tells him she see him later.
Lily still waits in the spot where her family was supposed to be when Enzo arrives. She admits to him that even as a mother and a wife, she never felt whole until she met her "family." She asks if he can understand what she means and he responds by saying it's what he's been searching for his entire life. Suddenly, they notice a building that wasn't there the night prior. Enzo realizes that Kai must've had the building cloaked, and when he died, the cloak vanished. Lily finally finds what she's been looking for and tells Enzo it's THEIR family.
Stefan and Damon place Elena's casket in their family tomb. Stefan wonders if she'll be safe there once word gets around that her body holds the cure to vampirism. Damon tells him Bonnie will spell the tomb shut and realizes it's time for him to say goodbye. Back in the first scene of the episode, Damon and Elena are in the street. She tells him she knew he'd do the right thing in saving Bonnie. He questions whether she truly knew he'd give up the love of his life in order to save her best friend, to which she responds that she knew he'd save his best friend even if it meant having to live without her for a little while. She tells him not to shut down and sit around waiting for her. She wants him to enjoy himself and be happy. The two begin to dance in the street.
At home, Caroline is surprised to find Stefan waiting downstairs. They sit down and he reminds her of the list she made of all the ways loving him has ruined her life and tells her he made a list of his own…of all the ways loving her has changed his. He goes through the list and tells her he understands if she needs time away from him. He also admits that he WILL wait for her to be ready for him, and when that happens, he'll be ready for her too.
Elena asks if Damon is ready to say goodbye. He asks who would ever be ready for that and kisses her.
As seasons change and time goes on, Officer Matt Donovan drives through the streets of a damaged Mystic Falls. Damon stands on top of the watch tower, looking very suspicious.
That's all for Season 6, AND for Nina Dobrev/Elena Gilbert and Michael Trevino/Tyler Lockwood!! Tune in this Fall for the premiere of Season 7 of The Vampire Diaries!
Twitter: @TheVRO
Facebook: Variety Radio Online
Tumblr: Variety Radio Online
//