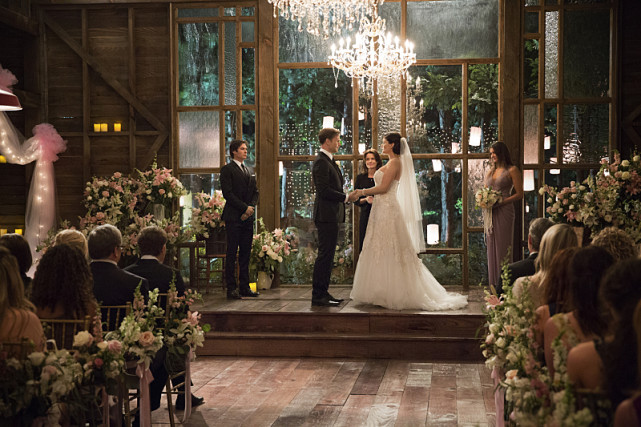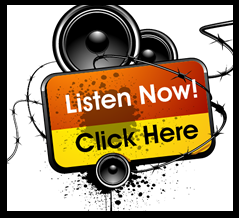 By: Kristin Marie (@kristin0409)
This week's episode begins with Bonnie waking up to find Lily in her room. She grabs a poker from the fireplace and listens as Lily questions her about any possible loophole which might allow her to get her companions back from the 1903 prison world. Lily threatens her, causing Bonnie to use magic against her…except her magic doesn't work. She tries to attack Bonnie and gets stabbed with the poker instead. Bonnie runs out of the room and runs right into Kai. She tries using magic against him, but, again, it doesn't work. He claims to have spooned her earlier and "sleep siphoned" her magic (oops! #Bonkai). Lily finds them and attacks Bonnie. Suddenly, Bonnie is awoken by Elena in their dorm room; it was all a dream! The two head off to meet Jo with only 10 hours until she walks down the aisle.
With wedding day jitters setting in, Jo begins to panic when she can't find her shoes for the wedding and also when Bonnie almost breaks the steamer for her dress. Elena tries to calm her nerves, but fails when Jo's wedding coordinator calls to say she has the flu. With the epitome of great timing, control-freak Caroline walks in and assumes the role of wedding coordinator by pointing out exactly where Jo's shoes are and tells Bonnie where the switch is for the steamer.
Elsewhere, Matt arrives at Alaric's with the suits, Tyler has the rings, and Alaric has the vows. They sit down together for some shots and friendly teasing, and are interrupted when Matt and Tyler receive simultaneous text messages. "Wedding day chores. Courtesy of Caroline," the two reveal.
Now that Jo is having her hair and make-up done and the boys are taken care of, Caroline has a heart to heart with Elena about being human again. Caroline begins her string of apologies following her lack-of-humanity actions and plans on leaving Stefan for last. She's rightfully shocked when Elena tells her Damon offered to take the cure with her.
Stefan takes Damon on a quick trip to a suburban neighborhood to show him what life would be like if he did take the cure. He believes Damon has tunnel vision when he thinks about what his life will entail as a human with Elena, and hasn't thought about life with neighbors, mortgage payments, kids, etc. A kid next door kicks a soccer ball in their direction and Damon tosses it back.
While Bonnie is taking watch over Lily at the Salvatore mansion, Enzo arrives bearing an MP3 player to keep Lily sane (is that even possible??). Bonnie walks downstairs and overhears Lily talking to herself in the cell. When she peeks through the bars, Lily jumps up and tries to attack her.
Elena applies make-up to the scratches Lily gave Bonnie. They discuss the possibility of an unknown loophole, but don't get far because Jo walks in with paranoia about her dress. Matt arrives and asks one of them to join him in picking up the centerpieces; a task semi-threatened upon him by Caroline. Bonnie agrees to go with him.
At the wedding location, Tyler is helping Caroline by fastening flowers to the aisle seats. He questions her on why he's even there, so she takes the opportunity to apologize for almost killing him. After admitting that being tortured by his ex-girlfriend and her new boyfriend was bad for his ego, he promises that everything is ok with them. He tells her if she really wants to make amends with him, to let him leave. She's definitely not letting him off the hook, but they're both surprised when Liv arrives. Caroline leaves them to discuss things, but the conversation doesn't go very well and Liv heads outside.
Bonnie confides in Matt regarding her nightmares involving Lily and Kai. He brings out his bag of anti-vampire weapons and offers his help in getting rid of Lily.
Still trying to show Damon how much it'll suck to be human again, Stefan heats up a frozen Salisbury steak dinner in the microwave (which Damon claims smells like roadkill). He reminds him that he'll have to get a regular job to pay bills because he won't be able to borrow money from him. Damon doesn't think that's very brotherly, but Stefan says he won't know where Damon and Elena are because they'll have the cure running through their veins and someone might use Stefan to kill them for good. When word spreads that they're human again, they'll have to move away and isolate themselves from family and friends, which will be his hell. Damon surprises him when he pulls out an ad for an apartment on top of a bar that he'll own next to a medical school. He plans on following through with the dream Elena had for their future together; something Stefan wasn't expecting. When Damon goes upstairs, Stefan calls Elena and informs her that Damon has their perfect life planned out. She urges him to push Damon and really make him see what it'll be like.
Elena ignores her human alcohol tolerance by drinking too many glasses of champagne. Jo walks in and talks her into not drinking anymore and then stumbles a bit. She bangs her head on the piano, prompting Elena to realize she can't help her with her own blood, so she's forced to have Jo taken to the medical center for an evaluation. Luckily it was just a panic attack, so she asks Elena to keep it a secret between them so as not to worry Alaric. Little does she know that Elena already spilled the beans. Alaric arrives outside and worries that the reason for the panic attack was because she's having second thoughts about marrying him. Elena reassures him it's not the case and reminds him that Jo has two little humans growing inside her and can't self medicate like he can, proceeding to call him bourbon breath. She admits to feeling empowered and connected to the world again now that she's human.
Caroline makes a failed attempt at offering relationship advice to Tyler and then declines a phone call from Stefan when he walks away. Stefan is busy still trying to convince Damon not to take the cure. He shows him what it'll be like with Elena once they've drifted apart and broken up. He yells for Stefan to get out of his head and the two begin to fight. Stefan then shows Damon what it'll be like without Elena entirely; sad and completely alone. He calls Stefan out on being harsh enough to show them drifting apart, broken up and then killing her off and is heartbroken to hear that this whole plan was Elena's idea as well. Stefan tells him he has to want to be human for himself, not for Elena or anyone else.
Guests begin to arrive at the wedding and Caroline continues avoiding Stefan. Elena speaks with him about what he truly wants Damon to do and, as he reminds her that Damon loves being a vampire, we see Damon still in suburbia, as he crushes the neighbor's soccer ball with his bare hands.
Bonnie and Matt arrive at the Salvatore mansion with a plan to knock Lily out and drag her to the boiler room; however, they find her cell empty. As Bonnie tries to call everyone to warn them, Matt begins to seemingly choke on air. Bonnie tries to help, but begins choking herself.
As Enzo drinks at the bar, he's joined by Lily. He's shocked she made it out of her cell and is even more shocked when she tells him she's getting "her family" back today.
After a cute phone call with Alaric, Jo is startled when her father appears behind her and asks if he can walk her down the aisle.
Caroline is finally forced to sit down and speak with Stefan. He wants her to help him with his feelings about Damon taking the cure, and she obliges before apologizing for forcing him to turn off his humanity. She made a list when she started to fall for him, and all she needed was for him to tell her he felt something for her. He forgives her, but Caroline doesn't think he should. He admits to falling for her as well and reaches out for her hand, but she tells him she's at a place in her life where control is all she has and she's not ready to give it up. She finally got what she wanted and just walks away.
With final decorations in place, Elena stands alone in the venue when Damon walks in. He admits that Stefan didn't go easy on him and he's made up his mind about whether or not he's going to take the cure. Then we see a (very recent) flashback to when he crushed the neighbor's soccer ball. He compels the boy to bring his parent's car keys and then sees an older couple arriving home. The man grabs his wife's butt as she walks by and she giggles. The two hug and walk inside together holding hands. This caused Damon to change his mind…he WANTS to take the cure. He tells Elena he's been a vampire for a very long time, and he'd give it all up for a second of being her husband; the smallest chance at a perfect life with her would be better than an immortal one without her.
The moment as finally arrived! As Jo and Alaric begin to exchange vows, their almost perfect wedding is ruined when Jo begins to experience pain in her stomach. Blood appears on her dress and everyone is shocked when an invisible Kai, makes his presence known. Meanwhile, Lily brings Enzo to a spot where she was instructed to reunite with her companions. Jo falls to the ground as Kai uses magic to shatter all of the glass windows, also knocking Elena down and unconscious. A very human, Elena.
Tune in Thursday, May 14th at 8/7c on The CW for the Season 6 finale of The Vampire Diaries! Don't forget to grab some tissues!
Twitter: @TheVRO
Facebook: Variety Radio Online
Tumblr: Variety Radio Online
//