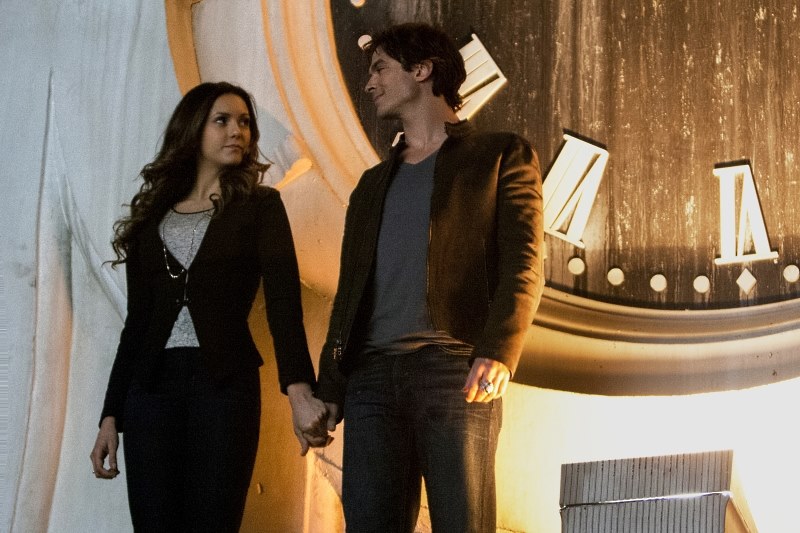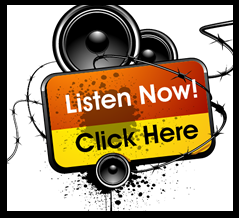 By: Kristin Marie (@kristin0409)
This week's episode begins with Alaric working late in his classroom at Whitmore College (which, of course, is dark and eerie…because that's how all teachers in a town full of vampires roll). After ending a quick phone call with Jo, he notices a shadow run past the doorway. He goes out to investigate, but he's kidnapped. Meanwhile, as Jo is working at the medical center, an officer arrives and asks to speak with her regarding Alaric. She's worried, but that quickly changes when the officer begins to strip! Elena and Bonnie walk in, clearly the hosts of this surprise bachelorette party, while Alaric discovers his kidnappers are Damon, Stefan and Matt.
The girls take a more subtle approach by having Elena compel the owner of a diner to close early so they could have the whole place to themselves. Bonnie tells Elena she knows about the cure, and Elena is shocked to hear that Damon called Bonnie to confide in her (Sorry, Elena. That friendship was signed, sealed and delivered when they were stuck alone together for months in the 1994 prison world! Accept it and love it as we all do).
In a not-so-subtle approach, the boys have a full on party for Alaric at the Salvatore mansion. Damon tells him he offered to take the cure with Elena, which shocks Ric a bit. He urges Damon to tell Stefan what he's considering. Sulking in the kitchen, Matt has his sarcastic sense of humor in full effect when Tyler walks in late. He's extra annoyed when Enzo walks into the kitchen looking for Stefan. A shot girl hands Enzo a Jell-O shot and it might be the most hilarious scene this season! He tries to take the shot and is utterly confused by the idea of Jell-O (oh Enzo…so much to learn!). In his room, Stefan continues trying to get in touch with Caroline, but is unsuccessful. He's interrupted by Enzo, who is there on behalf of Lily; she apparently needs some help.
At the bar, Lily taps her finger on a glass while trying to ignore the sound of the bartender's heartbeat ringing in her ear. As he packs up and leaves for the night, Lily waits for him around the corner. Just as she's about to attack, Stefan stops her and insists they need to talk. The two sit down and Stefan points out their ripper similarities, even though Lily clearly doesn't want to be there.
Tyler chastises Matt for drinking so much at the party, and Matt continues trying to push his buttons. He wants Tyler to gain self control, so he begins to push him, literally. Tyler pushes back, but doesn't give in (he REALLY doesn't want to trigger his werewolf curse).
Upon realizing that Stefan left the party, Damon calls him and finds out that he's with their mother, trying to help her control her ripper tendencies. When he hangs up, Enzo questions him about his decision to take the cure (Alaric spilled the beans). Damon asks Enzo (a/k/a his brother from the same mother) if he was going to tell him that Lily turned him. He takes the opportunity to call Damon out on the fact that he's selfish and probably won't take the cure anyway.
Back at Jo's party, the three girls discuss the possibility of Elena taking the cure. Bonnie believes she doesn't want to take it because human Elena might not love Damon anymore, but Jo thinks she should take the chance. Elena gets a text from Damon telling her to meet him in the town square.
While he continues to get through to Lily, she's still as stubborn as ever. She admits it's not that she doesn't love him, it's that when she looks at him, she's reminded of how weak she was when she was human and married to his father. Realizing he might have to make a Damon-like move, Stefan feeds his mother a line while removing a syringe from his pocket. She knows he's lying because he could never look her in the eye when he was lying, so she seizes the opportunity to plunge a utensil into his hand and feed on someone in the bar before fleeing, leaving him to clean up the mess.
Up on the clock tower in the square, Damon and Elena talk about whether he should take the cure with her or not. He deems the conversation to be continued…
Matt corners Alaric at the bachelor party and lays his two cents on him. He thinks Ric should take Jo and their unborn baby out of town so as not to raise their child in a town full of vampires.
After being forced to compel everyone in the bar to forget what they saw Lily do, Stefan is annoyed when Enzo shows up requesting his help finding her before she does any further damage. He lets it slip that Damon is pondering the idea of taking the cure, which clearly stuns Stefan.
Bonnie and Jo call the party quits a bit early, and Bonnie spots Lily walking into the diner, cornering them. She's clearly angry that she can't bring her friends back, and grows even angrier when Bonnie admits she wouldn't help her even if there WAS another way (especially since doing so could also release Kai). She uses magic against Lily, telling her to get out, but Lily throws something into Bonnie's neck and goes after Jo. Jo panics and screams out that she's pregnant, which stops Lily in her tracks. Lily listens and hears two heartbeats, revealing to Jo that she's pregnant with twins, and then flees.
Using one of the vampire perks wisely, Damon allows Elena to see her old house (the place where they first kissed). He tells her he's had a lot of fantasy in his life and he'd give it all up for one life with her. He pulls out the cure and hands it to her. She takes a sip as he watches, waiting for reality to begin. Suddenly she begins to regain her memories, causing her to pass out. He carries her back to the bar on their way home and puts her down on a parked car to recover. The cure undid the compulsion, and Elena remembers how much she loved him. She pricks her finger with the back of a pin and gets excited when it doesn't heal. The two begin to kiss when Damon's phone rings. Stefan pleads for him not to take the cure and fills him in on the news that their mother is angry and on the loose. She appears in the parking lot, snaps Damon's neck and then chases Elena after realizing she already took the cure. Elena stabs Lily in the eye with the pin she was holding and escapes inside the bar. Unfortunately for her, she's still regaining her memories, which is slowing her down a bit, but she manages to hide inside a vent. Jo realizes that because she's pregnant with twins, this will make her number one on Kai's hit list if he ever manages to escape from the 1903 prison world.
After an adorable moment between Damon and Stefan basically admitting they don't want to lose each other, they team up to find Lily. Stefan finds her in the empty bar and has to put in extra work when she threatens to stake herself. He tells her to stay for the sons he knows she still cares about, and who still care about her. He learned his lesson from their talk earlier and he looks into her eyes as he says this. She recognizes the gesture, but still tries to attack him. Before she can, though, Damon plunges the syringe into her neck.
Alaric checks in on Jo and Bonnie at the medical center and finds out he's going to be a father to twins. Jo is afraid her family, not only Kai, will chase them down and try to take them away. Taking Matt's advice, he suggests they leave for good so they can keep the babies safe.
Back at the Salvatore mansion, Damon finds Elena deep in thought by the fireplace. She remembers every feeling and every conversation they ever had. She remembers one in particular of them on the island where she asked him to take the cure with her and he said it would be the worst thing ever. He tries to convince her that his mind has changed since then and that this is what he wants, but she tells him she can't let him do it.
Enzo is on watch beside Lily's cell in the basement of the mansion. She tries convincing him to let her out, but Stefan arrives and tells him he's got everything under control. Stefan admits to his mother that he'd be devastated if he lost something he had for over one hundred years, much like she feels about losing her people. He reminds her that the upside to eternity is that she will be his mother for the next century, and the one after that and maybe one day she'll look at him as her son. Lily walks over, looks her son in the eyes and tells him that he has no idea what devastation feels like, but he will because she's going to do whatever it takes to bring her companions back.
The episode ends with Kai cooking a big breakfast in the prison world. His neck and arms are full of teeth marks, so it's obvious that Lily's friends have been feeding on him. He walks outside and rings a bell, summoning the group for breakfast. He claims it's a big meal for a big day…the day they're getting out of there. As only he could do, Kai smiles that beautifully creepy smile of his in anticipation for what's to come.
Tune in on Thursday, May 7 at 8/7c on The CW for more of The Vampire Diaries!
Twitter: @TheVRO
Facebook: Variety Radio Online
Tumblr: Variety Radio Online
//