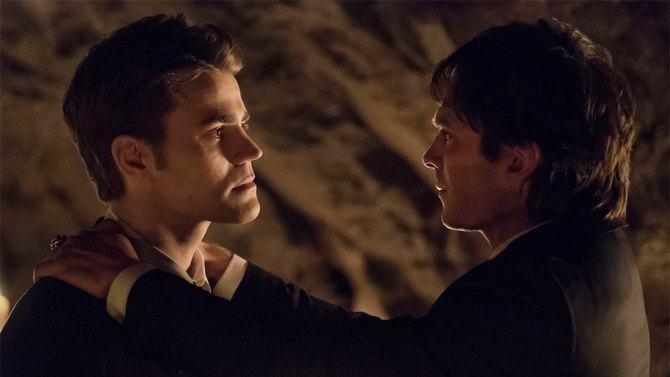 Season 8 Episode 16
Aired: March 10, 2017
"I was feeling epic."
– Lexi, Season 1 Episode 8
Well guys, it's really over. 8 years later, the final episode of The Vampire Diaries definitely didn't disappoint. I am going to be emotionally destroyed for the rest of my life… With that being said, let's get right into it!
Tonight's episode started where it left off. Bonnie awakens in a dream-state to reunite with Elena… only to have Enzo tell her that it's not her time to die, bringing her back to life.
Matt is trying to stop Vicky from ringing that bell, but after a reunion, he realizes that she's never going to stop (no matter how many times she's killed, as Damon tried… multiple times). So he evacuates the town.
Meanwhile, everyone is trying to figure out a way to stop Katherine, who also keeps coming back no matter how many times she's killed. Bonnie and Alaric figure out a way- by destroying hell all together: while Katherine is in it. But in order to do that, she's going to need Vicky to ring that bell for the 12th time. So Stefan and Damon devise a plan to lure Katherine into the tunnels, where they once again stab her. However, this is where it starts to get a bit tricky, as the Salvatore brothers debate which one of them stays with her, to make sure she's dead. After some banter, Damon (in a very heartfelt, brotherly fashion) compels Stefan to leave the tunnels, in an ultimate self sacrifice.
Caroline and Ric are on the road at this point with their daughters, and Ric tells Caroline what Bonnie is planning. She then calls Stefan to tell him that she loves him and that she "understands". So Bonnie is left in the Armory, where Vicky rings the bell for the 12th time, and hellfire goes through the the entirety of the tunnels, almost killing her- until she get's a little encouragement from Enzo, along with the ghosts of all the other witches. And she successfully sends the hellfire back.
At the school, where Elena's body is now stashed thanks to Katherine, Elena wakes up and is greeted by Stefan… where he explained what really happened. He tells her he doesn't know about Bonnie's fate- but he can tell her about Damon's. Apparently after Damon compelled Stefan, he walked out of the tunnels to an ambulance to draw some blood from himself. He then injected his blood… ALONG WITH THE CURE- into Damon. So with Damon passed out, and Stefan aging (since the cure is no longer in his system)… he sacrificed himself by killing Katherine and being burned in those tunnels…(This is why Stefan's always been my favorite tbh.)
STEFAN. SALVATORE. IS. F%*CKING. DEAD. (I'm emotionally dying right now. I can't.)
Anyways… yeah Stefan tells Elena that when she wakes up- tell Caroline that he got her message. He then walks out of Mystic Falls High School where he is greeted by our favorite BFF: LEXI! And let's just say that they're going to have an epic adventure together. (SIDE NOTE: THEY PLAY 'NEVER SAY NEVER' BY THE FRAY DURING THIS SCENE AND THE EMOTIONS HIT ME SO HARD I ALMOST FELL OUT OF MY CHAIR OMG!)
So yeah… Bonnie ends up waking Elena, she's reunited with Damon. Bonnie plans to travel the world, with Enzo's spirit watching over her. Caroline and Alaric open the Salvatore Boarding House for the girls, where Sheriff Forbes watches her, where Klaus makes a generous donation to Caroline (along with a note that hints at possible reunions), Matt gets his own bench in Mystic Falls, where Tyler and Vicky watch over him, and Elena writes in her Diary about the end…
And so the episode ends with Damon and Elena holding hands until the end… (Where they both end up dying I assume, and Elena is reunited with her parents, Jenna, and John. And Damon reunites with Stefan.)
The End.
It's been one hell of a ride everyone.
XO,
Jules