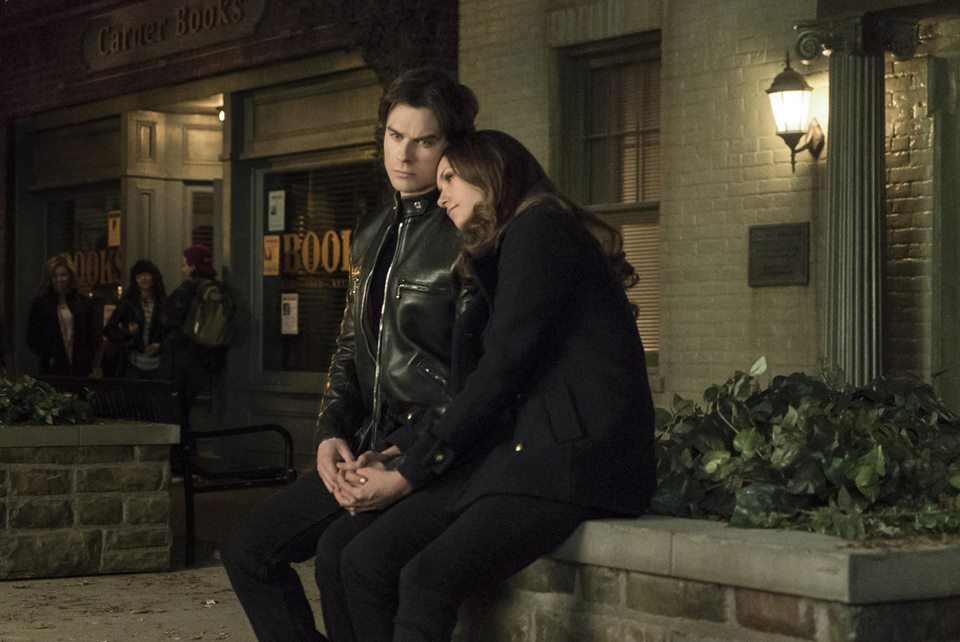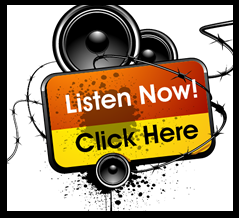 By: Kristin Marie (@kristin0409)
This week's episode begins with Stefan and Caroline taunting one of the workers at Skull Bar.  They have a competition going on whether or not Caroline could literally scare him to death.  She cheats by compelling him to have a heart attack, eventually killing him.  In doing so, she's now allowed to do karaoke.
Enzo arrives at the Salvatore mansion and looks stunned when Lily Salvatore opens the door. He claims to be at the wrong house and quickly escorts Sarah back to the car.  He tells her that he met Lily in 1903 and that she's the one who turned him into a vampire.
After a steamy bathroom scene with Elena and Damon, she goes into Damon's drawer in search of a shirt, but he rushes ahead and gets it for her in order to avoid her seeing the vampire cure stashed there.  They head downstairs for breakfast with Lily, who takes the not-so-subtle approach by asking if Elena ever misses being human. Damon shoots a glance her way, warning her to stop, so she begins asking them about upcoming celestial events needed for her to return to the 1903 prison world to free her companions.  Elena receives a text from Jo that someone has been attacking people at Whitmore.  She heads over to find out more information.
Enzo continues trying to explain to Sarah how he met Lily.  She asks how he knows her family and he rattles off this explanation:
Enzo: "Because your Uncle Stefan compelled you to forget… to keep you a secret from your other uncle, Damon after he killed your parents. You would have shared their fate had it not been for your other uncle."
Sarah: "That's who you were taking me to?"
Enzo: "Well, actually, no. The good brother recently went bad, and I was hoping to leave you in the care of the bad brother who actually is less bad now than the good brother."
Sarah: "I don't understand any of this."
Enzo: "Look, I can try repeating it, love, but it won't be any clearer the second time."
He tells her that Lily is the most dreadful person he's ever met and we finally get to see a flashback of Enzo in 1903.  He's sick with consumption and trying to board a ship where there's a doctor who can help him.  A man refuses him because he's sick and rips his ticket in pieces.  It's unfortunate for the man, when Lily Salvatore arrives and offers Enzo her help, killing the man in the process.  He recalls when they arrived at NY Harbor and everyone on board the ship was dead, including him.  He compels Sarah to forget everything about her real family and that she ever heard the name Salvatore.  It's too bad though because apparently Matt stopped by the hospital and gave Sarah vervain, rendering the compulsion useless.
As Caroline disrupts the studying at Skull Bar (who studies at a bar??) with her karaoke, Stefan compels everyone to give her their full attention. With the worst timing ever, Matt & Tyler decide they want to eat and walk in on the situation.  They try to leave, but Stefan stops them.
In the car, Lily and Damon have a discussion where she admits to hearing him and Bonnie talk about the cure for vampirism the night before.  He asks her not to mention to anyone, especially Elena.
While working a shift at the medical center, Elena attempts to heal Caroline & Stefan's victims with her blood. She accidentally informs Jo that Lily Salvatore is now here instead of her 1903 prison world, where Kai is currently trapped.  In excitement over the news that Kai is gone, Jo places her hands on her belly, tipping Elena off that she's pregnant.  In the recurring theme so far in this episode, Elena congratulates Jo on the pregnancy but has a slight look of jealousy as she realizes she'll never have that chance.
Sarah ties Enzo up and tells him she knows everything about his plan with her.  She's angry for being so naive, and he relates as he flashes back to 1903.  As he's checked by the doctor on board, with Lily watching over, the doctor claims he can cure Enzo.  Lily compels the doctor to tell the truth, and he reveals that he cannot.  She instructs him to leave them, and tells Enzo he can't infect her because she's already had consumption. When she tells him she didn't survive it, he asks if she's an angel.
Everyone has left the bar, but Caroline forces Matt & Tyler to keep watching her karaoke.  They sarcastically clap their hands and ask if they can go now.  She decides she wants them to play Caroline Trivia, where she asks them questions about her and whoever answers correctly gets to live.  They answer the first two questions correctly, but when she asks what her mother's last memory was before she died, they're stumped.  Stefan walks in after killing a Whitmore T.A. and answers the question.  Caroline doesn't think it's a bad thing because now her and Stefan get to kill both of them.
Jo and Elena talk about Elena's reaction to Jo's pregnancy news.  Elena claims that Damon knows how she feels, but there's no point in dwelling on it.
In another 1903 flashback, Enzo wakes from his fever to the sound of Lily humming a lullaby.  She tells him that her true family is with her on the boat and he can join them and never be alone again.  She cuts her hand and tells him to drink her blood.
Damon hears that Stefan and Caroline are at Skull Bar.  He gives her a pep talk about getting Stefan to flip his humanity switch and tells her to channel whatever she felt when she came back for them in 1903.  He believes she came back for them when she heard they'd become vampires, but she admits she didn't.  In a heartbreaking conversation, his mother tells him that she had to learn to let her sons go when their father banished her.  Her new family helped her, and despite trying, she can't find a way to feel anything for Damon and Stefan again.  He's hurt by his mother's words even though he was skeptical to begin with, and she walks away.
As the taunting continues, Caroline flips a coin to see if she'll kill Tyler or Matt first.  Tyler gets angry and slaps the coin out of her hand.  He smashes one of the chairs, even though Matt tries to calm him down.  With a stake in his hand, he tries to hurt Caroline, but she moves Matt in the way…causing Tyler to stab him.
While Damon fills Elena in on his conversation with Lily, she gives him the idea of getting Lily to pretend to love Stefan so she can convince him to flip his humanity switch.  He hangs up as Lily tries to leave, and asks her to give the performance of her life.  In order to convince her, he hands her the ascendant.
In 1903, Enzo wakes up after drinking Lily's blood.  He finds dead passengers everywhere and the doctor walks in claiming that Lily killed everyone and sent him to find Enzo.  He slices his own throat and Enzo feeds on him, completing the transition.  In present day, Enzo explains to Sarah that Lily turned him into a vampire and then abandoned him.  He breaks free of Sarah's ties and ties her up instead.
Tyler begs Matt not to die on him, so Caroline asks if Matt does die, if Tyler will start peeing on fire hydrants again.  With that, Damon and Lily walk in, shocking Stefan.  Damon gives Tyler his car keys and tells him to get Matt out of there.  Caroline realizes that if Lily is there to get Stefan's humanity back, they'll try to get hers back also.  To avoid this, she stakes Stefan in the back and runs out.  At the medical center, Matt and Tyler arrive and seek out Elena for help.  She tries to give Matt her blood, but he refuses.
Lily takes the stake out of Stefan's back and he tries to leave.  Damon blocks him while Lily admits that she's a ripper; he gets it from her.  Damon watches their mother as she lies to Stefan; telling him everything Damon told her to tell him before they arrived.  She definitely does deliver the performance of a lifetime as she easily gets him to flip the switch.
Stefan is beating himself up about what he's done the last few days, so Damon tells him to take the night to forgive himself so he can go after Caroline.  He doesn't need a night, so he goes after her right away.
Matt basically tells Elena he doesn't want anything to do with vampires anymore.
After a few tense glances at each other, Enzo lets Sarah go.
Elena tells Damon she wants to throw Jo a baby shower.  She admits to being a little jealous that she'll never have the chance to have a family.  He looks guilty as she places her head on his shoulder and says that living an eternity with him is what she wants also. He asks what if she could change it all.  They get a text from Jo and head to meet with her.  She tells them her father wants to know where the ascendant is, and Damon says he already gave it to Lily.  As Lily sits at the mansion with the ascendant, Jo continues saying that Lily had been involved with a group of witches who were cast out of the Gemini coven.  They were called Heretics and could siphon magic, just like Kai.  Lily turned them into vampires, creating witch/vampire hybrids.  These witches are able to siphon magic off of themselves.  Jo asks Damon and Elena to imagine something like Kai with the bloodlust of a vampire and then to imagine six of them as we see six figures sit up in coffins.
With the recent news of Nina Dobrev leaving the show after this season's finale, TVD fans have taken to Twitter with differing attitudes about what will become of the show. Yes, Nina Dobrev as Elena Gilbert is one of the main characters on the show, but let's be realistic…the show can't go on forever. So have faith in the writers of the show and keeping being loyal to these characters! If you have any theories on how Elena will be written off of the show, please feel free to tweet me!
In any case, tune in on Thursday, April 23 at 8/7c on The CW to see how things pan out!
Twitter: @TheVRO
Facebook: Variety Radio Online
Tumblr: Variety Radio Online
//