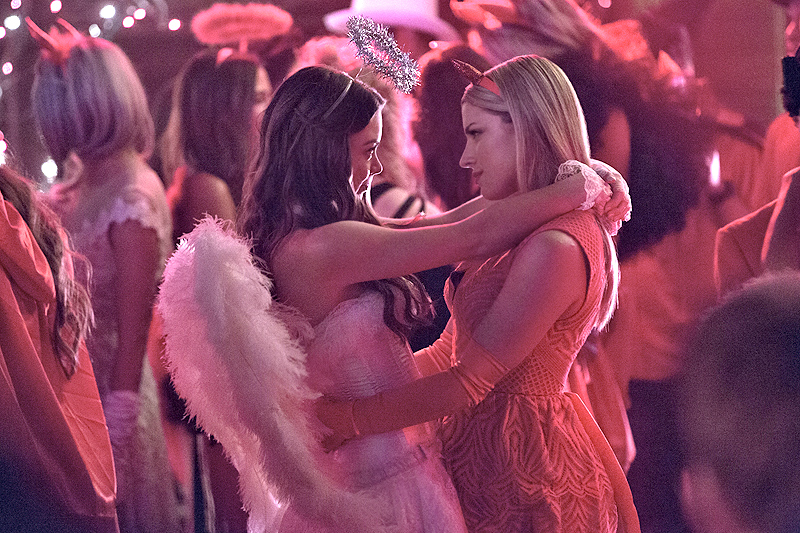 By: Kristin (@kristin0409)
This week's episode begins with another flash forward to three years from now. Alaric is working on something electrical. A bomb, maybe? Nope! The camera pans out and he's working on fixing a talking baby doll. Two little girls walk in to check on their doll, and we realize that in three years, Alaric will be a father to a set of three-year-old twins! They scurry off together, giggling, when he tells them to brush their teeth, but he realizes their giggling stopped all too soon. He reaches into the cabinet, grabs a gun and heads into the hallway where he finds his daughters staring at a figure in the doorway…Damon! Ric believes Damon's presence means someone has died, but Damon denies that. Instead he threatens that someone will die if Ric doesn't do as he says, starting with inviting him into his home.
In present day, Ric fiddles with the Phoenix stone at the morgue, where he has to pay off the worker yet again. He admits that the worker has no idea how weird it's actually going to get.
Damon calls Lily to make sure she has Elena's body for the hostage swap. She reminds him that Elena won't magically come alive, and warns him not to hurt another member of her family (Oscar). He hangs up and finds blood on the table where Oscar was receiving the vervain detox, but no Oscar. He slowly opens a cabinet nearby and Oscar's body falls out with a whole in his chest where Valerie ripped out his heart. He brings his body to Ric's apartment, where Stefan calls him out on his recent actions. He tells Damon that Elena's body is in more danger now than ever because his actions won't let her rest, and that just because he can't be with her, he makes all his bad decisions about her.
Valerie is a true psycho. She's in the kitchen making mushroom omelets, and tells Enzo they're for Oscar, who's coming home today. Enzo seems curious about Valerie and the fact that she came home so late the night before. Before they can continue their conversation, Lily enters and asks Enzo for a word alone with Valerie, claiming it's "family business" again. She questions Valerie about her tryst with Stefan in 1863. Valerie claims it was puppy love and meant nothing. Lily gives her one opportunity to say something if she needs to, but she insists she has nothing to hide. She offers to go search for Oscar, but Lily tells her that won't be necessary. She's already sent Mary Louise and Nora to Ric's apartment to question Damon after he failed to show up at the exchange. They arrive just as Damon and Stefan are attempting to get rid of Oscar's body, but they manage to hide it somehow. The girls leave, but another student arrives with a note for the brothers. Stefan reads it and discovers that Mary Louise and Nora will kill one student every hour until Oscar is returned to them…starting now. The student who delivered the letter stabs herself in the neck and falls to the ground.
Matt finds a Mystic Falls Tour bus in the square and urges the man to pack up and take everyone back out of town. Enzo shows up and helps Matt get rid of them, and then asks for access to the surveillance cameras so he can track a heretic.
At Whitmore College, Stefan fills Caroline in on Mary Louise and Nora's plan, so he comes up with one of his own – attending the school's Halloween party, getting the girls to attend and babysitting them to make sure they don't kill anyone. Caroline realizes this plan will only work if the girls think it's their idea to attend, so she puts her own plan in action; using reverse psychology to get the girls to go. She gives Mary Louise a dress to wear and asks her to siphon the spell preventing her from touching Stefan in return. Mary Louise asks if she's unable to touch her significant other and tells Caroline to try being gay in 1900. Her and Nora separately tell Caroline and Stefan that if they siphon off the spell, Valerie will retaliate and no one wants to be on her bad side. The two seem to have different ways of adjusting to being outside the prison world, causing rifts between them. When Nora rips part of Mary Louise's dress to make it sexier, Mary Louise retaliates by using magic to stab a student with a pair of scissors.
When Ric and Bonnie are about to use the Phoenix stone to try and bring Jo back, Damon walks in with Oscar's body, and insists they bring him back first. Bonnie tries multiple spells, but none seem to work. One even sets Oscar's body on fire!
Enzo confronts Valerie about what he saw on the surveillance videos. He saw her leaving Whitmore College late the night before, coincidentally the same night Oscar was there and went missing. He accuses her of killing him, and she actually admits to it. She also tells him about Julian and calls him out on wanting Lily to one day love him the way he loves her.
The rifts continue between Mary Louise and Nora when they attempt to order drinks at the party. Nora bonds with the bartender over new age drinks and Pinterest, while Mary Louise gets called old fashioned and watches her girlfriend communicate with another girl. They make up and head out to the dance floor, leaving Stefan and Caroline to discuss what to do about Valerie. Stefan doesn't feel the need to speak to her, but Caroline seems to want him to so he can make sure things are over between them. She leaves to get a drink and Stefan realizes Mary Louise and Nora have disappeared. Mary Louise heads to the back of the bar to find Nora, and finds her feeding on the bartender. Out of jealousy, she rushes over and rips the bartenders heart out. Nora calls her out on not adapting well to their new surroundings, which upsets Mary Louise. She responds by telling her she's leaving to finish what they came there to do.
Bonnie tries another spell that doesn't seem to work. They're startled when Oscar jolts upright, screaming, prompting Damon to call Bonnie the most terrifying person he knows. His memory is not intact, but they toss him some blood bags to satisfy his craving before Damon brings him to Lily. He snaps a selfie with Oscar to send to Lily and Stefan as proof, and then asks Bonnie if she's sure she wants to do all this to Jo.
Enzo questions Lily about who Julian is. After hearing Valerie's opinion of him, he's shocked to hear Lily call him the love of her life. He asks where Julian is, and just when she's about to respond, she receives the photo from Damon.
At the party, Mary Louise finds her next victim, but Stefan stops her and shows her the photo from Damon as well. She tells him about her fight with Nora, and he tries to relate. This is all part of his plan, as he stabs her in the leg with a syringe and carries her off. He holds her hostage until Nora finds them. Caroline sneaks up behind her and places her vervain-spelled hands on Nora's mouth, forcing her to siphon the spell or suffer through the pain of her touch. She siphons the spell, and Caroline snaps her neck, leaving her and Stefan to finally reunite without pain!
Oscar becomes violent when Damon refuses to give him any more blood. He skips out on hiss memory-inducing trivia by smashing the car door off and escaping. He leaves a trail of bodies through the woods of Mystic Falls, and Matt finds one of them. Damon sneaks up behind him and calls him Detective Dumbass. Since it's Halloween, Matt knows there will be ghost tours going through the town every 30 minutes and tells Damon he wants to help. During one of the ghost tours, Oscar breaks through the windshield and kills everyone on the bus. Lily arrives and tries to talk him down, but he walks towards her as if to attack. Damon saves her by snapping Oscar's neck and tossing him to the ground.
While Stefan and Caroline kiss (and go back and forth about how he doesn't want to think about Valerie), Matt finds Valerie alone at a bar in Mystic Falls. He points a gun at her and tells her to leave by the time he counts to three. Enzo vamps in, takes the gun and tells Matt to leave. She's afraid she'll be exiled from her family, but Enzo asks how they're going to work together to prevent Julian from coming back into Lily's life.
Damon torches the bus full of bodies, and Lily tells him she asked Beau to remove the cloaking spell from Elena's body. He tells his mother he's moving back to Mystic Falls, and she tells him his refusal to let Elena go will only put her in more danger. She insists that the need for him to keep her close is so that he won't have to figure out who he really is without her. He asks his mother for one more thing. He writes to Elena in a journal about a bottle of wine he'd kept aging while waiting for Katherine to return. He realizes that no sip of that wine would ever be as good as he imagined, so he hid the bottle and walked away. This is why he began drinking bourbon. He continues on about how he doesn't know who he is without her, and as long as he keeps her with him, time will stand still. As he sits next to her coffin, sipping that wine, writing in the journal, a car backs up driven by Tyler. Tyler helps him load Elena's coffin into the back of the car and Damon asks himself who Damon is without Elena…a selfish friend? A jealous brother? A horrible son? Or maybe he'll do right by her. He promises that, no matter what, she's always with him and his heart is in that coffin with her.
Bonnie and Rick continue trying spells on Jo until her eyes pop open.
Is anyone curious as to how Jo will react?? Will she have the same reaction as Oscar?  Who is the mother of Ric's three-year-old twins if he's still hooked on Jo? How do you all feel about these flash forwards this season?  If you have any questions or comments, feel free to Tweet me!
Tune in to the CW on Thursday, November 5th at 8/7c for more of The Vampire Diaries!
Twitter: @TheVRO
Facebook: Variety Radio Online
Tumblr: Variety Radio Online
//