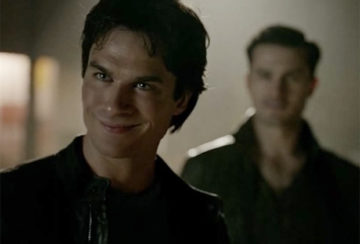 Season 8: Episode 1
Aired: Oct 21, 2016
"Welcome to the beginning of the end." 
The final season of the Vampire Diaries kicked off with a bang this Friday night as we finally get a glimpse into what Enzo and Damon have been up to in the past few months since their disappearance at the end of Season 7. Now, as executive producer and show-runner Julie Plec stated earlier this year, every episode this season of TVD will be titled after a quote that held significance in the show throughout the earlier seasons. That being said, we can be expecting a lot, and I mean a lot, of nostalgia.
And we are not disappointed as "Hello, Brother" starts off with a couple driving through an empty road (cue feels from The Pilot!) And in a typical Damon fashion, he's standing in the middle of it, just asking to get hit! As Damon and Enzo bring the couple back to their slaughter house, we begin to get an idea of what's been going on in their heads and why they're going on a murder spree. They're now the unwilling slave of this mysterious creature, who is mind controlling them to bring the worst of humanity to it. The male ultimately wins the verdict for "Worst Human of the Year" as Damon brings him front and center, impales him with a hook, and dumps him down into a bubbling red pit; and all that's left of the poor guy is a stump of flesh on a hook.
Flash to Mystic Falls, Bonnie is writing to Elena. Tt's been months and every time they think they have a clue: it just brings them back to square one. "It's hard," she tells Elena… and we can't even begin to imagine- loosing your best friend and boyfriend in one night? Yeah, Bonnie definitely got the short end of the stick.
Meanwhile, Caroline's worrying about a "hot" new nanny named Seline. While the father of her children is off running The Armory, and thanks to a couple of new interns: discovers a hidden tunnel only accessible by isolating his senses. (Cue some more emotions! Ric back in the supernatural business? YES PLEASE!).
Now, back to Damon and Enzo. Enzo seems to be quite fed up with the whole killing people 24/7 ordeal. He yells into the boiling pit of bloody water asking when it ends, while Damon is casually reading Fifty Shades of Grey (and there goes another moment. Anyone remember season 1 when he was reading Twilight? No? I'm TVD obsessed, sue me.) Anyways, back to the current situation, Damon and Enzo have a bit of a lovers spat, where Damon kicks Enzo into the pit. Thankfully he didn't end up getting devoured, but we do find we find that Damon has flipped off his humanity switch when Enzo questions him about having free will and control.
There seems to be a lot of giving up with our favorite characters this season. Bonnie seems to be on the verge of giving up, but Stefan being Stefan, somehow manages to convince her to fight. And lets be honest, if Bonnie— who came back from the dead more times than we can count— can't fight through this: no one can. For now, she seems to be fighting, but having hope? Nope. "Hope hurts"… anddd now I'm hurting. My heart is hurting. Ermagosh.
Anyways, flashing to Caroline, we learn that she's been trying to fix up a video of Enzo and Virginia St. John. It's a video where Enzo is questioning Virginia about the creature in the vault. As Caroline is trying to explain to her kids—in a very fairytale like way full of princess metaphors and rainbows—we know that Virginia St. John has escaped; and Caroline desperately needs to find her, as she's the only one with information on what's in the vault. Oh, and Ric also finds a hidden door in the tunnel and it's full of gold artifacts… and his female intern hits on him. Apparently discovering a supernatural cave calls for confessions of how hot Ric is. Smooth girl.
Now Stefan and Bonnie follow some clues that lead them to the female half of our slaughtered couple. She's strapped to the front of the car, ear pull of wax, and strangled by a guitar string. Does anyone else feel like Enzo's getting a little sloppy, Bonnie sure seems to think so! Stefan conferences in Caroline and together they find that there's a slaughterhouse exactly 3 miles away… and off Stefan and Bonnie go.
Meanwhile, back at Caroline's house, Nanny Seline is playing hide and seek with the girls while on the phone with Caroline, when someone breaks in. She has just enough time to tell Caroline someone's in the house when she gets her throat slit by none other than Virginia St. John. Luckily Caroline arrives home just in time to smash Virginia's head in- previnting her from finding the girls. Yay Mama Caroline! She then tries to interrogate Virginia about what's in the vault, but this girl was so determined not to say anything that she bites her tongue off! All that we got from that dramatic show was that "it wants them." Them, I'm assuming means Caroline's twins. Virginia then proceeds to bleed out to death… welp, there goes the one person who knew anything about anything. Oh, and Caroline ended up saving the Nanny, in case anyone was wondering.
Bonnie and Stefan end up arriving at the slaughterhouse, where Stefan is greeted with the famous quote that we all know and love, cue the signature Damon smirk: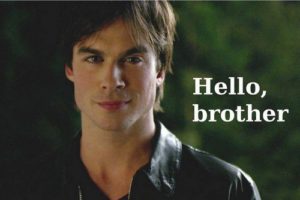 "Hello Brother"
Damon and Stefan have a little conversation about how Damon turned off his humanity and Damon tells him about how there's no coming back: that he's met, touched, tasted hell. And hell doesn't want Stefan yet, so he should go. But Stefan, always the hero that we love, won't leave without Damon; but Enzo ultimately convinces Stefan to go, before Damon does something unpleasant. We assume that means killing Bonnie, and we get a feeling Enzo still cares about what happens to her… As Stefan and Bonnie depart Damon throws in one final blow: "my life is over since you took it from me," yikes, hold a grudge much?
So afterwards Bonnie and Stefan are having yet another heartfelt conversation in the car, and Stefan worries that he's lost Damon forever, but Bonnie convinces him that they can get through to Damon and Enzo. So just take a moment, breathe, and be okay and they can't give up— they have to keep hoping.
Alone, Bonnie remembers a time when everything was perfect between her and Enzo, and how he tells her the stories from The Odyssey. About how the men in the story approached The Sirens, and how The Sirens lured them in with music and ate them. Enzo expresses how he would never stop fighting to find a way back to Bonnie *swoon*, and that's where the clues begin. Bonnie realizes that the round of wax in the girl's ear and how she was tied to the front of the car: mirrors the story in The Odyssey. So basically Bonnie and Enzo for the win!
In the final few minutes of the episode, Damon and Enzo are at an art gallery where they've found the next victim to put into the pit, and here- Damon tells Enzo that he should just turn off his humanity, because "it" can get into their heads and see what they care about and if you flip the switch, it sees nothing. Pretty much Damon is saving everyone he loves, in his own way. On the car ride back, we get a glimpse into a sleeping Damon's mind, and we relive the first moment where he met Elena on Wickery Bridge (my heart!) and he says he needs her… So looks like Damon isn't lost after all!
Speaking of needing people, Caroline could have really used Ric's help today… but he lives 30 minutes away from her and the girls. So his solution? He moves back in, she moves out and lives with Stefan. And she does, and it's a super cute Steroline moment. (Aw!)
Finally, Bonnie consults Ric and she mentions the Siren theory. Ric tells her how there are different variations, but basically all the same: Sirens mind control, lure victims in, and are the messengers of the Devil- Looks like we know what we're dealing with this season! And as the episode comes to a close, Damon and Enzo just finished dumping the artist's body into the pit when they hear some singing, and a woman emerges from the depths of the bloody water. End of episode.
WOW! talk about a rollercoaster of a ride! "Hello, Brother" definitely packed on TON of emotions. I loved all the references and nostalgic tip bits that were brought in from past episodes. It definitely does feel like the beginning of the end, as we come into the final episodes of TVD. Dark Damon is definitely a refreshing concept to deal with since all Damon has done for the past few seasons has been trying to be deserving of Elena. Seeing this darker side once again brings back so many memories and emotions! But at least this time he's bad for all the right reasons!
Anyone else hoping that The Siren was going to be Katherine? I know I was! Oh well, maybe they can bring her back somehow this season as a proper goodbye. Speaking of reoccurring characters, hopefully we get to see what's going on with Matt in the upcoming episodes- it will be interesting to see how he ties in with all the darkness that's going on around in Mystic Falls. Also can't wait to see what other familiar faces will be returning for the 8th and final season! Stay tuned for the epic ride everyone, and see you next week!
Xo,
Jules