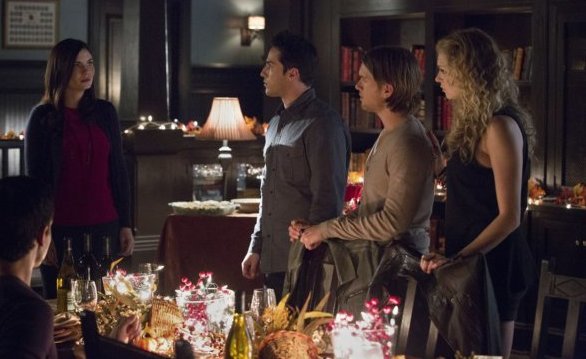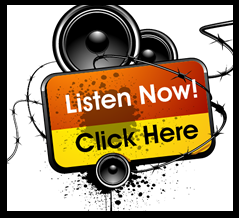 By: Kristin Trujillo (@kristin0409)
We finally get a glimpse into creepy Kai's disturbing past as this week's episode begins with a flashback to May 9, 1994. A younger Jo has been stabbed in the spleen and we hear Kai calling for her in the background, asking where the others are. She stumbles into another room and finds two of their younger siblings hiding. She insists that Kai is just playing a game and suggests that the three of them hide under the bed. As Kai's feet approach the bed, he lifts the mattress up and we're thrown back to "present day" 1994 as Kai opens the trunk where he's placed Bonnie. Apparently he'd knocked her out with painkillers and flew a private plane to Portland, Oregon for his favorite day of the year, Thanksgiving, and tells her he's cooking dinner for her.
Meanwhile, Elena practices how she's going to tell Liam that she's a vampire as she's helping Caroline prepare for Friendsgiving. Jo arrives and tells the girls that Alaric won't be joining them because he's out on an impromptu guys weekend with Damon and Stefan. Elena calls Alaric to beg for his presence while Stefan finds out that everyone had been invited to Friendsgiving except him (Caroline even demanded that Damon bring string beans). Alaric spills the beans to Elena that Bonnie might be alive, seeing as she'd sent her teddy bear, Ms. Cuddles, over from the prison world and quickly hangs up on her.
Cue the triple bromance! As Damon, Stefan and Alaric are in search of the Gemini coven in Portland, the three discuss how Stefan should absolutely date Caroline. He claims he doesn't see her that way, and they insist that he should, as they go down the list of all the reasons why she's perfect for him (she's hot, she puts up with him, and has exceptional organizational skills). Since Stefan followed a lead for the Gemini coven four months prior, they arrive at the site and it's just a large empty field of grass. As the three of them stand between two brick columns, we jump into the prison world 1994 where Bonnie and Kai have arrived at the same exact location. The only difference is that Kai and Bonnie are looking at a large house that once belonged to the Gemini coven. Kai explains that the coven usually goes to great lengths to ensure that no one can find their home, which is why Damon, Stefan and Alaric can't see it.
Alaric tells Stefan to check the GPS again and says that just because they can't see something doesn't mean it doesn't exist; which leads Damon open to comparing that last line to Caroline's feelings for Stefan. Damon grabs Bonnie's bear and provides a voice for it about how even IT knew about Caroline's feelings for him despite the fact that it's brain is made of cotton. Stefan grabs the bear and kicks it into the field…except, instead of flying into nothingness, it hits a magical barrier and reveals the hidden house. According to Damon's calculations, it's "Ms. Cuddles – 1, Invisible creepy mansion – 0".
As the rest of the guests begin arrive for Friendsgiving, Liv is still trying to avoid Tyler when Jo offers to take the stuffing from her. She asks if they've met before and Liv doesn't believe they have, but gives her a bit of an attitude when she asks if dating a professor earns you an invite to Thanksgiving dinner. Jo walks away and Liv tells Tyler that Luke is outside testing a new filter for a birthday video for the two of them. Liam walks in bearing wine, and tells Elena that he double checked Lady Whitmore's labs and apologizes because everything turned out to be normal. He joins the rest of the group, and Jo tells Elena that she risked her career when she switched out the medical records.
Damon rings the doorbell to Kai's old home as the three discuss how Bonnie's bear could've undone the magic protecting said home. Alaric tells the others that Jo got rid of her magic by putting it away for safekeeping, and suggests that Bonnie might've put her magic inside of Ms. Cuddles. Stefan wonders why she would do that, so Damon figures she must've done it to prevent Kai from using her to get out. He tries to enter the house, but can't; Alaric is the only one who can.
Bonne and Kai come to an agreement that after one Thanksgiving dinner and one last conversation, they'll both go their separate ways. Kai tells her that in the spirit of Thanksgiving, he'll even let her take his car.
With a control freak in charge of Friendsgiving, the others are ordered to their assigned seats where they'll each list the things they're thankful for in 100 words or less. Liv is still a bit moody, so Tyler asks if he did something wrong. She insists that he didn't and places her hand on his shoulder as she walks to her seat at the table. Luke asks if anyone wants to see an embarrassing baby video of Liv, prompting Caroline to suggest everyone shut down anything with an on/off button. She fails at taking control of the situation as Luke begins playing the video. Jo walks in and recognizes the voices from the video. She claims to have taken the video eighteen years ago at a birthday party for the twins. The three realize they're siblings.
After a search of the house, Alaric brings out photos and articles of Jo that prove she once lived there. Damon recognizes Kai in one of the Christmas pictures and says that they're either siblings or they both have a thing for Cosby sweaters. As they discuss their findings, they're approached by a man who claims to be Kai's father. He shakes Damon's hand and says a quick spell that cloaks him with invisibility, along with the house. Stefan and Alaric are confused and can't see the man using magic to put Damon on the ground.
Jo explains that the three of them must've come to the same small town because they had a family friend who lived there; Sheila Bennett. Apparently Bonnie's grams took Jo under her wing and helped her family put Kai away. The group discovers that Jo and Kai are twins, and now that Kai is in the prison world, it's just Luke and Liv. They obviously all forget that Liam is still at the table and are reminded when he stands up asking if they said the word 'coven'. Caroline compels him to go to his room while Jo, Luke and Liv continue with the story about how, in their coven, twins are meant to be leaders and Kai wanted to be it. He targeted Luke and Liv, so Jo protected them with magic to prevent him from finding them. Their parents knew that Kai didn't have magic of his own, and could only draw it from others, so they continued having babies until they had another set of twins. When Kai figured it all out, he snapped and went after them.
Damon awakens inside the house and is questioned by Kai's father. He wants to know if Kai knows how to escape from the prison world. Damon informs him that he's still there with Bonnie, and that he'll tell him whatever he wants to know, but first HE wants to know where the ascendant is. The father refuses to give Damon the key to Kai's prison.
At Friendsgiving, Liv tells everyone that since Kai went to prison and Jo dodged a bullet, the leadership now falls on them. Caroline pisses Liv off when she tries to end the conversation, so Liv walks away. Elena is confused as to why Liv is so angry, so Luke and Jo explain it further. In their coven's tradition, after their 22nd birthday, the twins merge their strength. The stronger one wins and absorbs the power, while the weaker one dies.
Tyler goes after Liv and tells her that their coven doesn't control them, and can't force them to merge. She responds by telling him that their coven needs a leader, and that he doesn't understand because he's not one of them. She finally tells him that the reason she's been pushing him away is because when she looks at him, all she feels is everything she can't have. Either she dies during the merge or she lives knowing that she killed her own brother.
Creepy Kai's father tells Damon that if Kai gets out of the prison world, he'll go straight for Jo to absorb her power and kill her while doing so. The coven will then be left under his control and he'll not only be their problem, but everyone's problem. He refuses to let that happen and drops a gold locket with Jo's photo inside of a bowl surrounded by lit candles.
Stefan and Elena are discussing the events and he calls her out on sounding genuinely concerned for Damon. He questions her on the fact that Jo was invited to Friendsgiving, while he wasn't. She tells him that the friend code states that in a situation such as his and Caroline's, she must always side with her best friend. She tells him to kiss and make up with Caroline and then asks how he knew he could trust her with knowing where he was. He responds by telling her it was because he'd been in love with her and wanted her to know everything.
Alaric calls Jo and tells her that he thinks he just met her father. She laughs it off because he lives in Portland, and quickly stops when he tells her that that's where they are. She tells him that if their father knows they want to open the door to the prison world, he's going to think they want to release him and he'll retaliate. As they're on the phone, she tells him that the ascendant is with her while her father begins a spell over her locket. She drops the phone and falls to the ground telling the group that something is wrong. She grabs her head and tells them that her father is trying to kill her. Elena grabs the phone and tells Alaric and Stefan to stop Jo's father from whatever it is he's doing. They remind her that Stefan can't enter the home, so Jo invites them in. They also remind her that they can't see the home, so Jo yells for them to go over to an old tree stump.
Kai attempts to gain sympathy from Bonnie when he tells her that his family sent him to the prison because the coven always came first.
As the locket begins to melt, their father tells Damon that he's going to kill Jo to prevent Kai from merging. Damon doesn't like this scenario and throws their father against the wall, but he's weakened by the father's magic.
Stefan and Alaric find the tree stump and rummage through leaves, where they also find a large knife. They believe it might be Jo's version of Ms. Cuddles, so Stefan throws the knife towards the house, unveiling it. Stefan runs inside just as the father is about to put a stake in Damon's heart. He grabs him, but the father uses magic, again, to put Stefan on the ground and then does the invisibility spell to escape.
While Liam and Elena check Jo's vitals to try and help keep her alive, Elena decides to feed her her blood. Jo drinks it and comes back to life. Liam wants answers, so Elena admits to being a vampire and then compels him to forget everything except the fact that they're coworkers.
In a flashback, we see Jo still running from Kai as she hides her knife in the tree stump. She agrees to merge with him so long as he doesn't hurt anyone else. The power of the eclipse would merge them as one while their coven gathers around them. The two join hands and perform the spell, but nothing happens. Kai realizes that she has no magic as their father arrives and performs the spell to send him to the prison world.
Kai and Bonnie stand near the tree stump when he questions where Jo's magic went because it couldn't just have disappeared. When Bonnie put her magic inside of Ms. Cuddles, it hit him that Jo must've done the same. He reaches inside of the tree stump and finds her knife. He holds it in his hand and absorbs the magic from it. Bonnie tells him that he still needs a Bennett witch to perform the spell, but after watching her perform the spell twice now, he claims to only need Bennett blood and plunges the knife into her stomach.
Damon, Stefan and Alaric discuss how they traveled so far only to find Jo's old, rusty knife while the ascendant was with her at the place where they started. Alaric tells them that the ascendant is off the table because he's not going to let Kai out to potentially kill his girlfriend. Damon walks over and compels Alaric to do whatever he has to do to get the ascendant from Jo.
Liv wakes up when Tyler places Tylenol on the table next to her. He's brought her to Mystic Falls, where magic doesn't work, so that her coven can't find her. He tells her that even if they did find her, they'd have to go through him first. She takes his hand and apologizes for ruining Thanksgiving. He tells her she'll make up for her it next year and that he refuses to let her die.
Caroline walks out of her dorm and finds Stefan in the hall. She hands him a box of leftovers, and tells him that now that they know Bonnie is alive, it's the first Thanksgiving in a long time where they actually have something to look forward to. He takes the opportunity to tell her that when Damon was gone, he pushed her away the most because she was the one person who would sit with him and let him cry. He didn't want to cry anymore, so he pushed her away. She thanks him for admitting that to her, and just when it looks like something might be said, she walks away after telling him to enjoy the leftovers.
In typical Damon fashion, he tries to drown his sorrows at the bar, alone. Elena walks in and tells him that he should've taken her with him to try and bring Bonnie back. He tells her that when he and Bonnie were together for those months in Kai's prison, they bickered, cooked, ate, played Tetris and…talked. He's still shocked that she sacrificed herself to send him back and realizes that when she wasn't talking, she was actually listening. Elena wants to know what they talked about and he asks in return, "What do you think?" She tells him that she broke up with Liam, and when he asks what went wrong, she responds by asking, "What do you think?" She explains that she could go on living her life the way she is and probably be very happy or she can risk everything for the glimmer of a feeling that she can't shake. He asks what she's going to choose to do, and she places her hand over his and asks for help bringing her best friend back so she could ask for her advice. He agrees.
Bonnie wakes up to the buzzing of Kai's pager on the grass next to her. She flips it over and reads "I Lied". She gets up and realizes that Kai has taken his car and left her.
Brace yourselves, TVD fanatics…The Vampire Diaries won't return until Thursday, December 4th at 8/7c on The CW, so tune in then for more!
Twitter: @TheVRO
Facebook: Variety Radio Online
Tumblr: Variety Radio Online
//