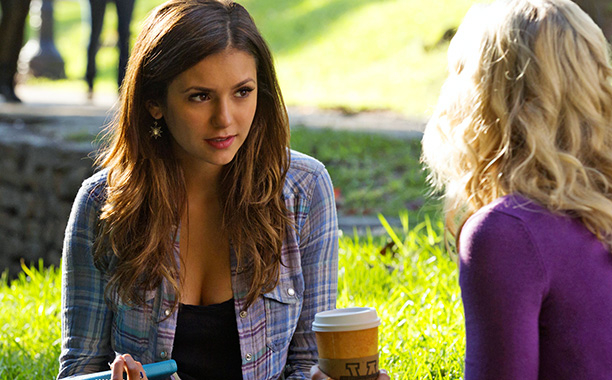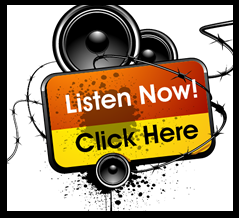 By: Kristin Trujillo (@kristin0409)
This week's episode begins with Elena finally meeting with Damon. He's disappointed when she tells him that all she remembers are the horrible things he's done. The meeting is pretty short lived when she apologizes and closes the door on him.
Afterwards, Damon pays a visit to Alaric at the hospital at Whitmore. As only Damon could, he tells Alaric that he's glad he didn't die, while simultaneously pushing every button he can get his hands on. Alaric reminds him that if he kills him, it's for good! (Ah, the bromance is strong with these two!) Jo walks in and tells him that she's discharging him from the hospital so that he can be her date to a fundraiser event that night. (Ummm…I'm pretty sure he should stay in the hospital for a few more days after surviving a near death experience, Jo!)
The roles have reversed as Enzo, Stefan and Matt question Tripp, who is currently chained up in the cell that once held Enzo. They want to know where Tripp's minions are, and he doesn't answer until Stefan pounds his hand with a large hammer. He tells them that the others are out hunting vampires, including Caroline. Stefan hands the hammer to Enzo and tells him to get their names, and to get rid of him after he talks because he's a liability.
Elena explains what happened during her conversation with Damon to Caroline. She truly doesn't remember loving him, so Caroline takes this as an opportunity to encourage her pursuit of a falsely dubbed "McDreamy", Liam. On cue, he walks over and tells Elena that he's going to check the labs of the girl from the corn maze. He's curious as to how she was healed, and why she can't remember a thing. He also invites Elena to be his date to the hospital fundraiser.
In 1994-land, Bonnie wakes up on the sofa at the Salvatore mansion to find creepy Kai attempting to put the ascendant back together. She continues to refuse freeing him from his prison, but as he grabs her hands, she quickly stabs him in the neck and gathers the pieces of the ascendant before leaving him alone.
Stefan creeps up on Caroline at her dorm and informs her that Tripp's men know she's a vampire. She tries to kick him out, but she receives a phone call from her mom saying that Tripp's men ran her off the road, and that they'll kill her if they don't find Tripp. Caroline finally gets in touch with Enzo and tells him not to kill Tripp because they have her mother. He agrees, and then informs Matt of the current situation
Back to 1994, Bonnie enters the hospital and tries to find antibiotics for her wound. She takes some painkillers as she attempts to put the ascendant back together before the peak of the eclipse.
As guests begin to arrive at the hospital fundraiser, Damon makes his appearance known and denies being there to stalk Elena. He's mesmerized when she walks in and then is quickly annoyed when Liam walks in behind her and takes her hand. Jo tells Damon great things about Liam, which annoys him even more. Elena asks Liam to get them some drinks when she realizes that Damon saw them kiss. As she apologizes to Damon, Liam comes back and is confused when he introduces himself as Damon, who was supposed to be dead. When he compels Liam to order Elena a drink he knows she hates, he invites her out on the dance floor.
Stefan and Caroline arrive at Tripp's cell and criticize Enzo's method for chaining him up. Enzo, being the straightforward person that he is, tells Stefan that Caroline hates him because she doesn't hate him at all. As if that weren't bad enough, he tells Stefan that Caroline has a thing for him and then walks out of the cell leaving the two alone in the awkwardness.
While Damon dances with Elena, he tries to remind her of certain pivotal moments in their relationship. His attempts continue to fail; even after telling her that he would rather spend an eternity in agony than to erase the memory of her. Alaric sees what's going on and feels responsible since he's the one who compelled her. Jo tells him that whatever he did was because it was Elena's choice.
Bonnie gets the ascendant put back together and discovers that she's missing the last piece. The power goes out in the hospital and Kai appears…holding said missing piece. She throws magic at him and then flees, but he catches up to her and tells her it's time to go home.
Elena tells Damon that she wants to remember the piece of her life that seems to be missing, and asks him to take her to the last place she told him she loved him.
With a semi-kind gesture from Kai (bringing Bonnie's stuffed bear to the tunnel), he tells her that he realizes what he did to his family was wrong, and that he wants to be more like her. She ignores the speech and gets ready to go home.
As Tripp's minions bring Sheriff Forbes to the Mystic Falls border to trade for Tripp, she tells Stefan to let Tripp go first. He pushes him into the city limits and Sheriff Forbes is released. As soon as he enters Mystic Falls, he begins to stumble and a large slit appears at his neck. The group realizes that Enzo must've turned Tripp into a vampire before Stefan and Caroline arrived at the cell.
Bonnie begins to perform the spell that will bring her and creepy Kai back, but purposely drops her blood onto the stuffed bear instead of the ascendant. Kai doesn't realize it but the bear has disappeared…along with Bonnie's magic.
Damon brings Elena to the border of Mystic Falls and lists off a number of happy memories the two shared. She doesn't remember any of them. Even as he believes she's about to remember, she tells him that when she looks into his eyes, all she sees is a stranger. She walks into Mystic Falls in an attempt to undo the compulsion. She gains tiny bits and pieces of the relationship, but not enough.
Stefan and Caroline take Sheriff Forbes to the hospital to get checked out. She senses that Caroline and Stefan are on the outs and when he asks for her help in fixing it, Caroline gets angry with him. He asks why she has a thing for him, leading her to go through the numerous reasons why. She tells him that she does hate him because if she doesn't hate him for ruining their friendship, then she has to hate herself for ruining it, and that she deserves better than that.
Elena tells Damon that she remembered little pieces of their relationship, and keeps asking him what happened when it started to rain at the meteor shower. He doesn't answer her question and, instead, he tells her that he loves her enough to let her go. She continues asking what happened when it started to rain, and he lies about the rest of the story.
Jo and Alaric arrive at her home, where she goes to change out of her dress. He sees a large scar across her stomach and she tells him that her brother tried to gut her with a hunting knife when she was younger, causing her to have her spleen removed. The two kiss after realizing that they have more in common than they thought. (So creepy Kai is Jo's sister?! & we thought the Mikaelson family was loaded with drama! Can't wait to see how this story line plays out!)
Liam confronts Elena after bringing her the labs of the girl from the corn maze. He accuses her of being a liar with secrets and walks out on her.
In the woods, Damon pours a drink out for Bonnie and takes a drink for himself. He looks up at the stars and we see a flashback of what actually happened with him and Elena when it started to rain at the meteor shower. The two had kissed and she asked him to promise her that they were forever. As he continues walking to his family's crypt, he sees Bonnie's bear sitting on the ground. He says her name and picks the bear up as he realizes that she's still alive.
Tune in next Thursday, November 20th at 8/7c for more of The Vampire Diaries!
Twitter: @TheVRO
Facebook: Variety Radio Online
Tumblr: Variety Radio Online
//