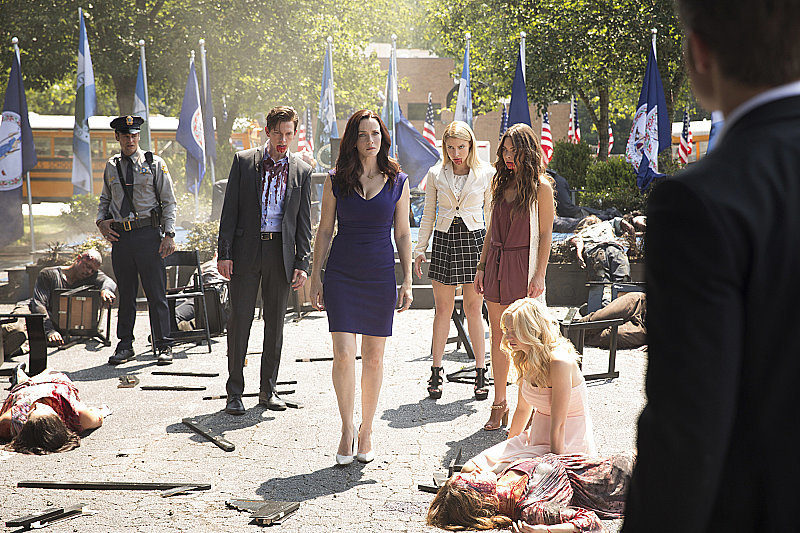 By: Kristin Marie (@kristin0409)
The season 7 premiere begins with a flash-forward to three years from now. Stefan stumbles into a storage unit housing two coffins, one of which is Damon's.
In present day, Caroline sits on a bench that was recently dedicated to her mother. She's writing in a diary, as Elena requested, and reports about what everyone has been up to. Damon felt the only way to keep his mind off Elena was to help Alaric grieve (in the form of getting wasted) in Europe. Fortunately, Bonnie was sent to keep Damon in check, but she wonders who's watching Bonnie? Just as she's about to write about Stefan, he walks over to her in the square. When she asks him how Damon is, he realizes he might've made things awkward between them by telling her how he feels about her. They make a new rule that while she focuses on herself and her healing, they remain friends. Caroline actually does seem happy though!
Someone who isn't happy, however, is a young woman, Valerie, who is also writing in her diary. She's not happy in this new town, and clearly doesn't know how to use an iPhone. Unfortunately for her, she's hit by a car as she walks home. The two teens who hit her are conflicted as to whether or not they should help Valerie or flee the scene (they eventually choose the latter). Valerie wakes up, and we learn she is one of Lily's heretics, along with Oscar, "stoic Beau", "Nora the brat", "devious mentor Mary Louise" and "Malcolm, Lily's pet & brown-noser."
In Amsterdam, Bonnie writes to Elena in a diary about how Damon and Alaric are still drinking. Her bickering with Damon is at an all time high now that her life is linked to Elena. She heads off to sightsee and leaves the boys alone. Not sure that's the best move in TVD land!
The heretic women are clearly not happy with their current conditions and restricted way of living, so they take advantage when Valerie arrives home and informs them that she was just hit by a car and left for dead. They find the teens who hit her, and Valerie bashes the boy's head on the windshield of his car. Valerie feeds on the girl and Nora snaps a selfie with her before dropping her to the ground. She tells the girls Lily needs to learn the heretics aren't meant to coexist. They leave the teen bodies hanging on the inside of a truck, where Stefan and Matt find them.
Stefan and Matt call Damon, Alaric and Bonnie to report the incident. Alaric, drunk, stumbles off when Stefan asks him how to make a bomb. Bonnie reminds Damon that Elena wants him to live his life, which annoys him a bit. He takes a sip of Alaric's drink and thinks it's horrible bourbon. Bonnie takes a sip and tells him it's not bourbon, its tea. Which means Alaric isn't drunk at all! Instead, he's off with a psychic who claims to be able to speak to the dead. Ric holds up a little red rock and asks if he can communicate with Jo to let her know he has it. The psychic asks for something to tether him to the other side, so Ric hands him Jo's wedding ring. He begins to rattle things off to Ric about how much she loved him…until Ric reveals the ring was a fake. He begins to beat the man for lying.
Lily summons Enzo to New York and asks him to help her search for something she lost. She pulls out her phone and shows him a picture of the red rock Alaric has. He asks her what it is, and she refuses to tell him, claiming it's a family matter. This upsets him, prompting him to tell her he's not her errand boy, and leaves the bar.
Stefan successfully built the bomb and engages in cute tension with Caroline. She takes flowers to the heretics home, while Matt sneaks through the back and places the bomb on the ground next to a gas pipe. Caroline distracts them as only Caroline can, while Matt sets the timer for sixty seconds. She knows the bomb is set, so she tries to leave right away. The heretics don't realize she's a vampire, so they try to compel her into giving up her denim jacket. She obliges and then vamps to grab Matt, managing to escape right before the bomb explodes.
In Amsterdam, Bonnie and Damon search for Alaric. Damon sees a truck heading straight for Bonnie and hesitates to save her. He eventually does, but she notices the three-second hesitation and calls him out on it. He says when he looks at her, all he sees is NOT Elena, and she reminds him she lost her too. He's one of the few reminders of Elena she has left, so whether he hates her or loves her, he's stuck with her.
After bombing the heretic's house, Stefan calls Lily to inform her of the news. She reminds him that they're heretics and survivalists, and offers him some motherly advice…to run.
Matt graduates from the police academy and becomes a deputy. His ceremony doesn't go off without a hitch though…the heretics take revenge by uniting for a spell. Sprinklers begin to shower the ceremony, and Valerie takes it upon herself to set everything on fire. The rest of the heretics feed on the frenzied crowd until Lily shows up, disappointed with everyone. She tells them to end the bloodshed now.
Stefan devises a plan where they evacuate all of the residents of Mystic Falls for their own safety. They board up businesses, Caroline goes door to door compelling people to leave; all while Stefan negotiates with Lily. They're allowed time to get the residents out of town and, in return, any resident who comes back to Mystic Falls after the evacuation is fair game for the heretics. Stefan also gives up his home and allows Lily and the heretics to take up residence there.
Caroline finds Enzo unscrewing her mother's dedication plate from the bench in the square and questions his motive. He tells her not to clump him in with Lily's freaks, but Caroline tells him to pick a side.
When he receives a phone call from Damon, Stefan avoids telling him what's been going on while he was in Europe. He's surprised when Damon walks through the door and asks who's living in their house. He questions Stefan's motives to save a town full of people he doesn't even like and accuses him of solely doing this because of Caroline. Stefan reminds him that if (and when) Elena wakes up, she'll be devastated if everyone she cared about was dead. So he tells his brother he's not doing it for Caroline…he's doing it for him.
While putting the finishing touches on the evacuation plan, Matt is reunited with Bonnie. She tells him not to surrender the town because the heretics need to be stopped. To which he reminds her that they WERE stopped, but she betrayed Kai and had them released.
Bonnie arrives back at her dorm (yes, apparently they do still attend Whitmore College!) and is shocked to find Damon there. He has nowhere else to go, so she makes a snide comment about the three seconds he hesitated to save her life. He tells her in the first second, he thought about how it would feel to hold Elena in his arms again, in the second second he kissed her, and in the third he remembered that Bonnie is his best friend and if anything ever happened to her, he'd lose his mind. She confesses that the heretics are out because of her, but Damon tells her they're out because his mother is a lunatic and everyone is scared to go against her. Bonnie insists she's not afraid and tells Damon she wants to fight and take their town back.
In the abandoned square, Malcolm finds a trespasser and feeds on him. He turns around and finds Bonnie standing there. She tells him she's the town witch and uses magic to slow him down. He grabs her and attempts to steal her magic, but Damon rips his heart out and shoots Bonnie a smile. One down!
Stefan helps Caroline pick up her house and prepare a place for him to sleep. She tells him she thought time would help her heal, but she's never going to stop missing her mother. He tells her that's life and she has to forgive herself for trying to happy during the hard parts, and then heads off to board up the front door. She stops him and tells him that despite the fact that her best friend is gone and her mother is dead, when she's with him she IS happy. The two begin to kiss and it's beautiful!
Ric goes into the hospital morgue and asks to see Jo's body. The man working there tells him the healing process begins once a body is buried, but Ric doesn't plan on burying her…he plans on bringing her back to life. He claims it's a joke, but I'm not so sure about that!
At the mansion, Beau looks in the mirror at an 'X' scar near his neck. Valerie tells him to be proud of his scar because it shows he's a survivor. Nora and Mary Louise bring Malcolm's body back to the mansion, throwing Lily into a frenzy.
After his talk with Caroline earlier, Enzo goes to her house to tell her one of Lily's magical elves had his heart ripped out and that he finally picked a side. Which is why he's there. She goes to call Stefan to tell him about Malcolm, but Enzo shoves a syringe into her neck. She passes out as he says he's chosen Lily's side.
Jump to the flash-forward from the beginning of the episode, and Stefan arrives to the storage unit with a bloodbag. He feeds it to the desecrating Damon. When he sits up, he reminds Stefan he didn't want to be woken up until Elena was awake. The coffin is shot with bows from a bow and arrow and the two begin to run. Stefan reveals a fresh 'X' cut on his chest and the two continue to hide.
Tune in to The CW on Thursday nights at 8/7c for the next episode of The Vampire Diaries!
Twitter: @TheVRO
Facebook: Variety Radio Online
Tumblr: Variety Radio Online
//