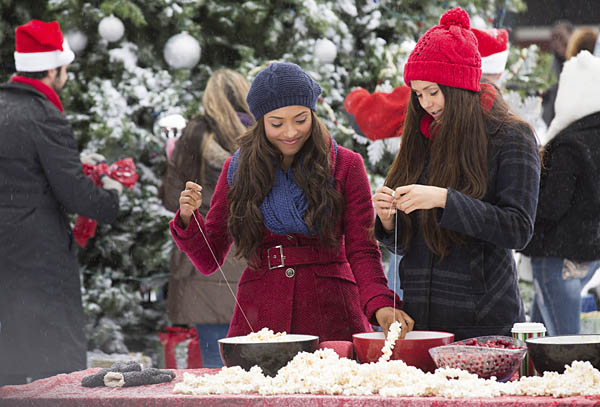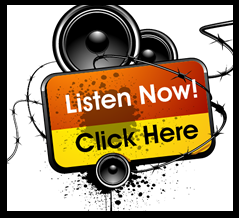 By: Kristin Trujillo (@kristin0409)
This week's episode begins with Jo calling Alaric from the hospital for a rain check on their dinner date. After he calls himself her boyfriend, she changes her mind and tells him to save dinner; she'll meet him in two hours. As they wheel in a victim, Jo tries to get information about what happened to her. Doctors begin dropping to the ground, and the girl looks beyond Jo. Kai stumbles in full of blood, creeps up behind Jo and tells her that he stabbed the victim as he plunges a needle into Jo's neck.
In a flashback to Mystic Falls 2007, we see Elena and Bonnie at the Mystic Falls tree decorating ceremony. They head off to search for Caroline, and we simultaneously see Bonnie in 1994 land dragging a Christmas tree alone in the same parking lot.
Caroline is on the phone with her mother as she walks to her dorm. She doesn't seem to have any Christmas spirit this year, until she walks into her dorm room and finds her mother standing there with decorations. Stefan walks in with Christmas lights, and seems to annoy Caroline with his presence.
Still in search for a way to bring Bonnie back, Damon and Elena bond over their interest in helping her. Elena receives a phone call from Alaric, asking if she's seen Jo because she never met him for dinner. No one at the hospital has heard from her since the night prior when the stab victims were brought in. Alaric knows it has something to do with Kai, so Damon suggests that they find him and kill him. Cut to a conversation between Tyler, Liv and Luke about why Tyler thinks they need to keep Kai alive. Damon calls Matt to see if him and Jeremy can keep an eye out for Kai in Mystic Falls. Damon tells Alaric and Elena that he hid the knife containing Jo's magic while Tyler tells Liv and Luke that Kai wants them to do a locator spell to find said knife. Damon doesn't seem very concerned about the fact that Kai will come looking for it because he hid it behind a piece of art on the wall. When he grabs the art to show the knife to Alaric and Elena, they discover that the knife is gone. Liv and Luke arrive at a crypt where Kai is waiting for them, along with Jo's knife and Jo knocked out on the ground.
Back to the 2007 flashback, Caroline, Elena and Bonnie discuss how they've never spent the holidays apart.
In present day, Stefan continues to help Caroline and Sheriff Forbes decorate Caroline's dorm. She tells him that hanging a few Christmas lights won't change the fact that he's been a crappy friend. Stefan reaches his limit and walks out as Sheriff Forbes returns. She drops the cups she's carrying as she experiences a dizzy spell, and Stefan rushes in to catch her.
Liv and Luke watch as Kai draws a line separating where magic can and cannot be used. Jo wakes up and tells Kai that his plan won't work because she got rid of her magic. He pulls her knife out of his jacket and stabs her in the arm with it twice. When Luke tries to stop him, Kai pushes him against the wall with the knife in his face and says, "I was willing to kill you when your brain was the size of an acorn. You don't think I'll do it now?" Luke leaves and Jo tells Kai that getting rid of her magic was her choice, and so is taking it back. She refuses to give him what he wants, so he leaves Liv with the task of finding a way to reunite Jo with her magic or he'll use the knife to slit Liv's throat.
After the dizzy spell that Sheriff Forbes experienced, she is now sedated in the hospital for further observation. Elena arrives and tries to distract Caroline with girl talk. The two wonder if Bonnie knows it's Christmas wherever she is, and how she hated being away from them during the holidays. Caroline brings up Damon and tells Elena that she hasn't given him enough credit.
Damon calls Tyler to question him about their plan with Kai. He realizes that keeping Kai alive will benefit Liv and Tyler by preventing the merge. When Tyler points out that he's just trying to save his girlfriend and hangs up, Damon runs into Luke at the dorms. He asks where Jo is and explains why stopping Kai is the best option for everyone. After making his point, he begins to walk away and is stopped by Luke.
Enzo arrives at the shed where Matt asked to meet him, believing that Matt wants to help him learn the truth about Stefan and Monique. Unbeknownst to him, Matt's plan doesn't involve helping him. He hands him a file that contains Monique's information, but when Enzo opens it, it's empty. He quickly turns around in time to catch a flying arrow from Jeremy's crossbow, but doesn't expect Matt to stab him in the neck. When he turns around to retaliate against Matt, Jeremy shoots him twice in the back, leaving Matt open to dropkick him to the ground.
At the hospital, Stefan informs Elena that he overheard one of the doctors saying "glioblastoma." She doesn't want to believe him, so she goes over and compels the doctor for the truth. The doctor tells her that her MRI showed a lesion on Liz's brain stem that has metastasized to her spine, preventing them from operating. She also tells Elena that Liz has known about this for a few weeks.
Matt and Jeremy disagree about what to do with Enzo. Matt wants to torture him, but Jeremy doesn't think that's the right route to take. He tells Matt that this idea that's taking over him is going to get him killed and walks out of the shed.
While Jo and Liv discuss what should be done with Kai, Liv suggests that maybe Jo is strong enough to beat him if they went through with the merge. She reminds Jo how far she's come without magic, and, as she stands up, creepy Kai stabs her in the back. He's about to perform a spell to set her on fire, but Jo stops him, grabs the knife and takes her magic back.
Rick is still upset about Damon compelling him to steal the ascendant from Jo, thus putting her in this position with Kai. While they're out searching for Kai and Jo, Kai tells Jo how predictable she is. He's distracted by a whistle outside of the crypt, and is startled when Damon throws him against a tree. In retaliation, Kai uses magic to push Damon past the anti-magic border line he'd drawn in the dirt. The two face each other until Rick sneaks up behind Kai and puts a gun to his head. Jo walks out of the crypt and stops him from shooting Kai; telling him that she can beat him in the merge. Damon doesn't buy it and tries convincing Rick to do it. Instead of shooting him, he hits Kai over the head with the handle of the gun, knocking him out.
Tyler confronts Luke on why he told Damon where Kai and Jo were. As Luke begins to tell Tyler why their plan is terrible, Liv walks in and tells them that Jo believes she can win. Luke tells her that Kai is way stronger than Jo, that the merge is going to kill her, and that Kai will then kill everyone in their coven for going against him. He informs Tyler and Liv that people are going to die and it's going to be on them.
At the hospital, Stefan and Elena discuss who should tell Caroline about her mother. Stefan fells terrible for leaving town when Caroline needed him, so he feels that he should be the one to tell her and be there for her now.
While Kai is chained to a tombstone, Damon uses the tombstone for target practice. Kai continues to ask questions about the anti-magic spell that was used on Mystic Falls, and discovers that the spell is in the ground, leaving him open to siphon the magic. When Rick reminds Damon that they're keeping Kai alive, Damon reminds him that Bonnie is stuck in 1994 land because of him, and that he hates himself for it. This causes Rick to accuse Damon of making the situation all about him, which pisses Damon off.
In 1994 land, Bonnie lights her little Christmas tree as we flashback again to the 2007 Mystic Falls tree lighting ceremony. Liz Forbes reminds the town that holidays are should be spent with friends and loved ones as Caroline walks over and complains about Stefan being a horrible gift giver (he'd given her a Mystic Falls snow globe during their Secret Santa exchange).
In present day, Caroline plays with the same Mystic Falls snow globe as Stefan arrives to deliver the terrible news about her mother's condition.
Elena calls Damon to tell him about Liz, but the winds have picked up in the cemetery, knocking out his reception. Jeremy arrives at the present day Mystic Falls tree ceremony and notices that the lights on the tree blow a fuse. Matt is driving Tripp's old van with Enzo trapped in the back, and notices that the radio is losing its signal. Damon finally notices that Kai has stopped talking and, after pointing out that he never stops talking, he and Rick realize that his chains have melted and he's chanting. Matt drives past the Mystic Falls border and Enzo begins to die. He gets out to make sure Enzo is dead and is startled to discover that he's just fine. Enzo quickly turns around and grabs Matt by the neck, claiming to have experienced a Christmas miracle. Kai emerges from behind the tombstone and uses his newfound magic to toss Rick against a tree. Damon knows now that Kai has siphoned all of the magic from the traveler's spell (which is why Enzo didn't die after being driven into Mystic Falls. Kai has broken the spell!).
Kai uses his magic to disappear when Damon tries to confront him. Damon helps Rick up and both of them wonder how Damon isn't dead, seeing as he's past Kai's anti-magic border line.
Now that Matt has lost his chance to kill Enzo, he wants to know what his objective is. Enzo admits to being jealous of Stefan and enlists Matt's help to deplete Stefan of all happiness he might've had. He tells him that when they're done, he'll decide whether Matt gets to live or not.
Realizing that the traveler's spell is now broken, Damon finally returns home to the Salvatore mansion. He calls Elena to tell her that they can all return to Mystic Falls. She agrees to go over so they can talk over dinner as Stefan tries to help Caroline understand what's going on with Liz. She has so many questions as a side effect of her denial and when she finally understands, she leans on him in tears.
In 1994 land, Bonnie stands alone by her Christmas tree. While she stands there, Jeremy stands in the same spot in present day. He says out loud that they miss her and the two time periods merge as we see her standing next to him saying that she misses everyone. He walks away in present day, and in 1994 land, Bonnie sets her tree on fire.
At the Salvatore mansion, Damon stops in his tracks as he hears his old car pull up out front. Stefan tells him that he had a lot of time on his hands, so he restored it for him. As the two brothers finally accept being home, Elena knocks on the door. Damon answers and she points out that there's mistletoe hanging above the doorframe. He asks if anyone is there and then closes the door, ignoring her. She's startled when she turns around and Kai is standing there. He tells her that he might've put a cloaking spell on them, preventing Damon from seeing either one and then knocks her out.
Try and keep calm during the short hiatus and tune in Thursday, January 22 at 8/7c on The CW for the return of The Vampire Diaries!
Twitter: @TheVRO
Facebook: Variety Radio Online
Tumblr: Variety Radio Online
//