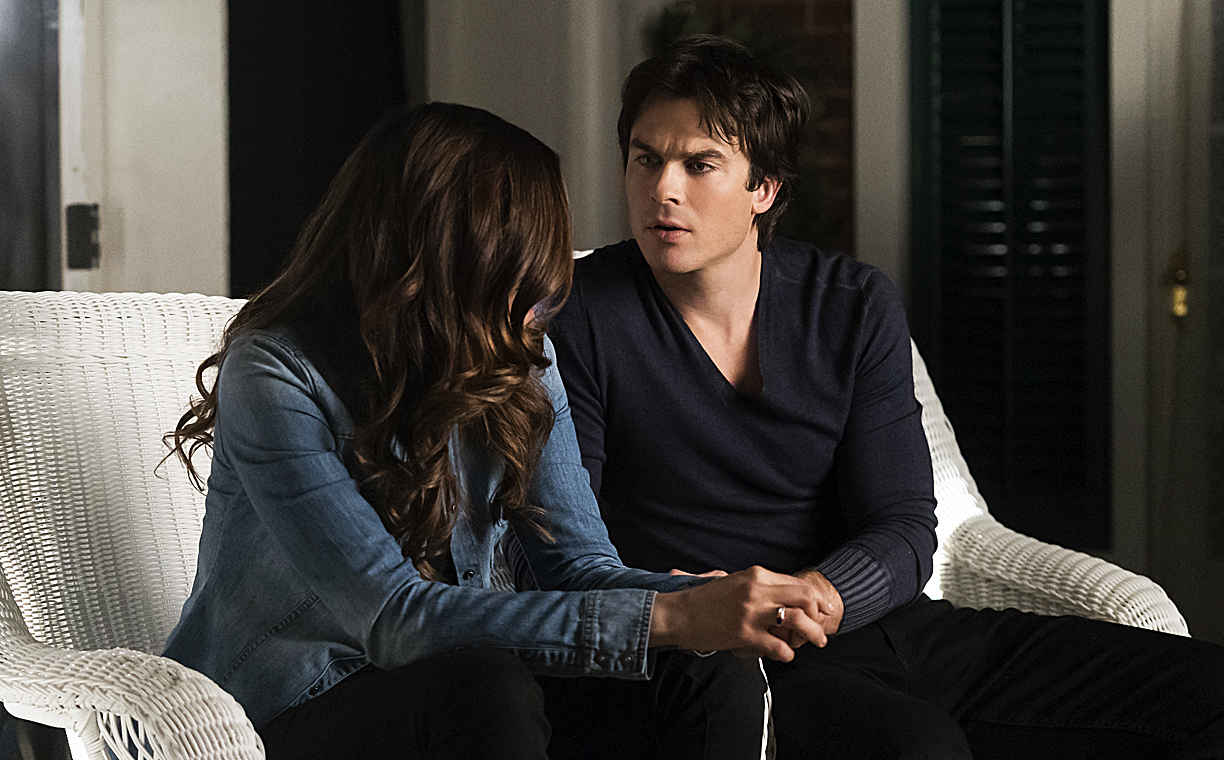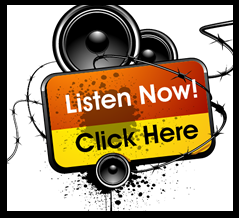 By: Kristin Marie (@kristin0409)
This week's episode begins with Stefan putting his regained humanity master plan in action.   After discussing said plan with Damon and Elena, he tries to convince Caroline that Lily's attempt to flip his humanity switch failed. He brings Caroline to a B&B in Grove Hill to take "a break," and calls someone up for fresh towels (so they can feed on them). Little does she know, the person bringing the towels is Damon, who is armed with a gun. He shoots Caroline and asks Stefan if he's sure about this. Upon receiving confirmation from Stefan, he shoots him too.
Three days later, Caroline wakes up in the B&B and asks Stefan what happened. The bed is full of blood (their blood) and he tells her they'd been caught. Part of Stefan's plan with Damon and Elena was to drain Caroline of her blood and torture her with memories of her friends and family until she's forced to flip her own switch.
Continuing the tradition of pretending to care about Bonnie while having an ulterior motive, Damon shows up bearing coffee and then pisses her off when he tells her he gave Lily the ascendant for "safe keeping." Bonnie knows Lily will need her to perform the spell to bring her companions back from the 1903 prison world, so she demands that Damon fix this problem before she comes looking for her.
While on vampire babysitting duty, Alaric and Jo discuss bakeries for wedding cake tasting and tequila bars before they start to get it on in the hallway. Elena walks in on them as she arrives to relieve them of their duty. Alaric heads over to meet Jo in the honeymoon suite, and Elena stops him to tell him how nice it is to see him truly happy just as they overhear Stefan and Caroline waking up in the vampire proofed room. Despite the fact that the desiccation is causing her to feel like there is sandpaper rubbing on her veins, Caroline decides to chug a small bottle of vodka. Elena arrives and shows her the letter she'd received from Liz Forbes after her death. Liz had arranged for the letter to arrive after her death in order to comfort her daughter. Elena's plan goes wrong when Caroline demands that Stefan burn the letter. He reluctantly does it, still trying to convince Caroline that his humanity is off, and tells Elena she's going to have to try harder if she wants them back.
Bonnie calls Matt and asks him to stall Lily at the restaurant, as she waits to meet with her. Enzo officially reunites with the woman who turned him into a vampire and joins Lily for a drink while she waits. She apologizes for leaving him after he completed the transition and he almost seems relieved to hear these words.
Elena tells Damon that Caroline burned the letter from her mother and doesn't know what to do next. Damon, still in possession of the cure to vampirism, asks Elena where she envisions herself in 5 years, if she were human. She has an elaborate answer that involves living in Tribeca, being in the surgical residency program and having kids with Damon. Just as she asks where he sees himself, they're distracted by Caroline moaning about being tortured. Damon puts his own plan in action as he pushes case files of Caroline's recent murders into the room. She realizes he's picking on her, so she turns the tables on them. She points out that Damon and Elena are playing pretend when they talk about futures they can't have. Elena doesn't enjoy this conversation, so she walks away.
As their unexpected meeting continues, Lily reassures Enzo that she didn't abandon him after she turned him. He's surprised to learn that her and her friends were captured by the Gemini coven, who locked them up in the 1903 prison world. He's equally surprised to learn who Lily's original lunch date was and causes suspicion. The two head to the Salvatore mansion, where Bonnie is currently in desperate search of the ascendant. She hears them walk in just as she finds it and escapes. Lily is angered that the only thing keeping her from rescuing her "family" is gone. Enzo tries to remind her that her real family lives in the very house they're standing in, but she demands he leave.
After Caroline's rant, Elena tries to reassure Damon that she won't ever be completely fine with being a vampire, but she's ok with it because it means she gets to be with him forever. He receives a phone call from Lily, which he says better be a pocket dial. She thinks he took the ascendant from her and tells her son to get it back. He admits it's not the first problem on his list at the moment, but it quickly moves to the top when she threatens to crush the cure to vampirism if he doesn't.
When Stefan refuses to take his clothes off, Caroline realizes that he flipped his humanity switch. He tries to deny it, but she snaps his neck and kicks down the door, escaping further torture.
Damon walks in on Bonnie trying to destroy the ascendant. She says she's putting herself first for once, but Damon tries explaining that he needs the ascendant. He tells her that Kai won't get out, but she doesn't seem to believe him. He admits that Lily has the cure and is leveraging him, which allows Bonnie to call him out on not being so different from his mother. She says she has never seen him as scared as he is at that moment and asks if it's really about him NOT giving Elena the cure, or if what scares him is what will happen if he does. She grabs the ascendant and tells him that if he can handle letting a group of people out who will kill her and anyone else who gets in their way AND if he can sit back and watch Elena grow old and die for the next 70 years, he can have the ascendant. She hands it to him, but he doesn't take it.
As Caroline is speeding away, she is stopped by the police. She pulls over, excited about finally feeding on someone, but she's shocked to find the officer who pulled her over is…Liz Forbes. Her mother tells her that she's not her daughter anymore because her daughter is kind and loving towards others. After a minute, Caroline realizes that this is all a vision that Stefan put in her head. She never escaped the B&B, so Stefan took the opportunity to try getting her to see what she's become. He asks for her hand so he can help her, and she obliges. However, she also shoves a wood panel from the window into his chest and tells him she doesn't want his help; she only wants him to die. As she pushes the panel deeper into his chest, he places another vision in her head. This vision is memory of him and Liz before she passed. He went to her for a sewing kit so they could repair Ms. Cuddles for Bonnie. Liz tells him she hopes one day he and Caroline will be more than just friends. He responds by saying that if and when he decides to pursue Caroline, he wants it to be perfect; without loss, pain and grief. The memory shows the letter that Liz was writing to Caroline (the one she recently burned). Caroline removes the wood panel from Stefan's chest as the veins begin to creep up his face. She wants to see her mother, so he brings her into the memory.
Caroline asks to see the letter, but Stefan reminds her that he already gave it to her. When she realizes what she's done, she clearly flips her humanity back on. She feels terrible about trying to kill Stefan, forcing him to turn off his own humanity, and everything else in between. He tries to reassure her that everything will be ok, but she sobs and falls to the floor in guilt.
Damon arrives home to find Lily standing in front of the fireplace. She holds the box with the cure in it and tosses it into the flames when Damon tells her he doesn't have the ascendant. As she tells him that getting rid of the cure and having Elena be his forever wouldn't be a punishment at all, she pokes open the box, revealing that it's empty. Simultaneously, Elena finds a box surrounded by lit candles in the other room. She opens it, thinking it's a ring, and is shocked to find the cure inside of it. She walks into the room to ask Damon if he gave her the cure, only to hear from Lily that it was HER, because Damon was never going to offer it to her. Lily leaves them with this news in true vindictive fashion.
Alaric and Jo help Stefan recover by bringing him some blood bags. Stefan assumes Caroline doesn't want to see him, but Jo tells him to let Caroline decide what she needs. He heads in to see her and finds her looking through the case files. He tries to help her cope with what's happened, but she's embarrassed and feels terrible about the things she's done, especially to him. She walks out and he doesn't stop her.
After receiving a phone call from Lily, Enzo arrives to find her standing in the middle of an empty street. He admits that in 1903, when he was sick and abandoned by his own family, she took him under her wing and saved him from death. Loyalty is important to him too, he says. Visibly distraught, she tells him that she went for a walk to clear her head and was almost hit by a car. The driver was in shock and she fed on him. As Enzo walks in front of her, he sees her covered in blood. They look over and find the driver's decapitated body. She begins to cry and he comforts her.
When he's confronted about the cure, Damon admits that all he sees five years from now is Elena, while she sees her entire future. She says she doesn't want it if it means she can't live forever with him, and tries to come up with someone else they can give it to. Damon refuses and tells her she's going to take it and he's going to take it with her.
Tune in next Thursday, April 30th at 8/7c on The CW for more of The Vampire Diaries!
Twitter: @TheVRO
Facebook: Variety Radio Online
Tumblr: Variety Radio Online
//