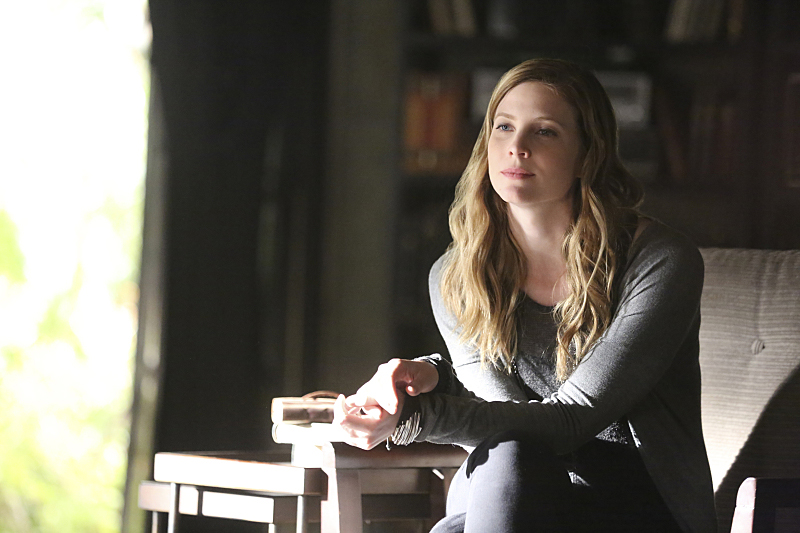 By: Kristin Marie (@kristin0409)
This week's episode begins with another flash forward to three years from now, and I'm still not enjoying them…except that this one includes Tyler (Michael Trevino)! He receives a phone call from Stefan asking if he's spoken to Caroline, and insists he'd like to avoid any drama with those two. He seems surprised when Stefan tells him his scar opened up and he needs to warn Caroline. He tells Tyler to take care of himself, and then sets his Porsche on fire after removing a journal from the trunk.
In present day, Bonnie writes an entry to Elena in her journal and sees the vision that's been haunting her ever since holding the Phoenix stone. She passes out and wakes up ten minutes later. Meanwhile, Alaric is still researching said stone in his apartment as Damon emerges in a towel. The two loosely discuss Damon's plan to find Lily's lost heretic when Bonnie arrives for reassurance that the Phoenix stone had been destroyed. Ric continues his lie and claims to have watched it disintegrate in acid. Damon gets word of Lily's cell phone signal bouncing off a tower in Myrtle Beach and asks if the two want to join him on a road trip for a hostage swap.
Caroline is still being tortured by Mary Louise and Nora, but she hears Stefan's phone vibrating in the room. She asks him who Valerie is, tipping him off that she's one of Lily's heretics. Valerie takes this opportunity to smash Stefan's phone and knock Caroline unconscious.
In the parking lot of the Mystic Grill, Stefan finds Lily attempting to parallel park. He tells her to have her spoiled brats stop torturing Caroline, and she agrees…so long as Damon stops killing said spoiled brats. Stefan lies and tells her he's no longer speaking with Damon, which she seems pleased to hear. He asks if one of the girls is named Valerie, and finds out that his mother sent Valerie to him in 1863 after they'd met in the TB ward when Lily fell ill. Simultaneously…Caroline finds out from Valerie that she was the first love of Stefan's life. Lily begins to tell Stefan that she'd fallen into a depression after losing him and Damon, so she sent Valerie to check on him. She'd been offered a trip to Europe by a "vampire gentleman friend," but needed to make sure her sons were ok first. Stefan questions her taste in men now that he hears she was dating a vampire after her husband shot and killed their sons. Lily is adamant that Julian, her boyfriend, was nothing like their father.
Cue the flashback to 1863. Valerie and Stefan meet at the Mystic Falls County Fair and instantly have a connection. Julian is on stage holding a kissing booth type event where they're supposedly raising money for the troops. He's distracted when he spots Valerie and Stefan flirting in the crowd. He forces Valerie aside and reminds her that Lily sent them to get a sense of Stefan's mood, not his manhood. Lily instructed them to keep their distance, and Valerie claims to have everything under control. In present day, she explains to Caroline that, at the time, she was unable to compel anyone because she was just a witch who had been abandoned by her coven for not having powers of her own; her magic was held in a necklace to be siphoned in times of need. When Caroline realizes the spell Valerie put on her skin was to prevent Stefan from touching her, Valerie continues on with the story. In the flashback, we see Stefan and Valerie run off to hide from Julian…and Stefan losing his virginity. That's right, people. Stefan Salvatore lost his virginity to a woman who would become one of his mother's heretics. One who is holding his current love, Caroline, hostage in his own home.
Damon, Bonnie and Alaric are able to locate the missing heretic, Oscar, and quickly discuss their plan before knocking on the door. Bonnie wants to ask him to siphon the violent visions from her mind, prompting Damon to ask Ric if he has another way to rid Bonnie of the painful visions. Ric doesn't take the bait, so Damon knocks on the door, claiming to be room service. Imagine his surprise, when Oscar opens the door and immediately recognizes Damon. He explains that he'd met Damon at a bar in 1863 when Lily sent him to make sure her son was ok, and doesn't seem to want her to know his location.
Back in Mystic Falls, Stefan helps Lily learn to drive as she admits Valerie never told her of their romance. She did, however, tell Lily that Stefan had forgotten all about her. Stefan tells her you don't forget your mother being ripped out of your arms as a child; you find distractions.
In 1863, after losing his virginity to Valerie, Stefan brings her to visit Lily's grave. He explains that when she became ill, their father sent him to fetch flowers so they could make her an herbal tonic. He ran as fast as he could, but she was gone when he returned; robbing him of the chance to say goodbye. Valerie hands him small flowers and asks if they were the ones he was sent to retrieve. They were, so she explains that he would not have been able to save his mother. The flowers held no medicinal properties, and were simply an old wives tale. Since he expresses guilt over not being able to save her, Valerie helps him understand that Lily's death was out of his control. They're interrupted by Julian, who insists she leave immediately. Stefan asks when he'll see her again and she promises to find her way back to him. In present day, Caroline tells her they were kind of like The Notebook except they never reconnect, and he totally forgets about her.
Damon, Bonnie and Ric learn that Oscar doesn't want to return to Lily and the heretics. He's enjoying his freedom as opposed to the rules Lily has set on them. Bonnie asks him to siphon the visions from her mind in exchange for them keeping his location a secret. He agrees and, upon siphoning the images, immediately asks her where the Phoenix stone is and how they know about it. Tensions rise, and he uses magic to knock the trio unconscious, then disappears. Oscar didn't just disappear…he also stole the Phoenix stone. Bonnie is angry that Damon knew about it and didn't tell her, but he refuses to be in the middle of Bonnie and Ric, so he leaves to find the thief.
As Stefan and Lily continue their talk in the car, so do Valerie and Caroline. Stefan asks Lily if there's a chance that Valerie doesn't care about her or anyone else, but Lily refuses to believe that. She's shocked to hear that Valerie sent Stefan a telegram telling him to meet her so they could run away together. Stefan waited for her all day, but she never showed up. While he expresses some resentment for what happened, Valerie explains it all to Caroline. She asks Valerie how she could abandon him like that, but Valerie says she's done talking to her about it. As she walks away, she remembers the night she tried to leave and make it back to Stefan. Julian caught her and reminded her that Lily would never leave without her 'children' and it was imperative he leave that night. He asks if he frightens her because he can hear her heartbeat…both of her heartbeats. Valerie is pregnant with Stefan's child!!! Unfortunately, Julian beats her senseless, thus killing her unborn child. Lily feeds Valerie her blood to heal her wounds. Not knowing this, Valerie drowns herself in the tub, making her the first heretic.
Damon finds Oscar, who is shocked to learn Damon isn't interested in the Phoenix stone, unlike many other people (apparently). Instead, Damon admits he's going to cash Oscar in for something more valuable. The two begin to fight as Bonnie and Alaric walk in. The trio work together to overcome Oscar, and Bonnie hands Ric the Phoenix stone, warning him never to lie to her again.
After their talk, Lily goes back to the Salvatore mansion and asks Caroline where Valerie is. She apologizes for prying when she mentions Caroline losing her mother. Lily was curious as to how one deals with that sort of loss, and is surprised when Caroline shows her kindness. She hands Lily Stefan's old journal and tells her to read the entries in which he wrote about her. Lily learns how much Stefan truly loved her and missed her, so she instructs Nora to remove the boundary spell keeping Caroline hostage. As a reward for Stefan's honesty, she allows Caroline to leave.
Stefan visits the spot where he waited for Valerie back in 1863, and this time she appears. She sits next to him on the bench and tells him the truth about why she never showed up. Julian told Lily that he'd found Valerie's body robbed and beaten on the street. He knew Valerie would never tell Lily what he did to her because she would have to admit to her affair with Stefan, which Lily would never forgive. She says he has no idea how sorry she is about everything, and when he looks in her direction…she's not there. He gets up to leave, and she IS there. She whispers that he might never know. Oh hell!! She must've used magic to make herself invisible as she told him the truth. He never got to hear it!
While Ric and Bonnie realize they won't find anything about the Phoenix stone in any book, he brings her to the morgue, where he's paying the attendant to keep Jo's body. He knows he can't do it alone, so he asks Bonnie to at least try and help him, which she agrees to do.
Damon calls Lily and informs her that he's putting Oscar under a vervain detox until she gives him Elena back. He knows she moved on to a new family, but so has he.
Stefan and Caroline are finally reunited, even though her skin still acts as vervain. She asks him if Valerie being there changes anything for him, and he seems positive that it doesn't. He claims not to care about the past…what matters to him is that Caroline is there, she's safe and she's with him.
Oscar wakes up during his detox and sees Valerie standing over him. She assures him that Lily doesn't know where he is and asks if he found Julian. He found him months ago and never told anyone. She knows he'll eventually leverage Julian's location for his own freedom and she can't have that. She plunges her hand into his chest and stops his heart from beating as she tells him she can't let Lily bring Julian back.
Ugh…I have so many questions!!! Does anyone think Tyler is Caroline's fiancé?? We saw in the first flash forward that Caroline IS, in fact, engaged, and not to Stefan. Things that make you go hmmmm. I'm going to go ahead and assume that we were wrong in thinking Lily and the heretics would be the villains of the season. I'm getting the idea that Julian will return with a vengeance! What will Lily do when she learns that Julian killed her unborn grandchild?? What kind of trouble is Ric getting Bonnie into with this Phoenix stone? Where were Matt and Enzo? And who will remove the vervain-skin spell Caroline has on her?? We need more Steroline! Or do we want Stefan to reunite with Valerie?
Tune in to The CW on Thursday, October 29 at 8/7c for more of The Vampire Diaries!
Twitter: @TheVRO
Facebook: Variety Radio Online
Tumblr: Variety Radio Online
//