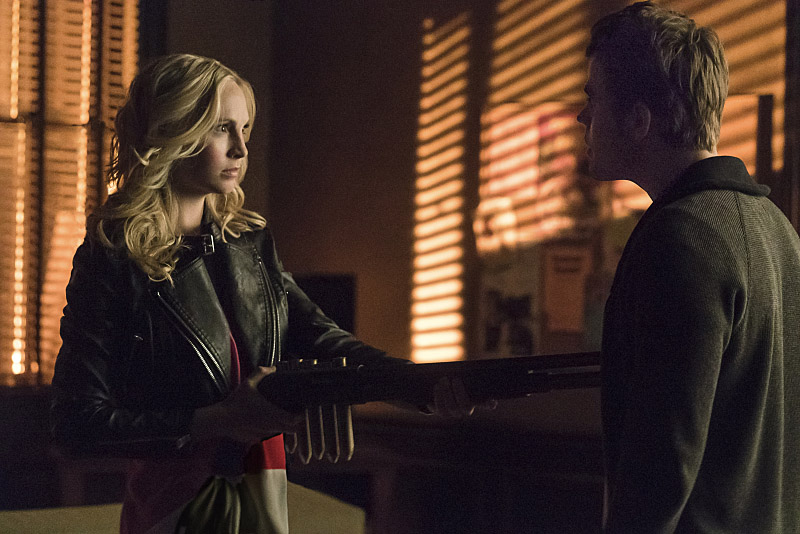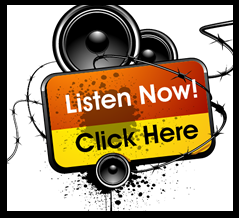 By: Kristin (@kristin0409)
In the aftermath of Caroline forcing Stefan flip the switch on his humanity, this week's episode begins with her cleaning up the Skull Bar. Enzo walks in and teases her about her incessant need for control, even without her own humanity. When he questions why she took his phone the night prior, he's shocked to hear what she attempted to do with Sarah and equally disappointed to know that Stefan is one step closer to becoming a ripper, again.
In an attempt to sedate Stefan so they can lock him up until he flips the switch back, Damon tries to inject him with vervain. Stefan quickly realizes what he's doing and breaks his wrist. He collects all of the hunter weapons and tells Damon to stay out of his way.
Sarah wakes up at Whitmore Medical with Jo looking after her. She's told that she was found drunk, passed out in the quad and brought in for medical attention. Jo walks the hall with Alaric and confesses to thinking of baby names. For the first time in their entire "10 minute" relationship, this might be the first time they actually seem like a couple. He playfully admits to not having thought of any names yet.
At the Salvatore mansion, Elena walks in on Damon smashing things to smithereens in an angry rage about Stefan. They're discussing the fact that Stefan was Caroline's emotional trigger, when Damon tells her about his mother being alive in the 1903 prison world. Elena has an idea to bring Lily Salvatore back from the prison world in order to trigger Stefan, thus allowing him to trigger Caroline. She's way too excited about the fact that Lily is alive that she doesn't seem to process Damon telling her she's a ripper. Regardless, Damon heads to Bonnie's dorm to try recruiting her to play nice with Kai so he'll agree to bring them to the prison world. She's still angry at him for springing Kai on her the night before, but he continues to explain the domino effect of breaking emotional triggers that will ensue once they bring Lily back. She agrees to meet with Kai and, over lunch and sarcastic conversation, he reveals that he already has the ascendant for that particular prison world. He'll only go if she goes, but she claims she'd rather die of cholera than spend an afternoon with him. He guilts her into going when he reminds her that Caroline needs to be reunited with her humanity.
Caroline sings a song at her audition for the school musical and is rather annoyed when the director makes no comment when she's done. The director wasn't able to comment, however, because Stefan ripped his head from his body. Stefan teases her about still maintaining control despite her having flipped her switch and is clearly angry for forcing him to do the same. He doesn't have the same control she does, so he rubs the director's blood on her lips and declares war until she breaks and loses that control.
As Damon, Bonnie, Kai and Elena prepare to visit the 1903 prison world, Kai sees Bonnie's knife and tells her Crocodile Dundee called and wants his knife back. She responds by telling him he's no longer a thing and neither is that joke. Anyone else see the tension between them? #Bonkai anyone?? The four arrive and Bonnie tells Damon and Elena to go find Lily while her and Kai search for the ascendant they need to get back to the present day. She pretends to believe that Kai is good now, but not with him. The two bicker like an old married couple.
Now that war has been declared, Stefan sits on his motorcycle and realizes that Caroline unbolted everything, causing the bike to fall apart beneath him. Sarcastic Stefan mocks dismantling his bike, which will take him 10 minutes to fix, as oppose to him ripping her director's head off. When he calls her an embarrassment to humanity-free vampires everywhere, she walks over and punches a hole in the gas tank.
Jo calls Alaric and he claims to have several potential baby names, but she's changed her mind about him coming up with ideas. "Anyone named Alaric should not be able to name another human," she says. Their conversation is interrupted when Enzo enters Alaric's office requesting his help in capturing Caroline and Stefan until they're forced to flip their switches.
In 1903 land, Elena is excited to see baby photos of Damon and Stefan and they're caught by Lily. She explains her story to them and even though Elena seems eager to know more, Damon doesn't seem to be buying it. Still, rightfully, bitter that his mother left him and Stefan to believe she'd died. Elena is shocked when she tells them she survives on two droppers of blood a day.
Continuing the war games, Stefan tosses Caroline a vervain bomb that knocks her to the ground. She retaliates by staking him, still refusing to give up her control.
Kai and Bonnie attempt a locator spell to find the other ascendant. While she's performing the spell, Kai admits that he's there because his guilt keeps him up at night. He only wants one more chance, but she's ignoring him as she continues the spell. This angers him, and he snaps. He apologizes, and seems genuine, but she's not having it. She tells him she located the ascendant and they continue walking.
Damon and Elena inform Lily of Stefan's condition, and she agrees to go back with them to help him regain his humanity. She tells them she'll alert her "traveling companions," who turn out to be mummified vampires who sacrificed their own need for blood in order to keep her alive. They're all creepily sitting at a table, which Damon tells Elena looks like a vampire doll house. Clearly Lily is as insane as Kai said she was. She claims her companions saved her from the monster she'd become.
While Enzo and Alaric set out to shoot Caroline and Stefan with vervain, they bicker the entire time. Enzo admits that he has a well-thought out plan to ruin Stefan's life, but it's no fun when his lack of humanity prevents him from caring. Alaric tells him what really happened to Sarah the night before and suggests that he rethink his plan.
Caroline is caught by a straggler student in the hall and, as she goes to compel her to leave, Stefan removes the stake and heaves it in the girl's direction. Caroline then removes the stake and attempts to feed her blood to heal the wound, but Stefan tells her she shouldn't want to save strangers. Caroline knocks him out with the stake and compels the girl to hide in her room. As she's yelling at him, he pushes her against a wall and tells her to be quiet. Enzo and Alaric arrive and have to dodge a vervain bomb Stefan dropped down the stairs just before it explodes.
As Lily fetches the last of the blood to revive her companions, Damon and Elena discuss the load of crazy she's just unleashed. Elena finds the ascendant in the room, wondering why Bonnie isn't there, but Damon admits that she's not actually looking it. While Bonnie continues pretending to search for the ascendant, Kai begins to make comments about being able to gut her and her friends not being able to hear her. He's distracted long enough for her to stab him in the back with her knife. He pleads for her to stop and says that he's changed, but she says she has too and stabs him again…or so we thought! Kai used his magic to disappear before the she was able to.
Caroline checks to make sure Alaric and Enzo are still breathing and picks up one of their weapons to stop Stefan from hurting them further. She stands between him and them, weapon raised, even when he continues trying to push her buttons. Instead of fighting her, he runs to the room of the straggler student and feeds on her in front of Caroline. He invites her to join him and she finally gives in. She stops though and rushes over to Stefan. The two begin to kiss while taking off each other's clothes.
Damon tells Lily they can't take her companions, just as Bonnie arrives at the house. When he turns his back, Lily rushes to her friends to feed them blood from her jar, but Damon smashes it. She tells him they're her family and she can't leave without them, to which Damon responds that Stefan is HIS family and he will leave her there to rot if she doesn't want to help. As Bonnie begins the spell to bring them all back to present day, Damon and Lily arrive just in time…and so does Kai. He calls out for Bonnie, but they suddenly disappear, leaving him alone in the 1903 prison world.
Once he's fully healed, Enzo pays a visit to Sarah at the medical center. She'd received a text from him the night prior, but doesn't remember seeing him. He admits that he shouldn't have let her into his life and that she deserves better than just being a pawn in a game he's no longer interested in playing. He calls her Sarah Salvatore, which confuses her.
Now experiencing a sort of culture shock at the idea of computers, Lily admits to Damon that the angel Stefan remembers visiting him on the night of her funeral was actually her. She'd just turned into a vampire and fled when she found it difficult to ignore the sound and smell of his blood. She fled to spare them and says that no matter how deep they felt her absence, it wasn't half as deep as she felt theirs. She claims that she won't be able to truly be herself until she can return to the ones she left behind. Damon tells her they'll go back soon and leaves her to sleep.
Kai is now stuck in 1903 in search of food. He stumbles upon Lily's companions and as curiosity captures him, the vampire Lily managed to give a drop of blood to grabs Kai by the neck.
While Stefan and Caroline deal with their recent behavior, Damon and Elena engage in a heated make out session that ends abruptly when Bonnie stands in the doorway. Elena leaves, and Bonnie thanks Damon for helping her find closure from Kai. He turns on the faucet to prevent Lily from hearing them agree never to go back to the prison world even though she'll stop at nothing to do so. Bonnie then hands him something she picked as a thank you for reminding her where to find the magic that brought her home from the 1994 prison world…the cure to vampirism! Haven't heard about that for a while! He originally wanted the cure for Elena, but I wonder if he'll give it to his mother instead!
Unfortunately, we have to endure another break, but tune in Thursday, April 16th at 8/7c on The CW to see what happens next!
ALSO…Don't forget to visit EyeCon for information regarding their LAST Vampire Diaries/The Originals Convention, which will take place October 9-11 in Atlanta, GA. The first confirmed guests are Joseph Morgan (yes, you read that correctly) and Paul Telfer. Tickets went on sale March 13, so head on over and pick yours up!
Twitter: @TheVRO
Facebook: Variety Radio Online
Tumblr: Variety Radio Online
//