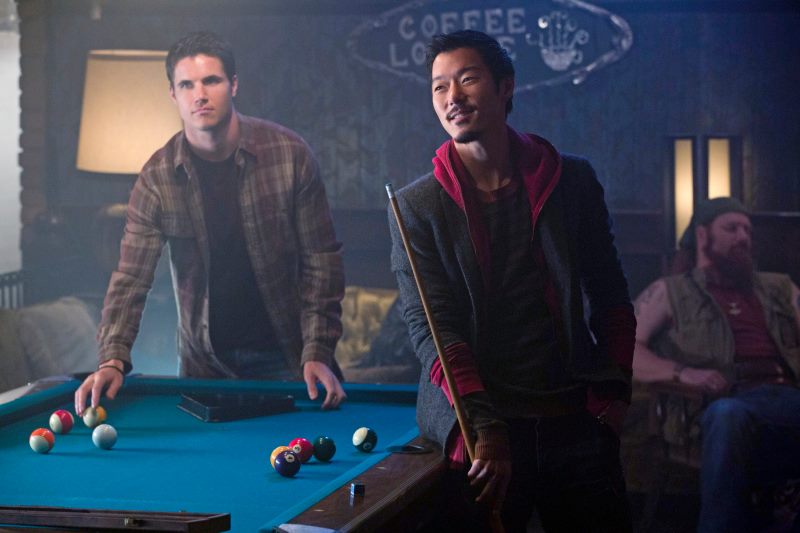 We seem to be learning each week about one of the Tomorrow People's on how their powers changed their lives. This episode focuses on Russell (Aaron Yoo) as a wise cracker and how he became the person he is today. We begin in flashback. From a young age he started playing the piano which his father encouraged him to do until the changes occurred and he could play telekinetically.
Back to present day Russell is topside hustling pool with Stephen in a pool bar. He bets against other players to win money which he is giving to Stephen which is to help his mom pay the bills. Russell plays pool with a girl named Piper and they sense she is one of them and runs when they approach her about it. They follow her outside where she beats the guys up. "Girl Power".
We learn back at the hideout that Russell's father has died. He is reasonably upset over his death.
Stephen brings the news that Irene, the genetic genius, is stable and out of ICU in the hospital.
John and Cara's relationship is shaky after John not telling Cara about his ability to kill. She feels he is still hiding things from her.
Russell decides that he is going to his father's funeral. John says he will go with him to help him make the various teleportation jumps along the way and to give him support.
Darcy, Stephen's handler, questions Stephen about Astrid who she found at the nightclub in the previous episode 1.5. She covers for him that she won't tell Jedikiah about it. Ultra has located the new outbreak, Piper, and want to go after her. Cara takes over "the store" while John is out of town with Russell. She says there will be no topside while
John is away and she is looking after things. She wants to keep a low profile after the last incident where 3 of their people were killed. Stephen convinces Cara to go look for Piper which they find in the pool hall. Ultra also arrives on the scene. So they won't be caught by Ultra as they walk along the street, Stephen pushes Cara against the wall and begins kissing her as a cover. This will cause even more feelings between the two of them.
We learn from Russell that he started playing the piano from the age of 5 years and his father made him practice 6 hours a day. He thought his father was a tyrant. When Russell rebelled he went gambling and stole from them. His father tries to protect him when the gang member's come looking for him and their money.
Russell disappears on their travels and John finds him at a bar getting drunk. There is a bar fight (great fight scene) and John hits an undercover cop and they both are arrested for disturbing the peace. We learn that Russell is scared to go home as he doesn't want to face his mother as he is a coward who left in shame. John says to him to let his mother see the man that he has become.
Cara and Stephen go out again to try and locate Piper. They discuss their pass life and people they have been with. They eventually find Piper and take her back to the hideout. We learn that Piper's sister is Darcy from Ultra. Stephen believes that they should be reunited, but Cara thinks it is a bad idea as she is Ultra. Stephen tells Piper about her sister. A meeting is arranged between the two sisters, but Darcy informed Ultra and they come to get her. Darcy has a change of heart and tries to stop the squad from taking her but is killed in doing so. Irene comes out of the hospital back to the hideout.
Russell makes it back home to see his mother. They have an emotional reunion and his mother asks him to play the piano in memory and honour of his father.
We learn that Jedikiah has his own secret from Ultra, that he is having an affair with a Tomorrow People named Morgan. I wonder where this will lead to?
Stephen blames himself for Darcy's death. Cara thinks that Stephen is the best person she has ever met. Stephen is not sure that he should be there with her. Their feelings for each other are growing and they cannot stop them and makeout. How will this affect John and Cara's relationship? It looks like we will have another love triangle.