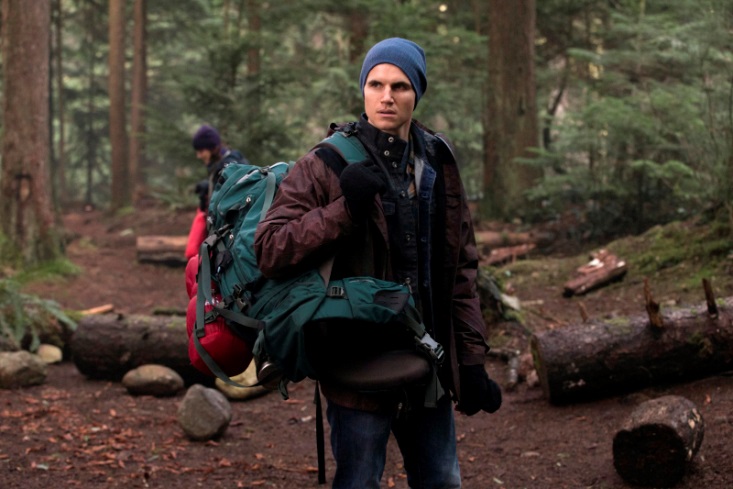 By: Anna – 29 January 2014
This episode is more about Stephen's paranoia with Ultra and Peter (Robert Gant) his mom's new boyfriend and Astrid Finch being thrown into the world of the paranormals.
We begin with Astrid going to a musical audition or so she thinks, only to be greeted by Ultra agents who shoot to kill.
Stephen is sparing with Hilary (Alexa Vega) and she believes that the competition is rigged. Hilary asks Jedikiah what happens to humans who know about them to which Jedikiah says they are terminated with extreme prejudice. There is zero tolerance for humans to know. Hilary is out to get Stephen.
Stephen is now worried whether Astrid has told anyone about his powers. He meets Astrid at his home and queries her about it and tells her about the new girl at Ultra who is trying to get him kicked out. She tells him he is being paranoid. Luca comes down from the crawlspace  and Stephen thinks he is ease dropping to which Luca thinks he is paranoid. He is looking for sleeping bags for their camping trip.
Stephen is told that the whole family is going on a camping trip with Peter for the weekend.  Stephen is not too impressed and won't let his mom and Luca go away on their own with Peter.
As Stephen is going camping with his family and is concerned for Astrid's wellbeing while he is away as he cannot look after her and his family at the same time. So he goes to Cara and John and asks them to watch over her from Ultra. John agrees to check in on Astrid for him.
We see a young John 14 years ago getting a Flash comic book from his newsstand friend, Tony. His friend is being robbed and John uses his telekinesis to save him.
At Ultra, Hilary  shows Jedikiah surveillance of Astrid at the Ultra ambush of the Tomorrow People which was covered up by Darcy and that she knows Stephen. Jedikiah will look into it.
Astrid is on a train and is suspicious of some men so she moves to another carriage. John teleports onto the train to keep an eye on her. She is not happy that she has been given a bodyguard. John lets her know that she can contact him via Skype if she needs it.
Flashback at Ultra, Jedikiah informs the recruits that it has come to his attention that one of them has used their powers in violation of Ultra policy in front of humans. He asks them to step forward in which a young John steps forward. He tells him about why he showed his powers to save someone.
On the camping trip, Stephen telepaths with Cara for intel on Peter. Cara has to listen to Russell's jokes as he is still recovering from his beating with Julian Masters. Cara had TIM look further into Peter and we find out that he changed his name from Foster. The water is interfering with Stephen's telepathy.  Peter seems to know this and that's the reason why they camped near the river.  Peter brought a gun which makes Stephen even more suspicious of him.
At Ultra Hilary is following up on whether Jedikiah has reprimanded Stephen because of his human friend. She is being forthright to him wanting to make sure he is punished. Jedikiah does not like having to answer to her. She wants to know if she is going to be killed and Jedikiah says "yes".  Jedikiah is not happy with Hilary and that everyone like her has the privilege of working at the agency for the exclusive benefit of human beings and one is sacrificed for the cost of the greater good is not a cause for celebration.
Stephen tries to contact Cara but Peter says "did you say something". It's like he knows. Luca thinks he is jumpy because he is not comfortable around guns. Stephen is curious as to how Peter learnt to shoot.
We are back to where we became in the show with Astrid going for her musical audition and we see Ultra agents attempting to kill her. This time John teleports in to rescue her into the stairwell then into a supply room. Unfortunately for John he is shot and he needs Astrid to stop the bleeding. Astrid wants him to go to the hospital but he can't or Ultra will sense them teleporting.
Peter wants to know why Stephen and he have gotten off on the wrong foot. Stephen wants to know who he is really is and why he changed his name from Foster to McKenzie. He changed his name to honour his stepfather's name. They come to a cliff edge and Stephen says he knows who he is but not who sent him. He confronts him about being paranormal. Peter says that sometimes when we try to protect someone we put them in more danger. Stephen says he knows he has powers and pushes him over the cliff.  Unfortunately, Peter is drowning and not saving himself. Stephen ends up pushing a tree into the water to save him. Peter thinks him crazy.
John tells Astrid that Stephen should not have told her about their kind and she wouldn't have been put in danger. She was scared when Stephen shut him out of her life and that was worse than being shot at. John wants Astrid to sing to him as she missed her audition. He needs his mind taken off the pain he is in from the gunshot wound. They reminisce about how they would like to live their lives in the future. John fades in and out on consciousness. She starts to sing to him.
John flashbacks to see Ultra kill Tony at the newsstand. Jedikiah teaches him a lesson not to tell humans.
Astrid Skypes the Underground to Cara to get help for John.
Stephen is in trouble with his mom for screwing up. Mom tells him to forget about his father that he is not coming back and to stop acting crazy.
Cara with the help of TIM instructs Astrid on how to treat the bullet wound. She needs to remove the bullet and removes it with her fingers. Jedikiah wants the building shutdown to catch Astrid and is advised that a paranormal helped her escape. Footage shows that it is John. Cara teleports outside of the building taking down an Ultra agent. She gets access inside the building and finds John and Astrid's location. Cara can only teleport one person at a time out and John tells her to take Astrid. She leaves John behind. We have Ultra agents after them and with the machine gun Astrid picked up along the way she opens fire on them enabling them to teleport out to the underground. Jedikiah is informed that John is still in the building and to keep searching for him. Cara comes back for John just in time to rescue him from the Ultra agents to teleport him out.
The family arrive home from their camping trip. Stephen is really sorry for scaring Peter away. Stephen's mom doesn't want any more secrets and wants to know everything.  Luca wants to talk to Stephen about what happened over the weekend. I wonder if it is Luca that is starting to have powers and doesn't know how to deal with them like his brother did.
Stephen goes to see Astrid at the Underground. She would like to go home but she is not allowed as she needs to be safe. She talks to her dad by phone and lies to him about what happened. She cannot  home for her own safety and must stay at the Underground for however long it takes to protect her.
Stephen goes to check on John to thank him for rescuing Astrid. John flashbacks showing Stephen his memory as a child when he met his father, Roger, who befriended him. John and Stephen both remembered that Roger use to say that it is always darkest just before you turn out the lights.
Cara asks how the camping trip went and Stephen tells them how bad it went with him throwing Peter over a cliff to use his powers. They come to the conclusion that the only other person that could be using powers would be "Luca".  He is breaking out.
Twitter: @TheVRO
Facebook: Variety Radio Online
Tumblr: Variety Radio Online