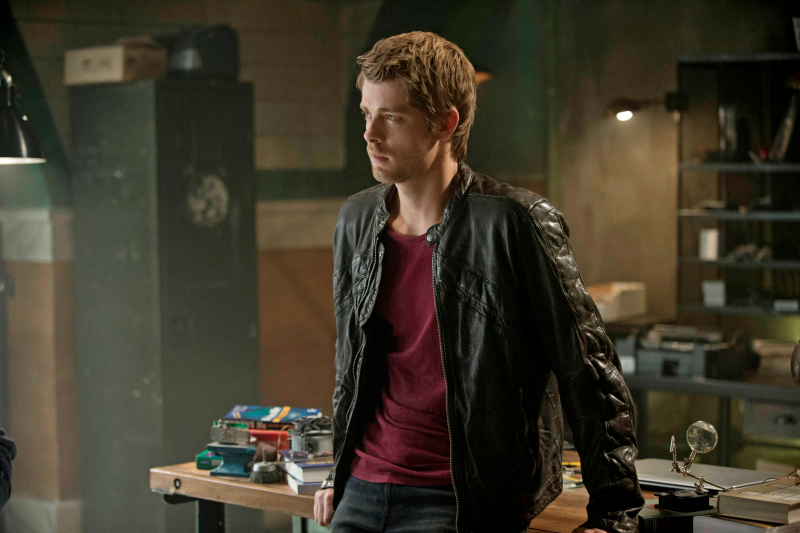 The Tomorrow People #1.03 – Girl, Interrupted
By: Anna
This episode is a flashback into the story of Cara and learns how her powers broke out. It begins where Cara is deaf and trying to stop advances being made to her when she goes off with a boy at a party. In defending herself she discovers her telekinesis and accidently kills the boy. Her father then sends her on her way as he wants nothing to do with her. She then learns she can read his thoughts. These issues haunt Cara with the memory of the assault the same time each year and will affect her work performance.
Back in the present day, Stephen is at a party with Astrid and is easedropping of everyone's thoughts. He reads a girl's mind, Emily, who is troubled and has her own mental problems and is considering suicide due to her sister's death. Stephen is concerned but no-one wants to listen. Cara believes that they should not interfere with human's problems. Homo superiors are a different species, but Stephen believes otherwise and feels very human and should help. This causes him to disagree with John and Cara.
John wants Stephen to break into a different part of Ultra to put a drive in the firewall which will install software to give intel to TIM. Stephen goes to the restricted area with help from Cara telepathy guiding him to the necessary area to plus the drive in the software. On leaving the restricted area Cara's memories of the assault interferes with the mission and Stephen gets caught by Jedikiah. He lies to save himself but Jedikiah sweeps the area finding the drive.
Stephen is still concerned for Emily and gets TIM to analyse numbers he read in Emily's mind. Cara and John are not happy but are interrupted when there is a breakout at the dock. They think it is Emily but it is a setup by Ultra. John, Cara and Russell go to help but Cara is caught and taken by Ultra while John and Russell escape. John tells Stephen about Cara's earlier life and he promises to get her out of Ultra. Jedikiah wants to kill her but Stephen negotiates for her release and that he will inject her to make her human. This would be far more worse for her as it would make her useless to John. Cara would rather die than have the injection. The twist is, that before Stephen injects Cara, he is able to stop time while Jedikiah is watching, then switches the injection with saline and for Cara to give the performance of her life as if she is being injected with the real chemical. Everyone thinks she will become human and in fact she won't. Cara will never be able to show her powers in front of Jedikiah or Stephen will be in deep trouble.
Cara now agrees to help Stephen stop Emily's suicide plans. With the help of TIM they locate her and teleport to her location. She has her car parked across the train tracks where her sister died. As Cara has experience with the guilt and abandonment she goes to talk to Emily and talks her off the tracks. Stephen watches from a distance. Astrid arrives to try and save Emily but in doing so sees Stephen teleport.
Stephen and Cara watch from a distance. Emily reconciles with her parents. Cara feels she can trust Stephen more and the two of them are continuing to share a special bond.
On Stephen's arrival back home, Astrid is waiting for him and confronts him about the teleporting. Stephen denies it and she says she will find out either way.