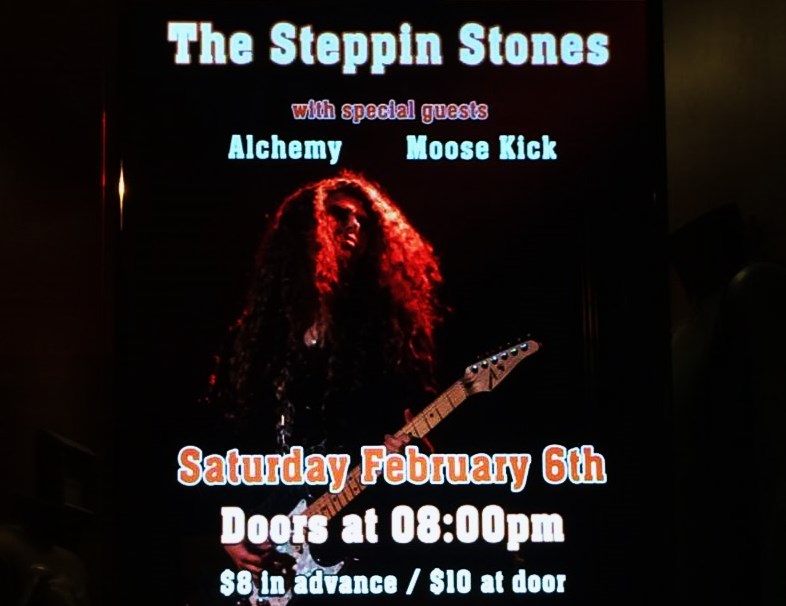 After a long wait, we were finally able to catch The Steppin Stones perform again on February 6th in Atlanta. The Steppin Stones are a highly talented rock trio based out of South Carolina. Lead singer Hannah Wicklund plays the guitar, Justice Ian Jones plays the drums and Andrew Ottimo plays the bass and also contributes to the vocals of the band. Since they are constantly out on tour, we make sure to catch their performances whenever they make a stop in Atlanta. This past weekend, the venue just so happened to be the Velvet Underground at the Hard Rock Cafe in Atlanta which is where we discovered the band in the first place.
I attended this show with a fellow Variety Radio Online staff member who, like me, went to the venue already a fan. We brought along a friend who had never seen them perform in hopes of creating a new fan. According to her, it seems we were successful. We all agreed that the high energy performance was the perfect way to kick off the weekend. The crowd could be seen singing along to the lyrics and were without a doubt enjoying themselves.
You may be asking yourself what is so special about this band considering so many groups out there today play rock music. It is a fair enough question, but I assure you that once you hear their music you will know exactly what it is about them that causes fans to see them whenever possible. Hannah Wicklund, lead singer and guitarist, has a voice so unique and powerful that every note she sings will amaze you. Though new to the band, drummer Justice Ian Jones is a perfect fit with the group. You can tell he works well with the other two members of the group. Bass player Andrew Ottimo has one of the highest energy levels that I have ever seen on a performer. Together, the three are a perfect storm in the music industry and if I were you, I would keep an eye on them. I won't be shocked at all when they become household names.
– Brancey Montgomery (@VROBrancey)
Find The Steppin Stones in the following places:
Facebook
Twitter
The Steppin Stones Official Site
Check out one of The Steppin Stones' performances here:
Twitter: @TheVRO
Facebook: Variety Radio Online
Tumblr: Variety Radio Online
//