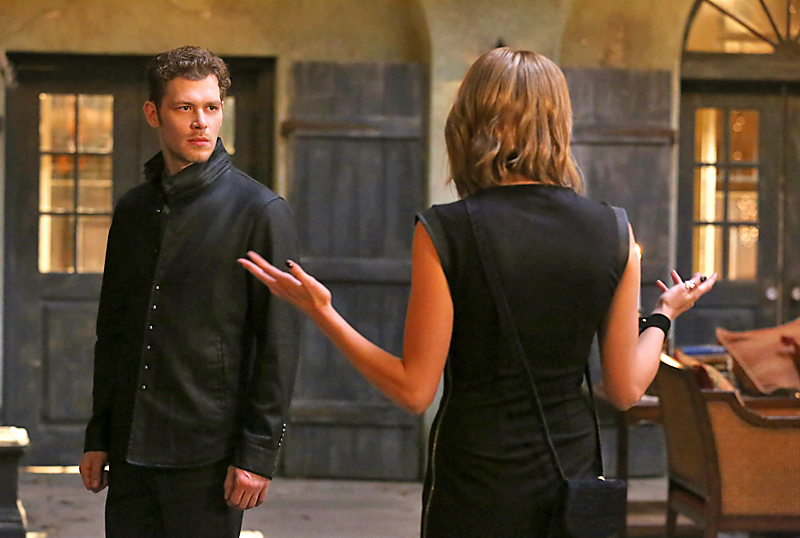 By: Kristin Marie (@kristin0409)
This week's episode begins with Elijah frantically searching for Hayley in the bayou with Hope in his arms. SWOON! While he has no luck finding her, he does stumble across Jackson. In human form, naked and bloody, he and Elijah wonder where she might be. One person who does know where Hayley is though, is Davina. Still trapped and angry that Davina is holding her on the one night she's able to see her daughter, Hayley asks what she wants from her. She reminds Davina that Elijah asked her to find a way to break the curse and she said "No." Davina insists she only said no because the witches in the quarter can't see their regent working with the Mikaelson's. She will, however, help Hayley if she does a favor for her…get rid of Cara. Desperate to be reunited with her daughter, Hayley agrees to help.
Elijah removes the silver bullets from Jackson's body and offers him his blood to heal. Jackson refuses, but the two agree to work together to find Hayley.
Seeking escape in the form of tequila, Freya is found by Marcel dancing with someone at a club. As it's about to be midnight (feeding time for the vampires), Freya leaves and takes her dance partner with her.
At the compound, Elijah and Jackson confront Klaus about whatever has happened to Hayley. He denies having any information, and seems shocked to hear that the poachers hunting the wolves are working for Lucien Castle. After a few sarcastic insults, Klaus tells Elijah where he can find Lucien, and tells him to ask about the prophecy regarding their family's downfall. Elijah tells Jackson to stay with Hope, but Klaus isn't having that. He stands firm on the fact that, if Hayley is walking around on two legs, she'll no doubt come for Hope…so he's staying with his daughter and delivers a threat to Jackson. Before leaving, Elijah tells Klaus that his actions are defining the kind of man he is, and when Hope is old enough to see it for herself, no one will have to take her from him…she'll leave on her own.
Using a lock of Hayley's hair, Davina pours what looks like blood over a tall white candle. She'll remain cloaked and untraceable so long as the flame stays burning, which Davina's magic will make sure of. After explaining where to find Cara, she breaks the circle surrounding Hayley, allowing her to deliver a threat. While holding Davina against a table, she tells her she will come for her if she turns back to wolf form before getting to see her daughter. Davina tells her when she's still human in the morning, she expects an apology.
After pouring over the clues surrounding the mutilated bodies, Cami deduces that Lucien might be involved. She goes to the compound to inform Klaus, and, after calling him a creeper for entering her home through the window last week, she asks him to make sure the murders stop.
Elijah pays Lucien a visit at his penthouse, and quickly realizes there's a boundary spell preventing his entrance. When Lucien makes a snide comment about Hayley being missing, Elijah throws a piece of wood right into Lucien's neck. Jackson takes the opportunity to enter the penthouse and take a chunk out of Lucien's arm. Knowing what a werewolf bite will do to him, Elijah gives him the chance to invite him in.
Meanwhile, Cami is startled by the detective as he sneaks up behind her when she's entering the closed bar. He kind of looked like he was up to something when she let him in. Does he have a hidden agenda??
Freya arrives back at the compound with her dance partner, and they're greeted by Klaus, who actually acts as a protective brother! He asks what the man's intentions are with his sister and then asks Brad, Chad, Brody (as Klaus assumes his name might be) to leave. He then asks Freya to perform a locator spell to help find Hayley. She thinks he's worried about her, but he claims he only wants to know where his enemies are. Freya insists he's hiding the fact that he truly is worried.
At the bar, the detective questions Cami about Klaus. She refuses to offer any information about her "clients," and stops in her tracks when he tells her he knows who she is. He knows her family has a history of strange deaths, unexplainable behavior, grave robberies, beheadings, etc. He claims that whenever there's a problem in the quarter, there's an O'Connell either causing it or cleaning it up. She stands her ground and asks if he's accusing her of something. He insists he's not, but he knows she's covering something up, and he plans on finding out what that is. He leaves the bar, and Cami realizes he's stolen her computer from her bag.
While Freya attempts her locator spell, Davina is in the cemetery performing her spell to keep the flame lit with enough time for Hayley to kill Cara. Hayley finds her, but is momentarily hindered as she begins to transform into wolf form. Davina has hit a wall with the ancestors and, as blood streams down her face, she begs them for help. She insists that Hayley is the one-person Klaus fears, and she's their only hope in taking him down. The ancestors give her a chance and help light the flame, stopping Hayley's transformation. She takes the opportunity to kill Cara and is confronted by a group of witches as she tries to walk away.
Lucien fills Elijah in on the impending war between the sire lines. Apparently Tristan is coming after Klaus in order to kill Lucien, which would make Elijah HIS ultimate target (I'm assuming Elijah turned Tristan). Lucien insists that they're no longer immune to death, and asks what Elijah has left now that his singular motive to save Klaus's soul is no longer in play.
At the cemetery, Marcel visits Davina and tells her they have a problem. All the witches who confronted Hayley the night before are now just a pile of bones. Eleven bodies in the alley that belong to families who will no doubt wish to retaliate. She promises to keep the families under the protection of the ancestors.
Klaus calls Lucien and delivers a warning, while simultaneously asking him to come to the compound so he could heal the werewolf bite on his arm. Lucien has his own agenda, as he goes into a hidden closet and removes a silver briefcase containing some sort of cure he injects into his body.
Jackson pleads for Freya to free him of the chains holding him to the walls in the compound. She's kind to him, but a blood stained Hayley rushes in and tosses Freya into the wall, knocking her unconscious. She demands to know where Klaus is. He arrives and the two begin to fight. This angers Jackson, and he breaks himself free of the chains in order to help protect Hayley. Freya wakes up and uses magic to keep him from interfering. As they continue to fight each other, he insinuates that Hayley chose her pack over her own family. Accusing her of abandoning her daughter angers her even more and she leaps to the top level of the compound, where Klaus follows. She pushes him while reminding him that her parents left her and his parents turned their backs on him…how much better are they right now for Hope? He stops fighting back as he realizes she's right. Hope appears behind them, and, when she sees Hope walking, Hayley realizes everything she's missed while under the curse.
After their reunion, Klaus offers to have a room made up for Hayley, but she refuses. Elijah offers to pay a visit to the manager of the apartments across the street, so her and Jackson can live nearby and still have extra protection. Klaus wonders if they're supposed to sit back and listen to Hope being raised by savages. To which Jackson responds by asking if everyone at the compound is so civilized. Hayley requests that the apartment be put under Jackson's name, so Klaus won't be invited in.
Marcel confronts Davina about her involvement with the witch massacre. She stands tough with her decision to do what she felt had to be done, but she breaks down when she walks off by herself.
While Hayley packs the rest of her things from the compound, Elijah visits her and hands her the keys to her new apartment. She admits that there was a point where she actually thought Hope might be raised by an actual family, and she was happy. She hates Klaus for taking that from her. He hands her a box, and turns to leave, but not before telling her that he fought for her return everyday and never stopped thinking of her.
Davina holds a burial for the witches Hayley killed and is confront by Cara's son. He threatens to erase her when he finds out exactly what happened.
Jackson and Hayley go to their new place, and she hands him the box Elijah gave her, which contains their wedding rings. She tells him their freedom comes at a price, and Davina won't let them forget that; Jackson understands. He asks her to allow him to take care of her for once. Klaus watches on from across the street and shatters a glass in his bare hand.
Cami finds the detective parked outside her apartment. He hands her the computer he stole, and admits to watching the video of Lucien she had pulled up on the screen. They overhear a report on the radio about the two mutilated bodies that were drained of blood. The detective wonders how they knew about the blood. The woman Lucien compelled to sit quietly as he fed from her was the reporter the detective saw earlier at the crime scene. Lucien gave her the information to report. He opens a journal and finds a drawing of Aurora and runs his thumb over her face.
As she nurses her bumped head, Freya realizes she was misguided in thinking Hayley's return would ease tensions. Elijah tells her about the prophecy and asks for her to check into it because he trusts her. She takes Klaus's blood, which still has traces of the prophetic witch, and performs a spell confirming the prophecy. If it is fulfilled, they will all fall…one by friend, one by foe, and one by family.
The episode ends with Tristan and Aurora sparring with swords. He questions her about the incident that occurred with the Monk when she received his letter. Apparently she was awaiting his visit and grew angry when she read that he was unavailable. She pleads with her brother to let her out, insisting that she's fine. Tristan tells his sister that he'll miss her, and she attacks him. He sedates her with an injection and tells the monks to keep her in solitary confinement, as she might be a danger to herself and to others. He asks them to tell her he'll bring her back a souvenir from New Orleans.
UH OH!! Tristan is headed for New Orleans! Will the Mikaelson's band together to defeat whatever war is coming their way?
Tune in to The CW on Thursday, October 22nd at 9/8c for more of The Originals!
Twitter: @TheVRO
Facebook: Variety Radio Online
Tumblr: Variety Radio Online
//