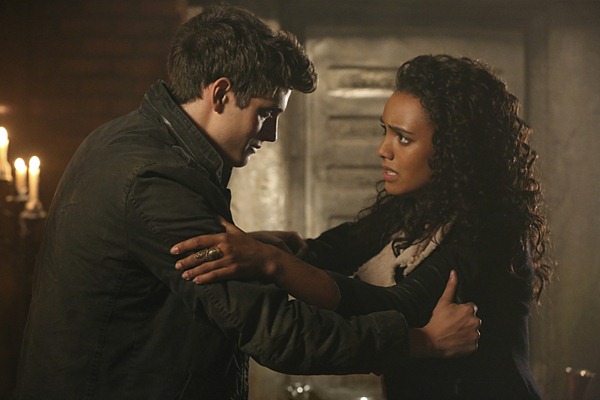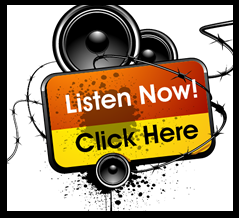 By: Kristin Trujillo (@kristin0409)
After discovering that baby Hope is still alive, this week's episode begins with Finn attempting to perform a locator spell using a voodoo doll…and failing miserably. As his materials burst into flames, he's visited by someone he believes to be a stranger; his sister, Freya.
Our favorite (or not so favorite) denim-on-denim wearer, Jackson, continues to teach Hayley their ancient customs and traditions by explaining why people keep leaving broomsticks at the door (Answer: it's for those engaged couples who can no longer wait to consummate their marriage). She asks what he's working on, and is stunned to discover a wooden crib with a crescent moon carved into it for baby Hope's return. He informs Hayley that other packs outside of Louisiana are interested in attending their wedding ceremony in order to adopt Hayley's powers, and are willing to renounce their alpha status to do so. Ok, so side note…I'm not the biggest Jackson fan, BUT the fact that he's keeping this secret and is willing to help build a wolf army to protect Klaus and Hayley's baby is reason enough to cut the man some slack on those denim on denim outfits!
Klaus receives a phone call from Aiden, informing him that Finn is holding Marcel hostage in an unknown location. This angers Klaus into saying, "This family makes me want to murder people." As the epitome of bad timing, Kol enters the room. Just before Rebecca is about to smack him, he recognizes the irony as he asks his siblings for help. He explains what Finn has done to him and that he's dying. He pleads with them until Rebecca realizes he's telling the truth for once. To prove he's being honest, he tells Klaus that he was helping Marcel for Davina and that Finn is desperate to discover a secret Marcel knows about Klaus. Realizing the severity of the situation, Klaus and Rebecca shoot worried glances at each other, tipping Kol off that there actually IS a secret fueling Finn.
As the sibling reunion continues, Freya explains to Finn that Dahlia placed a curse on her which makes her sleep deeply for a century and awaken for a single year. It began as a way to remain young and beautiful, but Freya soon realized that Dahlia's words were paired with lies. She fled from their aunt and has been running ever since. Dahlia believes any act of betrayal is punishable by death. Finn wants to know if she is still alive, and Freya reveals that she doesn't just live…she hunts. She reassures him that Dahlia is only interested in her, as the first born, and that her siblings need not worry. That is, until Finn reveals that Klaus has a daughter who has been impossible to find. She closes a tiny caterpillar in her hand and reveals a butterfly as she says you have to let some things must die so that others might live.
Marcel awakens to find his vampire crew unconscious. Finn walks in and requests his help, but Marcel declines, causing Finn to stake one vampire in the chest and rip another one's heart out from across the room. Marcel reluctantly asks what he wants him to do, not knowing that the task is to retrieve some of Hayley's blood.
At the safe house, Elijah shows off his domestic skills (in a suit, of course) while Cami plays with baby Hope on the floor. He vamps into the other room when he hears Hope begin to cry. Apparently she yanked the tablecloth, causing something to fall on her and cut her tiny forehead. While Cami tries to soothe her, Elijah begins to see flashes of his red door, but Cami manages to pull him back.
Kol finds it difficult to perform a spell against a witch who's channeling their parents, especially with an untrained Rebekah. He doesn't want to call Davina for help because he doesn't want her to know he's sick, but Klaus suggests going inside of Kol's mind to extract the spell Finn used on him. Kol knows this is a bad idea, but Klaus insists it's not a request. As he enters his brother's mind, he discovers that Kol has been working on a dagger to use against him. In anger, he tosses Kol across the room.
While Elijah places a Band-Aid on Hope's forehead, Cami admits that he's made progress in being able to control his mind, but he still can't ignore that his mind did go elsewhere when Hope was cut. She hands him a to-do list around the house in an attempt he calls "mend the home, mend the man." Preferring this task over hearing about the summer Cami lost her virginity, Elijah agrees to mend the home.
Hayley looks on as Jackson entertains a group of young wolves. She informs him that the alpha ceremony will begin at Mary's house, and tells him to head over and she'll meet up with him. She's aware that Marcel is stalking her in the bayou, and is shocked when he tells her the truth about why he's there. He refuses to take her blood, and asks for her help in getting him something to bring back to Finn. She's distracted by the part that Finn knows about Hope, and walks away to call Klaus.
Still angry about discovering Kol's plan to dagger him, Klaus continues to yell at him. Kol retaliates by telling Klaus to figure out where Finn is himself. He uses magic to bring Klaus to the ground in agony and Rebekah is stuck on a chair before Kol walks out on his siblings. Rebekah walks over to Klaus and tells him his temper will be the end of him one day and walks away as Klaus receives the call from Hayley.
A clearly upset Kol retreats to his secret lair, when his nose begins to bleed. He receives a phone call from Finn, who offers him a proposition, which might motivate him to save Kol and reverse the curse he placed on him. When Kol tells him he has his attention, Finn asks him to draw some blood from Klaus and he'll heal him in exchange. Kol grabs the diamond and says it'll be his pleasure.
Elijah begins to build a wooden fence while Klaus is forced to leave him frantic voicemails about Finn trying to find Hope. Rebekah tries to reassure him that Elijah will protect her, but she's suddenly knocked out when an angry Kol enters the room. He uses magic that causes blood to spew from Klaus's mouth as he tells his brother he was creating the dagger to protect himself against him. Kol admits to his brother that he's not the bad guy; he's the wronged, the dead but never mourned and that while Klaus got everything he wanted, Kol got a family who didn't care whether he lived or died. Klaus grabs his brother by the throat and slams him against a wall as he responds by saying they've all suffered and they've all been wronged. Kol believes his brother is going to kill him, but Klaus lets him go. He tells Kol that despite his behavior, he's still his brother; he's a Mikaelson, Klaus's blood, and he needs him by his side. Kol wants to know what that means because clearly he still hasn't earned the right to know the secrets Klaus keeps, but Klaus reassures him that if he proves himself, it's not too late. Kol takes Klaus's hand and tells him that Finn wants his blood, but he needs to know what he needs it for. He knows enough about dark magic to know that Finn can't reverse the hex he's placed on him, so he'll be damned if Finn gets what he wants. He tells Klaus where Finn will be waiting for the blood, and tells him to go inside his head to find the spell Finn used against him.
Mary begins the alpha renouncing ceremony, when Hayley arrives, asking Jackson for some of his blood.
Klaus, Kol and Rebekah arrive at the bell tower, where Finn was to be waiting. Rebekah and Kol find a piece of burnt wood on the table where Finn's materials went up in flames. After performing a spell, the piece of wood reveals itself to be a relic tile, symbolizing 'baby'. Kol and Rebekah shoot worried glances at each other, again tipping Kol off into discovering baby Hope is still alive. They realize the request for blood for a locator spell was only a distraction, and Finn knew where she was all along. Klaus calls Elijah again, but he's too late…Finn is already there.
Continuing her day with Hope, Cami uses a payphone to inform Elijah that they're on their way home and is distracted by the fact that the tiny cut on Hope's forehead has healed completely. She believes Elijah might've given Hope some of his blood to heal her.
Ever the voice of reason, Marcel convinces Hayley to stay and help Jackson build their army rather than taking the six-hour drive to the safe house when Finn is already there. He reminds her that Elijah is there and will do everything in his power to protect Hope. Meanwhile, Gia and the other vampires finally wake up inside a van and soon realize they're in the middle of the bayou.
At the safe house, Finn reminds Elijah that he and Klaus cannot be saved, and then uses his magic to throw tools at him. One of the tools gets lodged in Elijah's chest, causing the color to drain from his body as Finn calmly walks away.
At a crypt, Kol informs Rebekah that since he's not able to sever the link between Finn and their parents, who he is still channeling, he's going to make his bond stronger. Channeling too much power will overload him and he will begin to disintegrate from the inside. He promises Rebekah he'll get her back in her body if it's the last thing he does. Klaus arrives with dark objects for Kol to channel, including the white oak stake.
The alpha renouncing ceremony is interrupted as Gia and the starving vampires arrive, unable to hold off their hunger any longer. Marcel and Hayley attempt to keep both groups alive while simultaneously trying to calm the situation.
Miraculously, Elijah's color returns and he's able to pull the tool out of his chest. Kol and Rebekah continue to channel power from the crypt, but it's not enough. Kol's nose begins to bleed, so Klaus offers himself up as additional power.
Falsely believing Cami and Hope are inside the house, Finn is caught off guard when Elijah throws a piece of wood into his stomach. While his siblings continue to channel Klaus, Finn's nose begins to bleed. He uses his magic to throw Elijah into another room, but he doesn't realize that gas is now being leaked into the house. Elijah notices the blood soaking his shirt and begins to see flashes of the red door.
Kol and Rebekah succeed at channeling enough power to overtake Finn, and his spell is finally broken. Rebekah promises to do everything she can to make sure Kol doesn't die. Klaus awakens and thanks his siblings for helping him keep his daughter safe, and tells them something Elijah always says, "Family is power."
As Cami turns down the dirt road towards the safe house, Elijah and Finn have one more showdown. Finn realizes that Elijah's PTSD is controlling his mind and tries to use that to weaken him. Cami's car turns off completely as Elijah simultaneously removes his daylight ring and moves his hand into the sunlight; his burning hand causes the gas to ignite, blowing up the safe house. When Cami sees the explosion, her car turns back on and she realizes baby Hope must have saved their lives.
Thoughts: Ding dong, the witch (Finn) is finally dead!! Hopefully he wasn't able to body jump though! When Freya was clasping the caterpillar and told Finn that they must let some things die so other might live…does everyone think she was referencing that baby Hope must die? Or maybe she meant that Finn must die for turning his back on his siblings! I was convinced that Freya was the one controlling Cami's car, but I was wrong! Baby Hope is a little witch with vampire healing powers! I also loved the sibling bond that has been reestablished between the Mikaelson's. Hope fully they can keep that up to defeat their crazy parents!
In any case, tune in next Monday, February 16th at 8/7c on The CW for more of The Originals!
Twitter: @TheVRO
Facebook: Variety Radio Online
Tumblr: Variety Radio Online
//