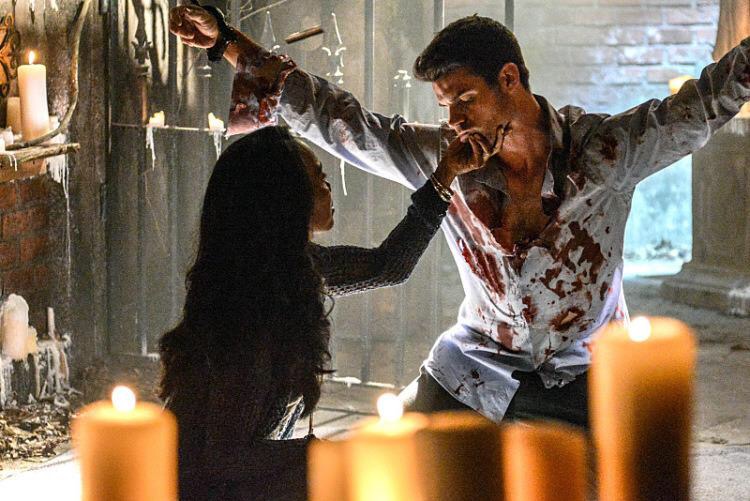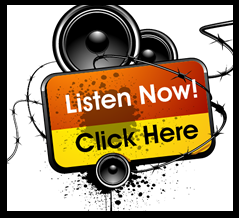 By: Kristin Trujillo (@kristin0409)
This week's episode begins with a woman in white running towards a bright, red door. Elijah is calmly walking after her, covered in blood. The woman turns around and it looks like Hayley, but then Elijah reaches her, physically turns her around and it looks like Elena.
Elijah wakes up from this dream state and realizes that he's still chained inside of Lenore's shop. There's a voodoo doll hanging beside him, which is keeping him from using his vampire strength from breaking free. Esther/Lenore wants to know who he was tearing apart in his nightmare; whether it was Hayley or the first person to have stolen his heart when he was still human…Tatia. Tatia is another doppelganger of Elena's (yes, another one!). Esther tells Elijah that she wants him to rejoin their family as a witch to erase his vampirism. He claims to have loved Tatia until the day Esther took her life. To which she responds by telling him that the fact that he believes that is the exact reason why he's there. She begins telling him the story of how he met Tatia, and how they fell in love.
Cami and Kol/Kaleb are continuing to try and wake Davina while Cami simultaneously tries to keep Klaus from killing Kol/Kaleb. She convinces Klaus that they have to take Davina to the hospital to assess her. As she heads over to get the car ready, he realizes that Kaleb is, in fact, Kol. He yells to Cami that he's changed his mind, and that he actually is going to kill Kol/Kaleb, but when he doesn't hear her respond, he goes to check the car and sees that Cami has disappeared…and so has Mikael. He frantically calls Elijah for backup, not knowing that Elijah has his own issues he's currently dealing with. Since Klaus is unable to enter Davina's cabin without an invitation, he heads out in search of Cami, Mikael and the white oak stake.
Dragging Cami through the woods, Mikael finds a group of locals around a Halloween bonfire.
Kol/Kaleb finds what Davina was using as a binder for the spell to unlink Klaus when she awakens. She realizes that Mikael is gone with the white oak stake, and that her bracelet isn't working. She tells him that she has to finish her spell before Mikael kills Klaus and subsequently killing her friends.
Hayley and Marcel discuss how they haven't heard from Elijah or Oliver since the night they saved the werewolf recruits. They team up to search for them.
As Esther continues to tell Elijah stories of his past, we see a flashback of him finding Klaus naked in the woods. He seems terribly upset when Elijah informs him that he's killed six villagers throughout the night, and is even more upset when Elijah explains that he has an affliction that their siblings don't share. This is when Klaus realizes that Mikael is not his real father. As he consoles his brother, Tatia stumbles upon them and sees one of the murdered villagers. She tries to run away and Elijah runs after her. In Lenore's shop, Elijah tells his mother that he compelled Tatia to forget what she'd seen, but she tells him that he hadn't learned compulsion completely as he'd only been a vampire for a few days. He continues to deny hurting Tatia, but in another flashback, he catches up to her and feeds on her when he sees that her hand had been cut when she fell. His mother tells him that he did love Tatia, but he couldn't fight what she'd turned him into. He claims that Esther killed Tatia and used her blood for years to cripple Klaus and that he won't listen to another word she has to say.
Still in search of Mikael and Cami, Klaus follows the trail of blood. He finds the Halloween bonfire and realizes that Mikael compelled the locals to attack him. He fights them all off by himself.
Kol/Kaleb volunteers to help Davina complete her spell, and despite the fact that she denies him…he's able to charm her into allowing him.
Mikael arrives at an abandoned warehouse and throws Cami to the ground. She tells him that she was wrong to have told Klaus that his father didn't always hate him. Mikael tells her that he didn't, but he found out that Klaus wasn't his and he'd developed an obsession with watching the wolves turn, which ultimately killed his younger son. He's angry that Klaus killed his own mother and that he betrayed him by turning their whole family against him. She stands up to him, prompting him to go against his word, and feeds on her.
As Klaus finishes off the last of the compelled Halloween partygoers, he receives a phone call from Hayley, who tells him that they haven't heard from Elijah and that they found werewolf and vampire blood where he was supposed to have met the other wolves with Oliver. He tells her that he can't help them because he's searching for Mikael, who has Cami.
Kol/Kaleb and Davina begin the unlinking spell, but it won't work. She grabs his hands to channel his power, and catches glimpses of him tampering with the binder, undoing the magic binding Mikael to her bracelet, and of Klaus realizing that Kaleb is Kol. She lets go of his hands and uses magic to toss him across the room. He does the same to her before surrendering. He tells her that his mother told him to kill the spell or to kill her, and that he happens to like her. He also admits that both of his parents are crazy and offers his hands for her to learn more about his secrets. He claims to have his own reasons for hating all of them; to which she relates. She asks him to teach her how to spell and unspell something used for dark magic.
Elijah still claims that his mother is the one who murdered Tatia, and she continues telling him that Tatia was already dead before he brought her to her. She says she told him he wouldn't suffer from that memory and that anything he puts behind that red door will stay there where no one else will know. He begs for her to stop when she asks how long it will be before Hayley is behind that door, and tells her that she will not break him. She's not there to break him though; she's there to fix him along with the rest of his siblings.
Davina tells Kol/Kaleb that she wants to unspell the white oak stake and that she made sure that she'd always be able to find Mikael. He refuses to tell her the spell, and tells her that the white oak stake is too powerful. The most she'll be able to do is disable it for a short while, and that he's coming with her.
Klaus finds the abandoned warehouse and sees Mikael holding Cami hostage with a bloody neck. Mikael promises to drain the rest of her blood in front of him before he burns. The two begin to fight as Davina and Kol/Kaleb arrive at the warehouse. They take each other's hands and begin the spell. Klaus is close to stabbing Mikael, but is momentarily distracted when Mikael sends Papa Tunde's blade flying towards Cami's face. Klaus grabs it just in time, and as he continues to fight Mikael, he's stabbed with the white oak stake. He falls to the ground as she watches in tears. Mikael wonders why Klaus is not burning and finds Davina and Kol/Kaleb performing the spell. She uses magic to keep him at a distance while Cami removes the stake from Klaus. He throws Kol/Kaleb and feeds on Davina before returning to Cami. Marcel arrives and attacks Mikael, but is thrown to the ground. Hayley follows suit and swings a chain around Mikael's neck before hitting him across the face with a cinder block. He tells Klaus to find him when he doesn't have fools, women and children fighting his battles, and then runs out of the warehouse alone.
Davina checks on Kaleb/Kol as Marcel yells at her for what's happened. Despite the fact that she agrees to stay put until he returns, her and Kaleb/Kol jump in the car and leave. Klaus is checking on Cami and basically thanks her for pulling the stake out in time. She says it's the least she could do after telling him not to kill Mikael in the first place. He promises that he'll kill him just for hurting her. Marcel and Hayley come back and announce that Mikael is gone. She tells him that they have another problem, meaning Elijah.
At Lenore's shop, she continues to torture Elijah with the past when Hayley rushes in and feeds on her. She releases Elijah and tells him he needs to feed on her to restore his strength. He tells her that he can't because he craves her, and that his hunger will overwhelm him. Hayley assures him that she's not afraid of him and the two kiss before he does as she asked. He feeds on her, but then we see that all of this was a dream. Esther/Lenore has put him in a dream state and tells Finn that when he wakes, the only way for him to find peace is by doing it her way.
Note:
Sorry to say that Keisha, Raechel and I won't be recapping this week's episode on-air while they try to recover from Eyecon, but we'll be back next week! Tweet us anything you'd like for us to discuss, and we'll do our best to oblige!
Also…did anyone else find the final scene absolutely amazing with Hozier's "Arsonist's Lullaby" playing in the background? If you don't know who Hozier is, please look him up because he's absolutely amazing!
Tune in next Monday, November 10th at 8/7c on The CW for more of The Originals!
(Check out Variety Radio Online for more blogs and on-air reviews of all your favorite shows and make sure to follow us on Twitter, Facebook, Instagram and Tumblr!)
Twitter: @TheVRO
Facebook: Variety Radio Online
Tumblr: Variety Radio Online
//