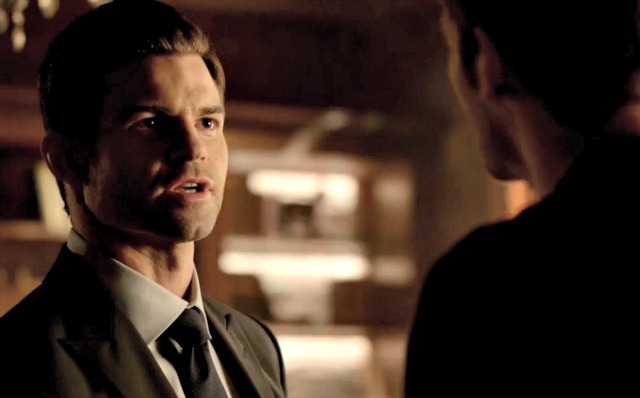 By: Kristin Marie (@kristin0409)
This week's episode begins with a flashback to the Court of Marseilles in 1002 A.D., where the Mikaelson siblings are actually happy. Their servant, Lucien, hands Klaus a letter declaring his love for Aurora and asks him to pass it on to her. He reminds Klaus that he doesn't need to fear the jealous Tristan (or anyone), so Klaus takes it. Unfortunately for Lucien, Klaus tells him Aurora would not accept his letter; which was not true. Aurora was already in love with someone else…Klaus. Lucien catches them together and grows angry. As the guards and Tristan approach, Aurora urges the two men to leave before they're captured, but Lucien stays behind, clearly feeling betrayed by his friend.
In present day, Klaus relays the details of the story to Elijah and declares that Lucien is both friend and foe (which the prophecy claimed would be the siblings downfall). The two decide that, before killing Lucien, they will find out why he's back in New Orleans and why he lied to Klaus about the cure he has for wolf venom. Klaus seems pleased at the idea of the two working together again and asks if Elijah has forgiven him. "I will consider it…when Hayley forgives you, Gia rises from the dead and hell freezes over," Elijah tells him.
While Cami and Vincent go over the details of the recent murders, Vincent receives a text from Detective Kinney informing him that Lucien is at the station for questioning. Cami wants to hear what he has to say, so they head there right away.
Hayley finds it hard to adjust to all the noise now that they're back after six months as wolves in the bayou. Jackson reminds her that they've only been back a day, and she just needs some time to get acclimated. He calls Freya to babysit while he takes "mommy" out for the day.
At the loft, Marcel meets with some of his vampires (welcome back, Josh!!) about needing to steer clear of tourists and locals during feeding time. His speech is interrupted when a woman named Aya arrives offering to help. She fights off his vampires and tells him she was instructed not to leave until he hears her offer.
Seeking answers, Klaus and Elijah visit Lucien's penthouse, and find the prophetic woman instead.
Detective Kinney hands Lucien a folder with photos of the mutilated bodies found in the alley. Lucien immediately points out that the men were wealthy and probably hated by those lower than them. He asks Kinney to notice his watch and cufflinks, hinting that he, himself, could be one of those men who were murdered. He tells Kinney he's bored and asks to speak with Cami, whom he knows is in the next room. After compelling Kinney to leave, he stands and waves at Cami through the mirror.
Trying to help Hayley blow off some steam, Jackson takes her to Marcel's empty fight club. She doesn't want to spar with him because 1. She doesn't want to hurt him and 2. She feels it'll be half-assed. He doesn't back down easily, so he knocks the stick out of her hand.
Cami and Vincent begin to question Lucien (ummm…since when did they have this authority??) and don't find answers easily. Vincent points out that the murders started the second he came into town and that they know what he is. Lucien admits to being a ruthless, unstoppable killer but argues it doesn't mean he had anything to do with the murders. He claims to be just like them in the sense that they'd all been burned in some way by the Mikaelson's and, despite having lived to tell the tale, they all bare the scars. He goes back to 1002 A.D. where he's being whipped by Tristan for having "ill intentions" toward his sister. Klaus and Elijah arrive to try and stop the torture, but Tristan threatens to tell everyone what they are. The people of Marseilles are talking about demons in the night, all because of Kol. He realizes the Mikaelson's must be hiding from something more savage than they are and goes to whip Lucien again. Klaus grabs the whip and then grabs Tristan by the throat. Tristan threatens to send his fastest riders to spread word of their presence in Marseilles should any harm be done to him. Elijah convinces Klaus to release him from his grip and Tristan claims they're not so different; both wish to protect their family. He pulls out a knife and cuts Lucien's mouth identically to those of the mutilated bodies in New Orleans. In present day, Cami accuses Lucien of reliving his trauma by killing those who resemble the privileged son who caused the pain. Lucien is annoyed that he told his story of woe in order to gain sympathy and kinship, and all she took out of it was an admission of guilt. He suggests someone is framing him in order to get Klaus to distrust him, and insists his presence in New Orleans is to help protect Klaus from someone else who might want him dead.
Marcel refuses to back down from fighting Aya, so she cuts his cheek with something on her finger that seems to poison him.
When they feed on the prophetic woman, Klaus and Elijah see visions of Lucien with Cami, and begin to question Marcel's loyalty. Klaus tells Elijah to find him and question him while he goes to prevent Lucien from sinking his teeth into his therapist.
Jackson and Hayley continue to spar in the fight cage, where her anger grows stronger. Her hunger, and her hatred for Klaus right now is at its highest and she fears that Davina will blow out the candle, causing them to turn back into wolf form. He continues to push her to release the anger, and she ends up hitting him in the face with her stick, cutting his cheek. She warns him to leave when she sees the blood on his face, but he refuses. She licks the wound and feeds on his neck. The two begin to kiss (and have other relations) while slamming each other into the cage. Someone should probably remind them that the cage is located inside a Church!!
Elijah arrives to find Marcel's vampires knocked unconscious. Josh wakes up and tells him about Aya, whom we learn is sired to Elijah. He picks up her business card and places it in a pool of blood, revealing information on how to find her.
Back at the station, Cami accuses Lucien of lying to her about his story because he wants to turn her against Klaus. Instead, he continues on with the story about Klaus coming back to help him after Tristan's torture. He gave Lucien water and apologized for what happened, but Lucien tries to stab him, despite knowing he can't hurt him. Klaus watches as the water he gave Lucien begins to heal his wounds. Only it wasn't water…it was his blood. Believing he's now like Klaus, he seeks revenge against Tristan. Before he reaches him, he's stabbed in the back with a large spear and dies. In present day, Klaus arrives at the station and learns that Lucien believes Tristan is the one trying to frame him for the murders AND the one who is after Klaus.
Aya brings Marcel to another location and offers for her and her friends to help him restore New Orleans to what it should be, with him as its king. She's part of the oldest vampire society, led by Tristan. When Marcel and Elijah find themselves surrounded by Tristan and the other members of the society, Marcels asks if he should take one side of the room while Elijah takes the other. Fresh after feeding on the prophetic woman has Elijah questioning Marcel's loyalty, so he tells Marcel to stay where he can see him instead. Tristan tells Elijah that his sire line is in danger, prompting Elijah to ask Marcel to leave the room and to be more careful of the company he keeps. Marcel leaves, but not before telling Elijah to remember who his friends are because it seems he'll need them.
While Lucien continues attempting to convince Klaus of his innocence in the murders, Detective Kinney arrives to inform them that there was another murder while Lucien was at the station.
Tristan claims that Lucien wants to kill him, Aya and a group of other vampires Elijah sired, which would make it easier just to kill Elijah. Rather than killing him himself, Tristan believes Lucien will work towards getting Klaus to do it. Elijah informs Tristan that Klaus is on his way to kill Lucien, but this isn't what Tristan wants. He believes Klaus needs to be stopped because, if Lucien dies, they'll never learn the whereabouts of the weapon that could kill them all. I'm assuming this is the "splinter" of white oak Lucien spoke about with Klaus.
In 1002 A.D., Klaus and Elijah prepare to burn Lucien's lifeless body and it clearly upsets Klaus to have to do it. The brothers are still learning the ways of vampirism, and were not aware that their blood could heal the living, OR when that living person dies, they awaken in transition towards becoming a vampire. Suddenly, Lucien sits up gasping for air, making him the first of the sire line.
Lucien goes back to his penthouse and is unaware that Klaus is following him. Just as he's about to go kill Lucien, Elijah appears to stop him. He pleads with Klaus that if he has any hope for reconciliation between them, he needs to stop and listen to the new information he's received.
As Klaus and Elijah discuss this new information, Klaus tells Elijah about his actions in 1002 A.D. when he agreed to show Lucien how to live as a vampire. They brought out the worst in each other and, in some way, made each other the way they are today. Elijah promises to help end Lucien and Tristan once they have their hands on the weapon that can kill them. Elijah using the word "we" to described them pleases Klaus, but Elijah assures him it's not forgiveness. Reminding his brother of Freya's take on the prophecy, Klaus vows to never let Elijah fall by his hand. Refusing to respond, Elijah turns and leaves the room.
While cleaning up his loft with Josh, Marcel finds Aya's business card and expresses conflict in deciding what's more annoying; Aya invading his home or Elijah dismissing him like a child.
Tristan arrives at the crime scene and seems pleased with what he sees. He declines a phone call and, as he walks away, we hear a voicemail left by Aurora. She informs her brother the she's felt cooped up and is heading for New Orleans. Cut to her leaving the voicemail surrounded by bodies of the monks left to protect her. She walks outside to stand on the ledge and then drops off said ledge.
Tune in to The CW on Thursday, October 29th at 9/8c for more of The Originals!
Twitter: @TheVRO
Facebook: Variety Radio Online
Tumblr: Variety Radio Online
//