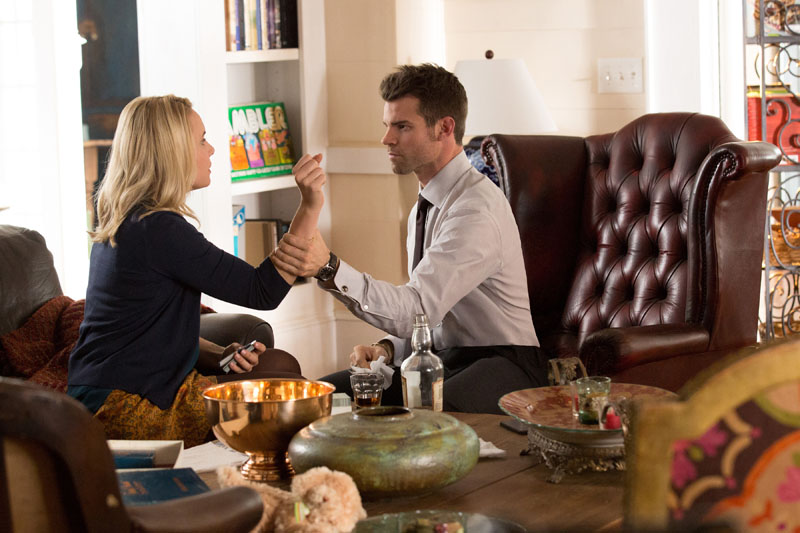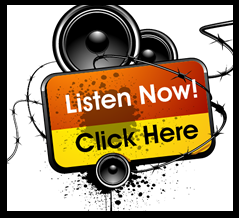 By: Kristin Trujillo (@kristin0409)
Welcome back, fang fans, from the dreaded Winter break!! Hopefully you all made it back unscathed!
We are welcomed back with a voiceover from Klaus as Elijah makes breakfast and shoots Hayley loving glances. "It has been said that all love begins and ends with she who gave us life," Klaus says. He reminds us that, in the finale, they left their mother, Esther, with the choice she never gave her own children; to die or to become the monster she believes them to be.
Klaus arrives at the safe house with Cami, in an attempt to protect her from an angry Finn, and introduces her to Hope. He asks for her forgiveness and understanding that when she is able to leave the safe house, their secret cannot leave with her. He goes on to explain that in order to make the city safe for Hope's eventual return, he and Hayley must return to deal with Finn while Cami remains in the safe house with Elijah. As he prepares to leave, he reminds Elijah that he should be expecting Rebekah (in the form of Angelica Barker) shortly.
Unbeknownst to Elijah and Klaus, Rebekah is stuck in another girl's body; one who is currently strapped to a bed being force fed pills. As the force feeder unstraps her arms and exits the room, we see the others in the witch house. Apparently this house Klaus used to trap Mary Alice Claire in the past has become an asylum for witches who have been broken by magic. A group of scarred witches, known as The Kindred have placed themselves in charge.
While Finn is busy crushing a skull into a dish, Mikael tells him that Esther's mistake was thinking that there was anything left to save in their other children. He suggests that Finn team up with him to defeat the others; to which Finn creepily accepts, wanting to "emulate" his father's strength.
Hayley meets with Jackson (who is surprisingly NOT wearing his usual denim on denim outfit and sporting much better hair!) to discuss their impending wedding. He reminds her that it's a mystical unification ceremony; not just something they can run off to Vegas to do. He runs through the list of tasks needed to complete the ceremony, and sweetly tells her that he wants to know her. Hayley's mind is preoccupied with her secret love fest with Elijah while she's been away! They're interrupted by the sound of people downstairs. She tells Jackson that they've rounded up the most influential wolves to talk…enter Marcel and the vampires.
Rebekah sits up and spits out the pill she didn't swallow, hiding it under her pillow. Cassie, the harvest girl whose body was once inhabited by Esther, greets her and admits to knowing that she's Rebekah. She reveals to Rebekah that she knows a little something about Mikaelson's jumping into other bodies because Esther did it to her, and that no one has ever broken out of the asylum alive.
After sporting a mischievous smile while looking at a picture of Rebekah, Kol is met by Klaus, who brings him a gift, welcoming him back into the fold. "Ding dong. The witch IS dead…or undead," Kol says. The two are interrupted when Finn enters the room, demanding to know where their mother is. When Klaus refuses to tell him, he wonders how long their arrogance will last and leaves the room.
Hayley and Marcel team up to try and get the wolves and vampires to join forces against the witches, so long as they keep the peace amongst each other after the wedding. Tensions run high as Finn emerges and informs the two groups that the only thing that can exist between the two species is hatred, war and death. He touches a wall, placing a spell around the compound…locking the two groups inside of it together. He believes the confinement among the two species will allow them both to see things the way he does, and he walks away.
Realizing that Finn has placed the boundary spell around the compound, Klaus tells Kol to figure out how to break it before he ends up being a meal to one of the trapped inhabitants.
Elijah tries getting in touch with Rebekah while Cami searches for liquor and board games. He accuses her of trying to get him drunk so that she can analyze his problems, but she claims she's less interested in fixing his problems and more interested in forgetting her own (being in a supernatural witness protection program because his psychotic brother wants her dead). With the not-so-bright attempt at playing Trivial Pursuit with an Original vampire, she only gets an answer out of him after he dodges her question about Hayley.
While the wolves and the vampires attempt to drink together to take the edge off, Klaus teases Hayley privately about her encounter with Elijah. He then gives her advice on whether she should tell Jackson what happened. "The truth is, Hayley. It's not love on which the strongest foundations are built; it's the decency of merciful lies," he says.
In the witch asylum, Cassie continues to explain things to Rebekah. After seeing a group of broken witches playing with lettered tiles (similar to Scrabble), Rebekah decides to send her brothers a distress signal.
Davina arrives at the compound to help Kol try and break the boundary spell. Their spell fails, and Davina suggests that Finn must be channeling a dark object. Cut to Finn standing over his father's body with a symbol etched into his forehead. (He's channeling a dark object all right!)
Elijah continues to answer every Trivial Pursuit question Cami throws his way, and becomes frantic when she spills a drink on his clean shirt sleeve. He begins to dab at the spot repeatedly and grabs her wrist when she tries to calm him. He releases her after saying that he's not as fragile as his brother suggests, and is distracted by a phone call from Angelica Barker…who is, in fact, Angelica Barker and not Rebekah. He immediately calls Klaus and tells him about the phone call. An eavesdropping Kol tells Klaus that in order to break the spell, they need something from the lair, and the only way to keep Finn away long enough to steal what is needed is to tell him where to find Esther.
Despite hearing the advice from Klaus, Hayley decides to come clean to Jackson about her feelings towards Elijah. He asks if she's in love with Elijah, and storms out when she doesn't respond.
As Josh and Aiden search for a loophole in the spell, they stop for a quick make out session. Aiden cuts it short, in fear that one of the wolves will spot them; he doesn't feel the wolves will take too kindly to him being in a relationship with a vampire just yet. As Josh begins to respond, he experiences a quick flash of pain and can only seem to focus on the sound of Aiden's beating heart. He rushes to Marcel to tell him, but Gia and Marcel begin to experience the same thing. With a room full of wolves, this can prove to be a problem for the confined groups.
Klaus calls Finn to negotiate their freedom for the information on Esther's location. Finn agrees to grant their freedom so long as he finds their mother unharmed. Klaus reveals the location and storms off to try and keep the vampires from feeding. Kol tells Marcel and Klaus that he and Davina can perform a spell that will temporarily shut down all magical aspects around the compound, including the compound itself; allowing them 60 seconds to escape. The only problem with that is, if the spell works, the vampire's daylight rings will also be shut down.
At the safe house, Elijah continues to have flashbacks of his past. Cami walks in to try and talk to him, but he corners her as the veins under his eyes begin to show. She closes her eyes and begs for him to calm down and he's gone when she opens them.
Rebekah notices the letter tiles spell out 'Who are you." She says her name and asks who is asking, but when she turns around, she sees a blond ghost in the shadows. The Kindred realize that Rebekah hasn't been taking her pills, but she manages to escape their capture (after biting one of their necks and claiming it was gross) by following the blond ghost up the stairs. She arrives at a locked door upstairs that houses a coffin and the body of the blond ghost inside.
Finn locates Esther and is beyond upset to find that his mother gave in to the hunger, and has become the very thing they hate most. After calling her a hypocrite for abandoning her "morals", Finn uses his mother as another dark object by placing her body next to Mikael.
Tensions continue to erupt at the compound, and as Aiden tries to break up a fight, he receives a large gash on his forearm. Josh snaps someone's neck in his defense, but finds it difficult to resist the sight of his blood. Klaus tells Josh to step away from him, and as they try to keep things under control, Davina and Kol begin their second spell. The wolves are able to escape, and as Kol also attempts to leave, Klaus tosses him back inside of the compound. He demands to know what Kol did with Rebekah. Kol tells him that it was just a prank and that Rebekah is fine, but Klaus leaves him in the compound with the group of hungry vampires. Davina pleads for Marcel to help Kol, so he allows him to escape upstairs.
Jackson and Hayley are out in the woods, where he hands her a beautiful engagement ring. He tells her that he had no right to react the way he did when she was only being honest with him and that he loved her before he even knew her. He promises to save their friends and says that he will not force her to love him, but he really wants to marry her.
While Klaus convinces Elijah to stay at the safe house to protect Hope, Cami walks outside and overhears their conversation. Elijah hangs up and apologizes to her for his reaction earlier. He's not used to feeling powerless and asks for her forgiveness.
Evil Finn stands over his parent's bodies and vows that they will all pay.
As The Kindred place a drugged Rebekah back in her bed, we see shots of the coffin as the letter tiles spell out F R E Y A.
Ahhhh! What a second half premiere! Will Klaus find a way to release the vampires from the compound? What will become of Klaus and Kol's relationship now that Klaus is aware of what he did to Rebekah? Will Rebekah find that the body upstairs is actually her sister? Is Dahlia nearby in search of baby Hope? So many questions!
Tune in next Monday, January 26th at 8/7c on The CW for more of The Originals!
And don't forget to tweet #wewantollieback in support of the missed Chase Coleman aka Oliver!
Twitter: @TheVRO
Facebook: Variety Radio Online
Tumblr: Variety Radio Online
//