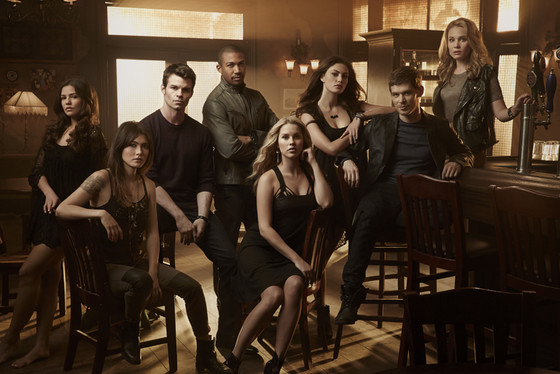 By: Kristin
The season one finale of The Originals certainly did not disappoint, and I'll go out on a limb and say that there was not a dry-eyed viewer in sight. The writers, once again, proved themselves to know exactly what their loyal viewers want to see.
The episode begins with Klaus walking in on Hayley as she's writing a letter. Jokingly, he asks if the letter is addressed to one of her many suitors but, in fact, the letter is for their unborn child. The scene is a nice change for Hayley and Klaus as we get to see them actually have a lighthearted conversation with each other. We even have the pleasure of seeing Klaus genuinely smile! Keep calm ladies and gents…it's only the first scene! Hayley asks Klaus if he'd like to feel the baby kick, and although he seemed hesitant at first, he goes over and his face literally seems to light up. He leaves her to continue writing, and we hear a voice-over of what the heartfelt message from mother to daughter actually says; all while getting glimpses of Hayley struggling against the witches who are trying to deliver the baby in order to sacrifice her. As Hayley is being held down on a table in the Church, Klaus walks in to save the day. He manages to decapitate a man guarding the door, but is quickly stopped by the witches as they use magic to pin him to the wall. He's forced to watch Hayley struggle, while he's also struggling to free himself to save her and their baby.
Elsewhere, Davina walks in on Marcel and Cami trying to do whatever possible to help his army of vampires who were injured in the Guerrera wolf attack in last week's episode. Marcel, on the other hand, was bitten by Klaus and seems to be more focused on saving the people who stood by him rather than himself. Davina asks if Klaus bled when Marcel fought him and when she finds out that he did, she goes out to the site where they fought and performs a chant that makes his spilled blood rise and transfer into a cup.
Meanwhile, Hayley delivers her baby and Genevieve slices the umbilical cord with a knife. She allows Hayley to hold her daughter and as the new mother shares a meaningful glance with Klaus, who's still pinned against the wall, Monique slices Hayley's throat. Yes, you heard correctly. Monique continues to be a witchy thorn in everyone's side in New Orleans, doesn't she? Klaus is obviously distraught at the sight of Hayley dying while he's unable to save her with his blood. The witches take the baby and snap Klaus's neck on their way out. I mean, haven't they done enough? Cue the heart wrenching reaction of Elijah as he walks into the Church to find Klaus cradling Hayley's limp body on the floor. He drops to his knees and lays his hand on her cheek and he knows that she is past the point of being saved by their blood. Klaus realizes that Elijah has been bitten by one of the werewolves and offers his blood to heal him.
Davina brings Marcel the cup with Klaus's blood in it, but it's not enough to save everyone. She begs him not to make her choose whether to save him or Josh, but he voluntarily offers it to Josh in order for Davina to save her friend. Marcel tells Cami that he's going to look for Klaus so that he can take his blood to heal the rest of the injured vampires and she informs him of the arsenal that she found in her late uncle's house.
Back at the Church, Klaus explains to a visibly distraught Elijah that the witches took the baby for the sacrifice, but that there is still time to save her. The two go to the cemetery, where the witches are to perform the sacrifice for the ancestors. They soon realize, however, that the witches were two steps ahead of them and placed a spell that creates an illusion so that they're unable to be found. Klaus jumps to higher ground and sees that the cemetery seemingly has no end in sight.
Cami shows her uncle's arsenal of dark objects to Marcel and Davina. Davina recognizes one of the objects as something called a devil's star, which looks like a simple throwing star but she explains that one throw could create a thousand cuts. Marcel decides to take the devil's star because he needs to make Klaus bleed enough to save his friends.
Klaus and Elijah are still at the cemetery, unsuccessfully searching for the witches and the baby. Elijah seems to have reached his breaking point as he explains to Klaus that this is all his doing. He tells him that the baby was their family's hope and that now she's gone. Those of us who are unable to resist Elijah's charm and reserve became heartbroken as he tells Klaus that he let Hayley in and that he doesn't let anyone in. The look on his face as he's saying this was so devastating! He continues to tell Klaus that he needed Hayley and that Klaus broke him. Klaus sits next to his brother, puts his hand on his arm and tells him that he can tell his niece how much he cared for her mother when they save her.
We then see Hayley lying on the table at the Church and are startled as she sits up and gasps for air. Thank goodness Hayley isn't gone! Not that she's my absolute favorite character on the show, but seeing how heartbroken Elijah is, he needs her back and so does her baby! She has visions about what the witches have done and as she realizes what's happened, she gets the look only a mother looking to protect her child could have. Watch out, witches!! Mama wolf is coming to get ya! As Genevieve prepares for the sacrifice, Monique tells Abigail that she hopes Genevieve doesn't go through with it because the ancestors actually wanted Genevieve dead in order for their friend Cassie to come back.
Davina has been scheming with Mikael's spirit as he tries to come back to the living and kill Klaus. According to Esther's grimoire, she needs to channel some sort of rare occurrence, and Mikael makes her realize that the rare occurrence could be the "miracle baby." Davina reveals that she'd stolen several objects from Cami's uncle's arsenal in order to have enough power to bring Mikael back. She begins to chant and Mikael drops to his knees. Davina and Mikael both pass out. Mikael rises and gasps for air.
The witches begin the sacrifice as Klaus and Elijah walk into an empty tomb. Klaus says that they have to move faster and behind them they hear Hayley say "or smarter." They turn around and are shocked to see her standing there. Klaus realizes that she'd died with the baby's blood still in her system, which means that she's in transition from werewolf to hybrid and has to drink her daughter's blood in order to survive. She senses her daughter's presence and tells the brothers that she's not concerned with herself and that she's going to look for their daughter. You have to love a tough woman on a mission!
Hayley, Klaus and Elijah finally find the witches! Elijah throws a planter at Genevieve, who is holding a knife above the baby. The knife drops to the ground, but Monique and Abigail join hands and use magic to throw the three backwards. Monique tells them that they're fools for trying to face them where they're at their strongest, and that they're not just facing three witches, they're facing all of them.
Back at the compound, Diego awakens to find Mikael standing in front of him. Mikael proceeds to feed on him and the rest of the injured vampires, killing every last one.
Hayley fights Genevieve, but she falls to her knees in pain. Klaus grabs an iron rod from a fence and heaves it towards the witches who are still chanting. It hits Abigail, pinning her to the wall. Monique then picks up the knife and holds it over the baby, but is hit with the devil's star creating a thousand cuts on her body. Marcel stands behind Klaus and Elijah, and then rushes to the baby and escapes with her. Klaus runs to the compound where Marcel cradles the baby in his arms. He realizes that Marcel brought the baby back to the compound knowing that he would follow and save Marcel and his friends, except they're already dead. They believe that the werewolves came back to finish them off and have no idea that the diabolical Mikael is the culprit!
Marcel tells Klaus that the bite on his neck and the deaths of all of his friends are all due to him bringing Mikael back all those years ago and apologizes sincerely to Klaus. Klaus replies that Marcel saved his daughter's life and that he deserves to be saved himself. He vows to take down everyone who was involved. He finally gets to hold his baby for the first time and we see Mikael in the back room holding the white oak stake. Noooooooo! As Mikael walks towards Klaus in the shadows, he realizes that he's not able to get near him. Klaus senses a presence, but when he turns around, no one is there. Mikael asks Davina what she's doing and that she brought him back to kill his son. She informs him that she brought him back to 'punish' Klaus and that he will when she wants him to. She intends to use him as a secret weapon as Marcel once used her.
Elijah and Hayley lock Genevieve up and ask her why the witches intended to sacrifice an innocent baby. She tells them that it was forced upon her by the ancestors and that is was "her" decree. We find out that Esther is the one behind everything that the witches were doing and have done. Genevieve tells them that as long as the baby lives, the witches of New Orleans, and Esther, will never stop coming for her. She begins crying tears of blood as she tells Hayley to tell Klaus that she's sorry and that she only wanted to live. As she starts to cough up blood, Hayley stabs her and whispers that she's not sorry and then turns and walks out.
Hayley sits at home, rocking her daughter, as she overhears a conversation between Klaus and Elijah. They feel that they should've known that their mother was involved in what was happening, and so long as she has control over the witches, they will never stop. The Guerrera wolves are also threatened by Hayley and the baby, so Klaus believes that they will also be after them. Elijah argues that they've fought every adversary and won, so they will fight again and again. Klaus doesn't want to make them a prisoner in their own home, so Elijah suggests that they leave as a family. Klaus doesn't want them to have to run for the rest of their lives either, so Hayley comes up with another option. She doesn't want her daughter to grow up the way that she did, so she suggests that they send their daughter away instead. The speech that Hayley delivers is so incredibly heartbreaking. Klaus offers that if no one believes that the baby survived, no one would hunt her down and that he will do whatever it takes to save their family.
In the city, Francesca is delivering a speech as Oliver sees Marcel in the crowd. He follows him, and Marcels tells him that Klaus's baby was killed at the hands of the werewolves. He has a box and tells Oliver to look inside for proof. Inside of the box, apparently, was a stillborn baby that Marcel retrieved from the hospital. Pretty convincing, Marcel…morbid, but convincing!
Cami finds out that the baby has 'died' and she goes to see Klaus. She feels that she's to blame because she hesitated in outing Francesca. She apologizes but he tells her that if anyone is to blame, it's him. He then tells her that he appreciates her being there, but that they can't be friends because his demons are hell bent on destroying him along with everything that he finds beautiful. He takes a moment and tells her that she is beautiful and then tells her to leave.
Elijah pricks the baby's little finger and Hayley kisses it in order to have the blood needed for her to survive the transition into a hybrid. We hear Klaus's plan on how to get their daughter to safety as a voice-over. We see Hayley and Elijah approaching the memorial of those who perished in the Guerrera wolf attack and everyone steps aside to see Hayley publicly mourn her child. Elijah asks Klaus who would possibly be able to protect the baby more than they could and Klaus tells him that there's only one person. He feels that it would be too obvious if they all left town at the same time, so he goes alone with the baby. He's sitting on the hood of his car holding his daughter, as a second car approaches. Feet step out of the second car and as the camera pans up we see that it's…Rebekah! Klaus holds his daughter and gives such a meaningful speech, ending it with, "You will return to me". Klaus explains to his sister that despite all of their differences, there is no one else that he trusts more with the life of his child. In a sense, their attempt at keeping the baby safe will also be giving Rebekah the life she's always dreamed of. She asks what the baby's name is and as a tear rolls down his cheek, he replies…Hope. I felt that the name was so incredibly fitting seeing as when Elijah was pouring his heart out to Klaus in the cemetery, he repeatedly said that the baby was their family's hope.
The episode concludes with a creepy girl walking through the cemetery at night. She stops at a grave where a man stands alone. He tells the girl to rest in peace and she asks where the fun is in that. She then tells him that there is much to do and as they walk away from the grave, the camera reveals that it was Esther's. Now, are we all assuming that Esther and her son, Finn, are taking over the bodies of two unsuspecting people in order to bring hell upon her children…again?
Either way, all I can say is that this episode was an excellent finale. Klaus and Marcel are back on the same page, Klaus and Elijah finally agree that saving their family is the most important task for them to uphold, Rebekah and Klaus have made up and we can now imagine her happy in a life she's always wanted. It was loaded with such amazing performances by the entire cast. I mean, it's an extremely hard thing to do for someone to play a character like Klaus, who is so devastatingly broken, shameless and diabolical at times and then turn around and have the viewers feel so sympathetic towards him and want to give him a huge hug! Hats off to Joseph Morgan for his portrayal of this character.
Now we just have to suffer together until Season 2 premieres and hope that someone can find a way to destroy Mikael and Esther once and for all! I mean Klaus finally gets the one thing he'd fight to the end for and it gets taken away? Give Klaus a break, writers! Until next time!
Twitter: @TheVRO
Facebook: Variety Radio Online
Tumblr: Variety Radio Online
//