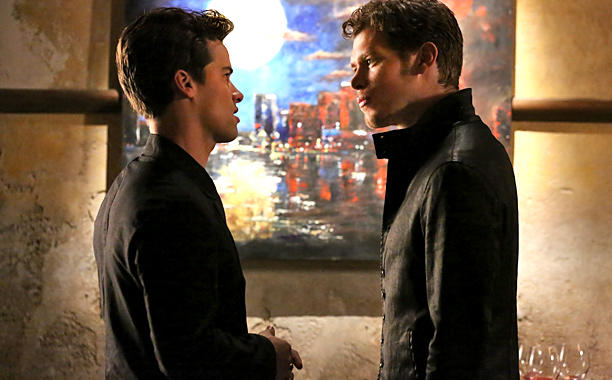 By: Kristin Marie (@kristin0409)
The season 3 premiere begins with a flashback to the Mikaelson siblings still learning the ways of vampirism. With a voiceover from Klaus, we learn that they've yet to discover compulsion, making it harder to avoid being hunted by their father, Mikael. They feed on a traveling family and have conflicted opinions as to what their next move should be. Kol (welcome back, Nathaniel Buzolic!) believes the siblings should split up, but Klaus reminds him of their vow to stick together "Always and Forever." Finn agrees with Kol, as they're both tired of running, but Elijah sides with Klaus.
In present day, Freya is writing a letter to Rebecca, filling her in on what everyone has been up to. Elijah still can't forgive Klaus despite Freya's attempts at repairing their relationship. Marcel controls the quarter and set up a fight club in the old church. Elijah visits him often and releases some of his aggression. Hope clearly misses her mother, and although Klaus has been a great father, he has offered no help in finding a cure for Hayley's curse. Elijah brings Hope to see Hayley once a month on the full moon, and their attempts at getting Davina to help them fail repeatedly. Klaus has begun to see Cami for "little chats," but Freya believes he's free of remorse, which drives Elijah further away.
Cami arrives at an art gallery and finds Klaus in the shadows. He wishes to have one of their little chats and offers her a tour of his exhibition, but she tells him they need to remain professional. He invites her to escort him to the opening. She points out that he's scared because the people he cares about are angry with him, and she leaves him to ponder her words.
New Orleans finally has a police force investigating mysterious deaths! They call upon Vincent and Camille to use psychological profiles to help them. Their first body is a man in an alley with slice marks extending his mouth.
At home, Elijah thanks Freya for taking care of Hope and insists she take a night off. Klaus says he would offer to accompany Elijah in bringing Hope to Hayley for the full moon, but his fragile ego probably couldn't take the insults she's no doubt prepared for him. The two brothers still don't see eye to eye, and Freya suggests they take their bickering elsewhere.
In another flashback, the Mikaelson siblings contemplate taking the place of the family they've just fed on. Rebecca tells her brothers they could hide in plain sight and live a semi-normal life. Elijah is distracted by the sound of a heartbeat and finds a servant hiding in the carriage. The servant pleads with the Mikaelson's and offers to help them put their play in action. Finn and Rebecca think they should keep him alive, while Kol and Elijah believe they should kill him since he's seen what they are…leaving the final decision in the hands of Klaus.
In present day, we see a beautiful penthouse being offered to a young man who turns around and reveals himself to be the servant Klaus obviously decided to keep alive all those years ago. His name is Lucien and he decides to feed on the realtor. I sense trouble with this one!
After evaluating the body, Cami determines that the victim didn't struggle and the type of wounds he sustained seem intentional. She tells the detective that the things we do on purpose, we tend to repeat.
Davina holds a meeting with the witches, who don't seem thrilled with her as regent. One in particular, Cara, walks away and angers her. Cara doesn't listen to her and says a spell which starts a fire and inflicts pain onto Davina's hands.
Cami and Vincent question Marcel about whether or not one of his vampires could've committed the murder. He seems adamant that they wouldn't because leaving a body behind would mean loss of food supply when tourism begins to decline due to headlines. He hints that it could be Klaus despite Elijah's opinion that he's been on his best behavior. Cami doesn't seem convinced that it's Klaus.
At the exhibition opening, Klaus uses his extraordinary hearing to listen to his critic's opinions. He's reunited with Lucien, who suggests they go have a drink. Meanwhile, Elijah is setting up a makeshift feast featuring finger sandwiches, which he offers to several men who appear with guns. They accuse him of trespassing and inform him that wolf traps have been set up in the area. One of the men tells Elijah their boss pays top dollar to get rid of the "wild predators" and they killed a half dozen of the wolves the night before. Elijah turns Hope's stroller around so she won't see him kill the wolf hunters.
Following through on his offer in a flashback, the servant Lucien helps the Mikaelson children assume the identities of the family they'd just consumed. While Elijah is still skeptical of trusting a stranger, he and Klaus step forward and address the count. In walks the count's children, Tristan and Aurora, with whom Klaus seems to be immediately smitten. Lucien warns him that Tristan is wicked and Aurora doesn't need teeth to rip out a man's soul…one would only have to look into her eyes and be lost.
In present day, Klaus asks Lucien if he's seen Aurora. He claims to have parted ways with her centuries ago, and suddenly Klaus is distracted when Cami walks in. She's not there for pleasure, however; she's there to question him about the murder of the local. He denies having anything to do with it and tells her to check with Marcel and Elijah. Lucien, with his vampire hearing, listens in on their conversation.
Freya takes advantage of her night off, and is found dancing on the bar while taking shots. She receives a phone call from Elijah who requests her help in watching Hope while he handles a situation he'd rather his niece not bare witness to.
Klaus asks Lucien what he's really doing in New Orleans and learns that there is a growing conflict amongst the vampire sire lines. There are vampires who wish to remove the competition from other lines by getting rid of Klaus, Rebecca and Elijah. In doing so, their entire sire line would be eliminated. He mentions the white oak and asks Klaus if he's sure every last splinter of white oak is gone.
Out of desperation following the attack of one of the witches, Davina seeks help from Marcel. Since she became regent, she's avoided siding with any vampires so she might be able to gain the trust of the other witches. Clearly this isn't working for her. He tells her she needs to use a show of force and offers his help if she can't find another way to gain control.
Freya arrives to watch Hope while Elijah takes off to "handle" another team of wolf hunters. In the city, Lucien takes Klaus to his penthouse, which is full of vampires feeding on people. He's definitely not subtle! He leads him to his bedroom, where he has his "personal forecaster," Alexis willing to tell Klaus his destiny. When he tells her to get on with it, she offers her neck for him to feed. Doing so would allow him into her mind to see for himself. Lucien feeds on her wrist and Klaus takes the bait. As he drinks from her neck, Alexis recites the following:
Drink deep but beware,
What you broke is past repair
All your oaths you betray
Your sacred vows you sever
And now you see that nothing lasts for always and forever
Three yet remain, two already crossed
Yet in one year's time you'll all be lost
As your family is undone
You will cede to the beast that is to come.
Elijah continues to kill the hunters and is distracted when a female wolf, now in human form, arrives. He thinks she's Hayley at first, but she's not. The woman tells him if Hayley isn't with her daughter, she's probably dead.
Cami and Vincent discuss the murder of the local when she receives a phone call from the detective saying she was right. There's been another murder and it's the exact same as the first.
Angry at the situation with Lucien and Alexis, Klaus throws him against a wall and tells him he's Klaus Mikaelson and will not be threatened by lesser men. He's the thing that lesser men fear. According to Lucien, he came back to remind Klaus of that very statement because he feels he's lost a step. He informs him that he's acquired many enemies who wish to kill him, so they could also come after Klaus in order to kill his entire sire line. He wants to "help" Klaus and insists he's the only person he can trust from now on. Klaus, in true Klaus fashion, tells him he doesn't trust ANYONE.
Elijah finds a truck with a tarp over the back. He uncovers it and finds multiple wolf bodies.
For whatever the reason, Vincent visits Marcel's fight club for a sparring match. Marcel takes the opportunity to point out the lack of help for Davina after he threw her into the regent position. He claims he offered her his help and she refused him, but Marcel tells him he should try again. If the witches keep going after her and undermining her every move, she's just going to get angry. This won't end well for anyone if it happens.
Hayley turns to her human form, and finds herself naked, trapped in a witch circle created by Davina. She's trapped and insists she needs to see her daughter. Davina says she'll let her go, but she has to do something for her first.
Cami returns home to find Klaus waiting for her. He brought her a painting in exchange for one of their chats, which he needs immediately. She denies him and calls him a disappointment. As he goes to leave, she tells him what she said wasn't fair. He turns around and tells her to keep the gift, he painted it for her. If I'm not mistaken, it looks like a painting of Cami looking at art, much like their first encounter. Klaus heads off to kill the man who criticized his work.
Lucien, alone in his penthouse, picks up a blade and slices his mouth…exactly like the murder victims. I knew this guy would be trouble!!!
We then see Aurora in a monastery, where she's delivered a letter. Whatever is in the letter seems to anger her as she screams and kills the monk messenger. As the episode ends, she says, "It won't be long now."
Uh oh…is Aurora in on this sire war Lucien is warning Klaus about?? What was in that letter? Will Elijah go off the deep end because he thinks Hayley might be dead? We need answers!
Tune in to The CW on Thursday nights at 9/8c for more of The Originals!
Twitter: @TheVRO
Facebook: Variety Radio Online
Tumblr: Variety Radio Online
//