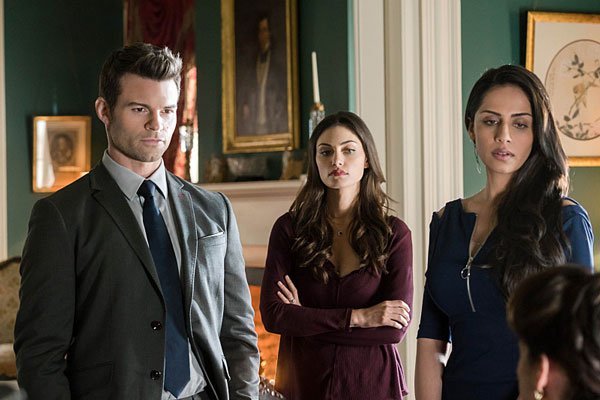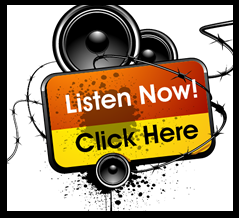 By: Kristin Trujillo (@kristin0409)
This week's episode begins with a short, creepy glimpse into Eva's mind where she's frantically searching for a young version of Rebekah. She finally catches her and wakes up from the dream. Marcel is still watching over her, but Eva uses magic against him and wanders through the compound. She puts down the wolves protecting Hope when she hears her crying and walks into the room. Hayley and Klaus try to stop her, but they fail miserably and she escapes through the open window. I mean, why is there always an open window in Hope's room when there's a crazy witch coming after her??
Klaus hands Marcel the shackles that prevent the use of magic in order to catch and control Eva, but Marcel reminds him that the hold Elijah managed to get the other covens to agree to is now up, so all of the covens will be searching for Eva as well. Klaus instructs Hayley to visit Elijah and get him to speak with Josephine.
An awkward meeting between Hayley, Elijah and Gia ensues as they arrive to speak with Josephine. Hayley's jealousy shows a bit, prompting Elijah to ask what she wants from him.
Klaus tells Freya to help get Rebekah back into her own body, but Freya informs him that if Rebekah is losing control over Eva's body, there is no spell that can reverse it. He surprises her by quickly placing the shackles on her wrists and tells her that he knows a witch that might know the spell.
In an attempt to find Eva, Marcel pays a visit to Vincent, who is currently drinking his sorrows away at the bar. As he tells Marcel there's no hope for Rebekah if Eva has regained control of her body, Josephine is telling Elijah the same thing. The two separately explain Eva's story, and how Vincent discovered his own wife was the one killing children to complete the right of nines. Eva believed that if she sacrificed a witch from each of the nine covens, she would create a new witch order, making her extremely powerful. She went after children because their magic is untapped, and pure; Hayley realizes this is why she went after Hope. Marcel pleads for Vincent to help him take Eva down once and for all as Josephine firmly states that she will not extend the hold. Eva now has a bounty on her head, and despite the fact that this upsets Elijah, Josephine says she dislikes the term 'collateral damage' but if one or two must fall to stop Eva, then so be it.
At the cemetery, Klaus reveals that the witch who'd know the spell to help Rebekah is Esther. This angers Freya since she blames Esther for leaving her with Dahlia. He compels Esther to answer him truthfully after giving her some blood bags.
While Eva tries to heal her leg that Klaus injured protecting Hope, Marcel sneaks up on her and slaps the shackles on her wrists. Marcel grows angry when she reveals that she not only has Rebekah, but she also has Davina. He threatens to torture her until she gives them the location of the bodies she took, but Vincent knows torture won't work on her. He asks Marcel to let him speak with her instead.
Elijah issues a subtle threat to Josephine which she doesn't take kindly. She takes Hayley's hand and informs her that there's a darkness coming that should terrify her.
Vincent continues to try getting information out of Eva and is clearly still angry with her for killing the children. He changes his tune, however, when she finally reveals that none of the children are dead. They're just sleeping and cloaked.
As the odd family reunion continues, Klaus tells Esther that Hope is alive and that Dahlia is on her way to New Orleans to try and take her. He urges Esther to remember the spell Freya needs in order to put Rebekah back in her own body so she can help them destroy Dahlia.
Eva manipulates Vincent by reminding him that he's helping the family that allowed Finn to control his body for months. She promises that all of the children can go home to their mothers once the spell is complete, but she needs one more witch. When Marcel arrives to use a different approach to get her talking, Vincent takes her side and throws Marcel through a window using magic. He releases Eva from the shackles and the two escape together.
At the compound, Marcel fills Hayley and Elijah in on what happened with Vincent and Eva. Hayley threatens to put her down if she comes after Hope, regardless of what happens to Rebekah. Elijah tells her to gather the wolves for protection and if the twosome arrive, to kill Vincent and 'capture' Eva. Hayley doesn't sound thrilled with the idea of simply capturing her, but Elijah refuses to abandon his sister.
Free of vampires, Josephine relaxes with her tea and music…until Eva and Vincent arrive to taunt her. Eva reveals her plan, prompting Josephine to question whether Vincent was actually going along with this. He admits that the only time he's ever truly felt like himself was when he was with her. Together they take Josephine as the ninth witch needed to seize the power Eva craves.
Esther continues to write down the spell needed to help Rebekah as she explains that she never simply wanted Klaus's child to die. She only wanted to protect her own children from Dahlia's wrath. This angers Freya since she was the one given away at five years of age. Esther warns Klaus that while Freya was hers for five years, she was Dahlia's for a thousand. She believes she's just like her; offering to help, but requiring a price. Freya grows even angrier and insists there is no price.
As Vincent places Josephine's body down in a warehouse, Eva reveals all of the other bodies. She admits to lying earlier and says that they'll have to sacrifice a few in order to complete the spell. As she turns around, he hits her over the head with a pipe. He calls Marcel and tells him where they are and that he had to make it look convincing so he could gain Eva's trust. He also discovers that all of the bodies are linked with Eva…if she dies, they all die. In order to unlink them, they'll need someone with a lot of power.
Realizing that the spell to bring Rebekah back requires an enormous amount of power, Freya asks to use Klaus as an anchor to channel power. Esther claims that this is the price she mentioned earlier and that if she uses him as an anchor, she will have access to his mind (past and present). Klaus refuses, but Elijah arrives and volunteers to be the anchor in order to save their sister. Freya uses her magic to break the shackles and snaps Klaus's neck, leaving with Elijah. Ummm…if she could break free of the non-magic shackles, why didn't she do it sooner??
Hayley and Gia have an awkward conversation about why Gia is helping to protect her and Hope. Gia tells her that she doesn't have to know her, but she does know Elijah and how much they mean to him. Hayley seems pleased at the idea of him talking about her to another woman, but Gia says he doesn't; he just needs to live his life for himself for once rather than being everyone's shoulder to lean on.
At the warehouse, Freya, Elijah, Marcel and Vincent place Eva's body in a salt circle. While Freya anchors Elijah, Marcel and Vincent will be going into Eva's mind in order to try and free Rebekah, but she tells them that if Eva kills them while they're there, they'll be lost forever. Also, if they kill her before freeing Rebekah, Rebekah will be lost forever. They can only deal with Eva once Rebekah has been found. Freya stabs Vincent in order for him to bring the knife with him into Eva's mind and she begins the spell. Once inside her mind, Marcel hears young Rebekah scream and goes to find her.
Klaus wakes up in the cemetery and learns that Freya and Elijah are gone. Esther asks him for forgiveness, but he leaves her alone in the darkness.
Marcel finds young Rebekah just as Eva arrives. He tells Rebekah to run and Eva uses magic to incapacitate him. She plunges her fingers into his eyes, causing his eyes to bleed in present time while he's under Freya's spell. She's distracted when Vincent arrives and uses magic on him when she realizes he's about to stab her. Freya is losing them, but Klaus arrives and allows her to channel him as well as Elijah, regaining her control. As Eva continues to fight Vincent with magic, young Rebekah stabs her in the shoulder. Marcel and Vincent wake up, and so do all of the bodies that Eva collected. Elijah becomes frantic that Eva hasn't woken up yet, but after a short delay, she wakes up and seems to be Rebekah.
Now that Rebekah has regained control over Eva's body, Klaus wants to put her back into her own. In true Rebekah fashion, she refuses until they can find a way to unlink Eva from the children she took. She insists that they need the witches on their side now that Dahlia is on her way. Plus, she promised to bring Kol back and can't do that if she's not a witch. Klaus tells his sister that Freya knows his secrets since she was inside his head. Rebekah asks that they be a united family for now and he agrees.
Freya is accepted by the witches of the quarter, and Josephine tells her that her allies are theirs and so are her enemies; finally giving her a place to call home. Klaus meets with Freya at the bar and tells her that he still doesn't trust her. She tells him that he has crippling paranoia that leaves him alone wondering where everyone has gone (something she remembers from entering his mind). She insists it doesn't have to be this way, but she only has so much patience. She leaves her brother and pays a visit to her mother in the cemetery. Freya tells her that Dahlia took the light she had inside her and that Esther is no longer her mother, but she is NOT Dahlia's child. She also tells Esther that she was right that Klaus shouldn't have let her inside of his mind because she now knows he'll never trust her. All she's left to do is turn their family against him. Esther asks why she's telling her this, and Freya responds by saying she won't be around to see it. She places her fingers on Esther's forehead, causing her to explode into a large group of birds.
Tune in next Monday, April 13th at 8/7c on The CW for more of The Originals!!
Twitter: @TheVRO
Facebook: Variety Radio Online
Tumblr: Variety Radio Online
//