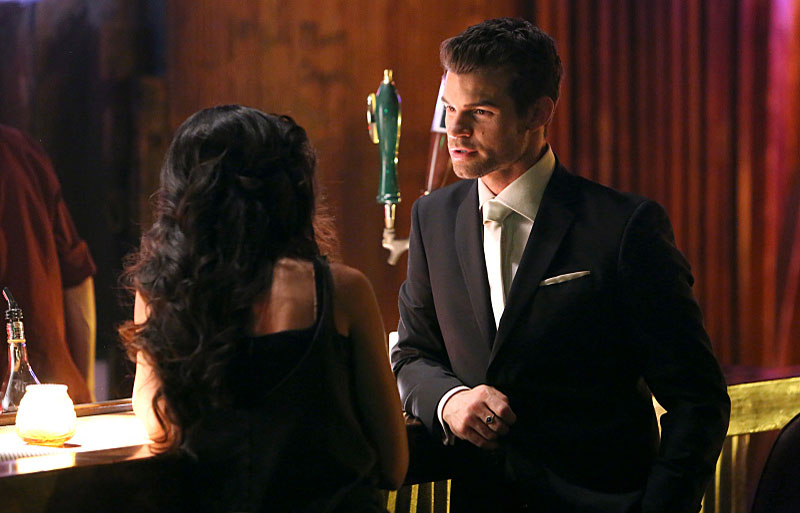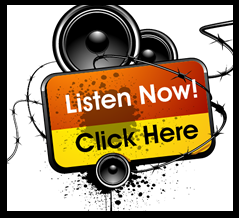 By: Kristin Trujillo (@kristin0409)
With a large table full of food, who can blame Hayley for thinking that Klaus or Elijah might've done something to someone to obtain it? Not me! They weren't responsible for the spread though. Instead, this week's episode begins with Cassie/Esther preparing the food and sending her sons an invitation for a family reunion of sorts.
In a flashback to a young Mikaelson family, Esther notices that Niklaus is missing from the room. Young Finn tells her that he's outside hiding. When she goes out and finds him, he tells her that Mikael wants to take him hunting, but he doesn't want to go because his father gets angry with him.
When Elijah pays Marcel a visit, Marcel assumes he's there to accept the request to mentor Gia. Instead, he reminds Marcel that she's not his burden to bear and that if Marcel turned her, he should teach her. The real reason he's there is to ask if there's another witch that would be willing to cooperate with him. Marcel tells Gia to take him to meet with Lenore; who made Gia her daylight ring.
Oliver is sitting alone at a bar, waiting to meet with Cassie/Esther. In her place, Vincent/Finn walks in and hands Oliver a moonlight ring to prove himself worth of handling Cassie's meetings. Oliver asks what would happen if he refused to deal with her second in command, so Vincent/Finn uses magic to inflict pain on him. Before walking out, he tells him that the ring comes with a price and that he'll begin paying for it tonight. When he's gone, Oliver picks up the phone to call someone.
Back at the compound, Hayley tells Klaus that Oliver informed her that Cassie has an alliance with another witch (good boy, Oliver!). She asks Klaus why his mother hates him so much, so he tells her their family history of how they became vampires. Esther had lost a child before Klaus was born, and lost another when a werewolf attacked him. To protect her children, she made them immortal, which set off a series of events revealing that Mikael was not Klaus's real father. His real father was the leader of the pack who'd killed his brother, so Mikael took it upon himself to kill him; causing her to lose her lover as well.
Elijah and Gia make it to Lenore's shop where he manages to bribe her into helping to perform a spell that will prevent Esther from entering another person's body. After telling the newly turned vampire, Gia, to compel a python, he leaves the shop. When Gia follows after him, the door to Lenore's shop opens, and in walks Vincent/Finn.
Klaus visits Marcel and asks if he still has a necklace he'd given him a long time ago. Marcel remembers receiving it on his eleventh birthday, and retrieves it for Klaus. In a flashback, we see Esther placing the same necklace around Klaus's neck after dipping it into a liquid. She claims that if he's ever lost or afraid, or simply needs her, he just has to grasp the bird and she will come. He wonders why his siblings don't have one, so Esther tells him that he's special and that he should promise to wear it always. During a celebration, Esther notices that the necklace has fallen from Klaus's neck. Finn walks over and claims to have found it.
As they're walking through the cemetery, Vincent/Finn tells Cassie/Esther that he'd spoken to Kaleb/Kol and that he's still searching for Davina (Did anyone follow that?!). Cassie regrets that he can't join them for their family dinner, but prefers that his new identity remain unknown. She tells Vincent that Lenore is stubborn, but to let Oliver handle her while he continues to prepare for their impending family reunion.
Vincent returns to Lenore's shop, where Oliver is keeping an eye on her. He questions Vincent on how they can torture their own kind, but Vincent tells him that he "persuades." He wants Oliver to find out what Elijah and Gia wanted from her. He leaves Oliver to "handle" the situation, but instead Oliver informs Hayley of the events. Hayley asks Klaus and Elijah to trust her to handle something for once, and they do. Klaus hands her the necklace from Esther and she sets out to meet Oliver at the shop.
Gia is clearly frustrated with the lack of teaching from Elijah as she complains about it to Marcel. She knows Marcel wants something from him, but she's not sure what. He tells her that Elijah is so wrapped up in the werewolves and his families past that he doesn't see another family who needs him. Marcel wants him to see him and the new vampire community he's creating as his family as well, and that Elijah can't help but to try and fix something that's broken; this being Gia.
Elijah and Klaus are preparing for their reunion with their mother as Vincent/Finn arrives. It takes a minute for them to realize that it's him, but following his insults and accusations, Klaus manages to figure it out.
At the shop, Hayley arrives and wants to get Lenore down from the chains Vincent/Finn has locked her up in. To avoid blowing Oliver's cover, she suggests making it seem as though he'd been jumped. He agrees and tells her not to hit his face.
Vincent compliments Klaus and Elijah on the wine, to which Klaus provides a classic response, "Well, it was a challenge to find a good pairing. What wine goes well with treachery?" Vincent/Finn tells his brothers that even Kol has accepted his new form, and insinuates that this is what Esther wants of her sons. Klaus threatens him by throwing a knife at him, but quickly realizes that Vincent is a witch when he uses magic to avoid it.
After Hayley rescues Lenore from her chains, Lenore agrees to do any spell that Hayley wants if it means getting back at Cassie and her "lackey."
As Klaus, Elijah and Vincent continue their brotherly bickering, in walks Cassie/Esther.
While Lenore is preparing to do the spell, she tells Hayley that anytime Esther jumps into someone else's body, a distinct symbol will appear on the back of the person's hand so that they'll know that it's Esther. She apologizes to Hayley for having lost her child.
Esther questions Elijah and Klaus as to why they look at her with such contempt when all she's ever done is try to protect them. She asks Elijah what she'd said when he came to her to help Klaus after he challenged Mikael. He remembers that she said she'd rather die than to see any of her children suffer. In a flashback, we see Klaus pinned to a tree with a sword that Mikael stabbed him with. Esther removes the sword and Klaus tells her that Mikael threatened to take the bird necklace from him. He cut it from his neck, but Klaus grew angry and cut him. Back in the present day, Klaus realizes that the necklace was never spelled to protect him; it was spelled to weaken him. As he blames her for making him the way that he is, Cassie/Esther begins to faint in her seat. Elijah catches her and we see that Lenore is completing the spell, removing Esther from Cassie's body. He tells them that she's gone, and Vincent uses magic to throw Elijah and puts Klaus on the ground. When Lenore completes the spell, Hayley sees the mark on Lenore's hand, and realizes that Esther is now controlling Lenore's body.
When Cassie (the real Cassie) comes to, Klaus questions her about what she knows (or doesn't know) about Esther. She clearly knows nothing, so Elijah wonders if Esther had planned to use someone else all along. He calls Hayley and Lenore tells her she can answer. All Hayley manages to tell Elijah is that she's at Lenore's shop before Lenore/Esther stops her. Hayley tells her that they'll come for her and Lenore/Esther reveals that that's been her plan all along. As the boys rush to Hayley's rescue, they ponder the reasons why Esther wants her.
Lenore/Esther offers Hayley her life in a new body, erasing her hybridism and the chance to live her life with children. When the boys arrive, Lenore uses magic to keep them away from her, but she tells them Hayley is free to go. Klaus instructs her to leave, and Lenore/Esther tells them that she's there to heal their family. As birds burst through the window and rush past her, she tells her sons that there will come a time when they will beg her to change them.
Hayley fills Klaus and Elijah in on her conversation with Lenore/Esther and how she blames them for what happened with Hope and with herself. Klaus realizes that she seems tempted to accept the offer of a clean slate. She walks away after thanking Elijah for helping her, and after pointing out that it takes her being in danger for him to speak to her. He tries to stop her from walking away, but Klaus tells him to leave her because he needs him. Elijah tells Klaus that he was never weak, despite his belief that his mother made him weak with her spelled necklace.
At a blues bar, Elijah walks in and joins Gia. He asks if she's playing, but she tells him that since she turned, she hasn't been able to play the same. He explains the reasons why it's different now, and leaves her by saying that he'll teach her. When she questions why, he tells her that if someone had done the same for him and his siblings, things might've ended up differently. She goes back to Marcel's place and tells him that Elijah agreed to help her. He responds by saying that Elijah will help them all.
Vincent/Finn questions Lenore/Esther about her actions and she tells him that she will take away everything that Elijah and Klaus hold dear. She promises to focus on Marcel and his new vampires now, and the episode ends with these final words from her:
"We will take their pride, their joy, their love. We will lay it all to ruin. And when they're at their lowest point, in their deepest despair, they will have no choice but to beg me to release them from their pain. And because I love them…I will."
Tune in Monday, October 27th at 8/7c on The CW for more of The Originals!
Twitter: @TheVRO
Facebook: Variety Radio Online
Tumblr: Variety Radio Online
//