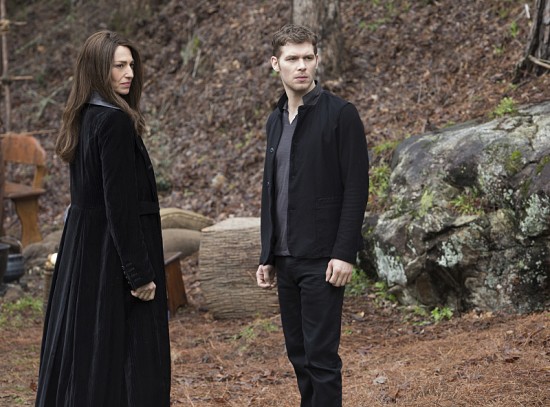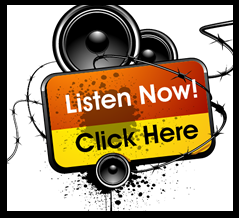 By: Kristin Marie (@kristin0409)
This week's episode begins in the aftermath of Elijah staking Klaus with the dagger Kol and Davina made to protect themselves against him. With a voice over from Dahlia explaining that we define ourselves by our family, we see her running her hands through a bowl of blood while Klaus rests in a coffin. Suddenly, he wakes up somewhere else; somewhere Dahlia has brought him by entering his mind. Except, she's not in his mind…he's in hers. Dear Aunt Dahlia has a proposition for Klaus and, after she reminds him that his own brother daggered him, she tells him he has no choice but to listen.
As Klaus and Dahlia reluctantly walk together through an old village, she demands he listen closely. He does as he's told (for once) and hears Vikings nearby, slaughtering those in the village. A young Dahlia and Esther are frightened and promise to stay together, always and forever. They hide together, but are taken by the Vikings. Klaus is not impressed by this vision and tells her they can't be kindred spirits because they share the familiar saying (Always and Forever) with their respective siblings. Dahlia admits that they're not, but they CAN be allies.
Upon hearing that Hayley and Hope have escaped, Freya demands that Elijah bring them back. He's disturbed when she tells him they need Hope as "bait" in order to lure Dahlia to them. Being that protecting Hope is Elijah's main purpose, he's not happy with his sister's idea.
Marcel brings Rebekah to the spelled jazz club to keep her safe until the link between her and the eight teenagers (thanks to Eva) is broken. He brings in Vincent to help figure out how to break the spell, but he's recently sworn to avoid magic from now on. He wants to help the kids, but after that he wants nothing more to do with it and insists that he's not their witch for hire.
When Elijah finds Cami and tells her that Klaus is daggered, she reveals that Klaus didn't actually kill Aiden. Elijah seems surprised…until she tells him he only admitted it because he wanted everyone to fear him (shocker!). Elijah calls her out on her feelings for Klaus clouding her judgment. When she tries to ignore his statement and asks how long Klaus will be daggered for, he responds that he'll remain daggered until Hope is safe.
Hayley finds Jackson digging a hole to bury Aiden's body. She questions him on burying his body where the wolves bury traitors, and convinces him to give Aiden a proper Crescent wolf burial.
Elijah and Cami arrive at the jazz club and inform Rebekah and Vincent that Freya wants to lure Dahlia to them by using Hope. Thankfully no one is on board with this idea. Vincent tries to leave, claiming only to be helping unlink Rebekah from the eight teenagers. Cami offers to call Davina for help and tells Elijah to let Vincent go because he's not worth it.
Mourning Aiden's death, Josh gets a visit from Marcel (both of which still believe Klaus killed him). Josh wants to leave because he doesn't feel there's anything left for him now. He feels guilty for spending Aiden's last day saying goodbye to everyone other than Aiden.
Continuing their trip down Dahlia's memory lane, Klaus watches as her younger self is forced by the Vikings to perform dark magic in order to protect Esther. Meanwhile, Esther is outside, busy falling in love with Mikael, one of the very Vikings who overtook their village. When Dahlia tells her sister she's found a way to get them out of the village for good, Esther says she wants to marry Mikael and have a family, breaking her sister's heart.
Davina, Rebekah and Cami look through Cami's catalog of dark objects as they try to find something to lure Dahlia in. Rebekah finds the dark objects Davina has been using to try and resurrect Kol and remembers something. With this memory, they come up with a plan to transfer living energy into a doll Kol used to use to do the same.
Now having seen that Esther broke Dahlia's heart and abandoned her, she tries getting Klaus to relate; seeing as his siblings abandoned him as well. She claims to have been unjustly painted as the villain, much like he has. He says if she has a deal, she should undagger him and offer it. She has the means to do so, but she still has something to show him that is directly related to his daughter and suggests he listen to her. The two then see a younger Freya as she uses her magic uncontrollably. Dahlia warns her and tries to help her control it, despite Freya's growing anger. When she reaches a breaking point in her anger, she relies on Dahlia to help calm her. Klaus realizes that Freya was out of control and his aunt warns that first born children in their bloodline have the same uncontrollable power; especially Hope, being that she is both hybrid AND witch. Dahlia claims to be the only one who can help her and insists that he needs her.
While Elijah visits Klaus's body in the coffin, Marcel joins him. Elijah admits that Klaus didn't kill Aiden and that the person who framed Klaus clearly wanted to put a wedge between the two brothers. Marcel asks if he's going to undagger him, but Elijah would rather not…at least not until Hope is safe. In light of this news, Marcel tells Elijah that he'll have to think like Klaus in order to defeat Dahlia.
Bearing cups of coffee as a Hail Mary, Cami runs into Vincent in the cemetery. He gives her what Rebekah will need to sever the link between her and the teenagers, and Cami tries to convince him to help them. He reminds her that he's done with magic and doesn't care what anyone has to say about it. Now that Josephine is dead, the ancestors need a regent to speak through, and they want Vincent. He's not having it and wants to eliminate himself from the equation altogether. When she tells them what Davina and Rebekah are trying to do to lure Dahlia in, he writes something else down on the paper for Rebekah and tells her that no witch is going to be fooled by a doll; they need a heartbeat.
After learning that Klaus didn't kill Aiden, Marcel relays the news to Hayley. She's struggling with the fact that Jackson is so heartbroken by Aiden's death and feels, in some way, responsible for it.
Elijah arrives to speak with Freya and tells her that Mikael's ashes are in the paint Klaus was using at the compound. She's located Hayley and refuses to give up on getting Hope, but he tells his sister he'll bring her Hope himself and walks out of the candlelit room.
While Dahlia continues trying to penetrate the wall Klaus has up, he tells her that he'd rather find someone less hostile to teach his daughter (and clarifies that literally ANYONE would be qualified to do so). She digs the dagger in deeper, figuratively, when she asks him how long his siblings will keep him daggered; how old Hope will be when he awakens. If she doesn't attain the power she is "owed" from Hope, she will return to her extra long slumber. She also tells Klaus that Freya turned on her because she denied her the love of a parent. She claims to want Klaus to remain Hope's father and assist her in the growing process. He can either accept the offer OR he can hope that Elijah undaggers him before Hope begins calling Jackson daddy.
Elijah finds Hayley and Jackson among the wolves in the bayou. He and Jackson begin to fight and Hayley defends Jackson, telling Elijah to leave. Regardless, he tells them that they came up with a new plan and all they need is a vial of Hope's blood. Hayley obliges and tells him she's trusting him. To get an extra dig in on Jackson, Elijah tells her that the moment Hope is safe from Dahlia, they can return home…with family.
Teetering on the edge of trusting his evil aunt, Klaus learns that she will not ask twice. Dahlia tells him that Hope is all Hayley will ever have, and that if they are to succeed, Hayley must be eliminated. Suddenly, she blows a powder into his face and he awakens in his coffin, removing the dagger himself.
As Jackson watches over Hope, Hayley arrives to tell him that they're almost ready for Aiden's funeral; they're just waiting on one more person. Jackson admits that he can't be their pack's Alpha while living under the Mikaelson roof. If she considers the Mikaelson's her family, he can't go with her. He offers her some time to think and heads over to the river for the funeral. Hayley arrives shortly after and reaches for his hand. She says she doesn't need time; she chooses him and the pack. Just then, Josh arrives at the funeral so he could say goodbye to his love. The wolves form a barrier until Jackson instructs them to let him through. He shakes Josh's hand in acceptance.
Freya performs a spell that would render Dahlia mortal, but is bothered when Elijah arrives without Hope. He quickly injects Freya with Hope's blood, making her the bait instead. She's a bit frantic, but Elijah tells her to continue with her preparations anyway and leaves her.
While Davina continues trying to find ways to resurrect Kol, Vincent shows up and asks for her help with something. He doesn't want to be in control of all nine covens the way the ancestors want him to be, and he plans on offering them an alternative. He needs someone with faith and someone who uses magic to help people – someone like her.
Josh says goodbye to Aiden and helps Jackson push his body out onto the river with support from Hayley and the wolves. We hear a voicemail from Hayley to Elijah where she tells him they can't be a part of his family anymore. Family is supposed to love you and she'd inherit all of Klaus's enemies. She doesn't want Hope to be Mikaelson and to have all of the pain that name brings. As Elijah listens to the voice message with Rebekah, Hayley says goodbye to him. Rebekah sadly agrees with Hayley. What they don't know is that Klaus also overheard the voicemail.
Klaus stumbles into the cemetery and finds Dahlia with her hands still in the bowl of blood. He says he never cared for Hayley and that they've all earned what is to come, thus creating an alliance with Dahlia. She puts sage into the blood, creating a storm that will prevent Hayley from fleeing with Hope.
Tune in on Monday, May 4, 2015 at 8/7c on The CW for more of The Originals!
Twitter: @TheVRO
Facebook: Variety Radio Online
Tumblr: Variety Radio Online
//